Elon Musk's Tweet About Buying Coca-Cola Grabbed Headlines!!
Written by Dhiwaharan Published on Apr 28, 2022 | 00:05 AM IST | 79
Follow Us
Comments: 0
On Thursday, Elon Musk who recently bought micro blogging social media site Twitter for a whopping price of $ 44 billion ( Rupees 3 lakh 37 thousand crore), tweeted that he is planning to buy Coca Cola to put the cocaine back in business. The tweet which was uploaded in a joking manner, crossed 1 million likes within just 2 hours of time span and 2 million of them so far.
Next I'm buying Coca-Cola to put the cocaine back in

— Elon Musk (@elonmusk) April 28, 2022
Though the tweet sounded like a joke, users of the online platforms are not too sure as in 2017, Musk had casually tweeted asking what would be the price of Twitter and 5 years later, he has proposed to by 100% stake in the company.
According to his agreement with Twitter, Musk can't tweet anything disparaging about Twitter. Rest all is allowed and hence the richest man in the world is talking a lot about other things, including what and how Twitter should be like.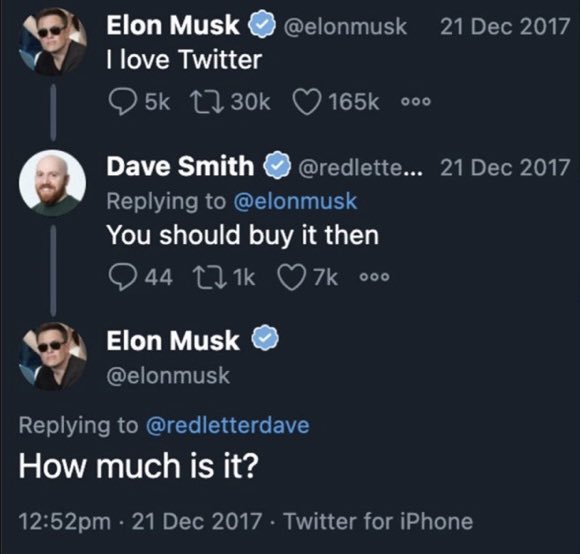 Elon Musk, through one of his tweets, said that Twitter should encourage freedom of speech as permitted by the law of the land. On the security aspect, Elon Musk said that he wants Twitter DMs to have end to end encryption like "signal" so that no one can spy or hack personal messages.
However, regarding the purchase of Coca Cola, Musk made it clear that even if he buys the Atlanta company, it will be for the original recipe of the beverage which had cocaine in it.
Several kind of reactions were kept pouring for the tweet of Musk with a user named Bloomberg commenting "But the soft drinks company makes Twitter look like a small fry, with its market cap of $284 billion. Musk's own fortune currently stands at $253 billion, way ahead of his nearest rival Jeff Bezos, worth of whom currently is $162 billion"
Check out some of the reactions below :
Buy Tiktok and delete it.

— Ihtisham Ul Haq (@iihtishamm) April 28, 2022
— Eva Fox 狐🦊❤️🇺🇦 (@EvaFoxU) April 28, 2022
I don't believe you would buy it, Coca-Cola is too expensive.

— Ice universe (@UniverseIce) April 28, 2022
— Austin Barnard🚀 (@austinbarnard45) April 28, 2022
Elon's lawyers every time he tweets pic.twitter.com/5FMCZpvktc

— Fintwit (@fintwit_news) April 28, 2022
Tomorrow's headline: Elon Musk advocates for the use of cocaine 🤣

— Joe Pompliano (@JoePompliano) April 28, 2022
It would cost you at least $300 Billion to acquire Coca-Cola

— Dividend Growth Investor (@DividendGrowth) April 28, 2022
Absolutely insane that this guy is one of the most powerful people in the world

— 🍑 at the lake (@PeachJames_) April 28, 2022
Do you remember this ? pic.twitter.com/dIvsdzff0h

— Nigar Parveen (@NigarNawab) April 28, 2022
Can you just buy Facebook and delete it?!

— Pranay Pathole (@PPathole) April 28, 2022
Can you buy GoT and remake the last season?

— Damián Catanzaro ⚡️☕️ (@DamianCatanzaro) April 28, 2022
😂😂😂😂 pic.twitter.com/TOd05srbpo

— ABsulley (@TheEsperance) April 28, 2022