"Educated Youths Are Not Coming Out" – Srimathi's Mother!!
Justice For Srimathi
Mother
Srimathi
CM / Updated: 2022-07-20
12:04 IST
By Dhiwaharan
In a phone call interview with News 7, mother of student Srimathi who allegedly died due to the torture of her school teachers, had said that she is going to approach Supreme court and is looking to do post mortem with the presence of a doctor from her side. Srimathi's mother also wanted educated youths to come out raising voice for the issue like how farmers came forward. She also expressed her sorrow over not being able to do rituals to her daughter at right time due to the ongoing issue.
On Sunday, a huge protest took place at Kallakurichi, Tamilnadu regarding the death of a teen student at a private residential school. Initially, reports suggested that the girl wrote a letter reasoning the cause of her death but her parents who had doubts in their daughter's demise, staged a protest with their relatives.
Though the teachers denied the allegations, parents and relatives of the student blocked the Kallakurichi-Salem highway on Wednesday, raising slogans against the school management. The incident took place near Kaniyamoor town.
In the note which was left behind, the girl named two teachers and accused them of torturing her and other two students to study always. "The two teachers were brought to the police station for an inquiry. They said that they just casually asked her to concentrate more and study hard as she was very playful" said S Selvakumar, SP of Kallakurichi.
Close to 50 family members staged a "Road Roko" at the Kallakurichi-Salem highway seeking justice for her death, accusing the school management of pushing her to take the extreme step, said the police. The protest turned violent and massive on Sunday.
While the school was completely ransacked, the protesters set fire to all the school vehicles. During the protest, 55 policemen were injured due to stone pelting. Followed by the outrageous protest, Maths and Physics teacher were arrested.
According to police, more than 329 people who were involved in the riot were arrested. Now, on Monday, Madras High Court made a series of comments regarding the case. Firmly assuming that the protest didn't take place in anger but a completely staged one, the court allowed for the post mortem of the girl's body one more time and ordered the parents to do the final rituals in a peaceful manner.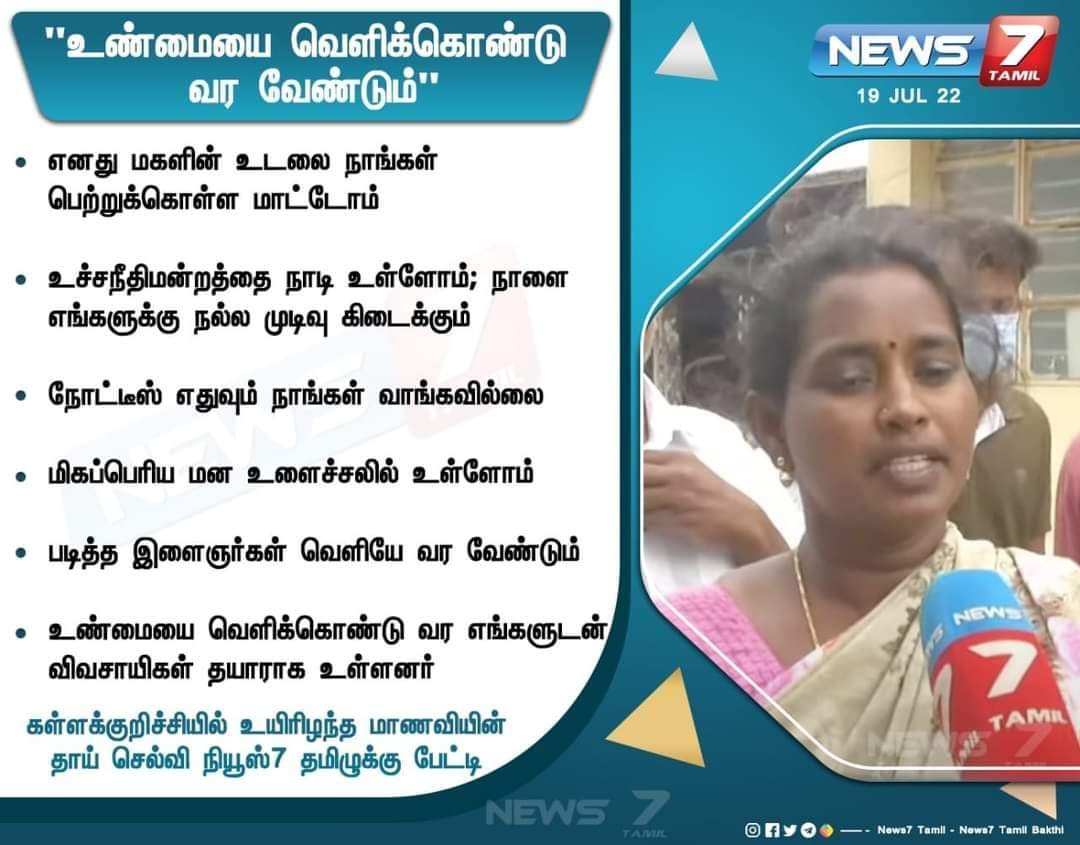 Now, in an interview to News 7, mother of the student said that she didn't receive the notice provided by court and said she is going to approach Supreme court. "It all depends on what decision my lawyer is going to make" said Srimathi's mother and said that she approached Supreme court and the post mortem should take place with a doctor from her side.
"I have only one disappointment. Educated people are not being as sensible as farmers. They are trying to hide all the truth with my daughter's body. Not a single Educated person came out to bring all the truths behind my daughter's death. Farmers who are illiterates are ready to come out. I should be doing the 8th day ritual today for my daughter's death but I couldn't even perform that. I am deeply dejected" she said in the phone call interview.
Watch video :
Source : News 7