"Don't Make Memes To Troll Or Degrade Others" – Vijay's Strict Order
Actor Vijay
Memes
politics
Thalapathy
12 months ago
By Dhiwaharan
Bussy Anand, General Secretary of Thalapathy Makkal Iyakkam aka Vijay Makkal Iyakkam, on Wednesday, came up with a press note directing the members of their party not to criticize others, most importantly, political leaders and politicians who are in a position. In his note, Bussy Anand said that it's an order from Vijay himself and the members who breach the order will not only be removed from the party but also will be subjected to legal actions.
Actor Vijay who is fondly called as "Thalapathy" by his fans, is expected to enter the mainstream politics anytime from now. Members of the actor's party "Vijay Makkal Iyakkam" contested in the Tamil nadu local body election 2022 as independent candidates and tasted victories. It is notable that the actor didn't do direct campaign for his party members but reports emerged saying that his party approached strong candidates of certain areas and collaborated with them for the election.
Currently, the actor is busy signing movies. His most awaited "Beast" is expected to hit screens on 13th of April and the Pooja of his next film which is tentatively titled as "Thalapathy 66" took place on Wednesday. The film is going to be a bilingual one with Rashmika playing the female lead.
Rumours about his upcoming films are also doing rounds among the fans of the actor. Few say that Vijay is planning to join hands with Lokesh Kanagaraj again whereas another set of fans believe that the actor will give chance to another emerging filmmaker. In the meantime, reports on the actor appointing Prashant Kishore as his Politician consultant are also doing rounds which confirms the entry of Vijay in mainstream politics in near future.
Now, Bussy Anand, General secretary of the actor's party came up with a press note warning the party members of not involving in any kind of malicious act. "Party members should not write social media posts or make posters or write in magazines or make memes degrading Political party members or politicians who are in position or any others in any time" read the note shared by Bussy Anand.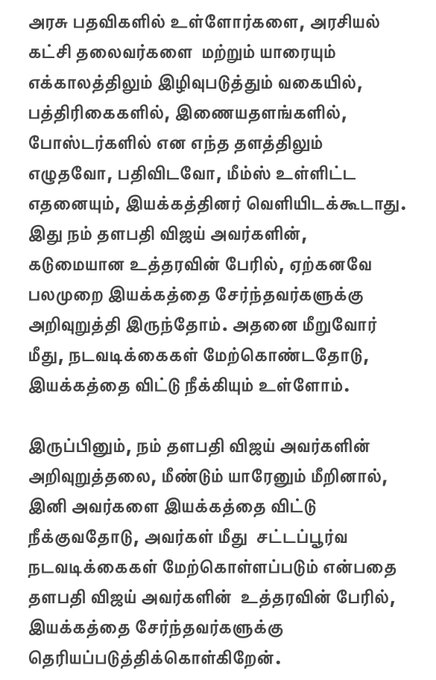 "We have informed about this to the party members in previous occasions after the strict order from Thalapathy Vijay. We took actions against those who breach the order and also have removed them" the note further read.
"Now, as per the order of Thalapathy Vijay, I am informing to the party members that not only party based actions but legal actions will be initiated against those who breach the order and continue to degrade other" Bussy Anand said through his note.
Thalapathy @actorvijay Sir @Jagadishbliss @RIAZtheboss pic.twitter.com/zuw6SOq8qZ

— Bussy Anand (@BussyAnand) April 6, 2022