"Don't Damage Public Road For CM Visit" – Madan Gowri To DMK MP A Raja!!
Written by Dhiwaharan Published on May 20, 2022 | 18:10 PM IST | 64
Follow Us
Comments: 0
Youtuber Madan Gowri reacted to a tweet uploaded by senior DMK member A Raja who also acts as MP of Nilgiris and said that it is bad to damage roads for a visit of Chief Minister MK Stalin. Through the visit, A Raja uploaded a series of pictures of himself inspecting the arrangements of the festival prior Chief Minister MK Stalin's visit. The pictures showed roads being dug to mount the flags of DMK party.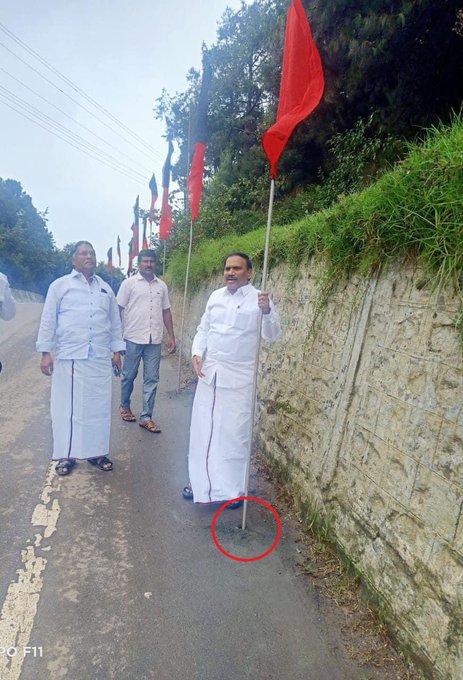 On Thursday, Party DMK's deputy general secretary, Nilgiris MP and Former union minister for communication and Information technology, uploaded a tweet in his twitter timeline, updating about his inspection on the festival arrangements amidst Chief minister's visit.
"These pictures are captured during the visit of my inspection on the festival arrangements prior Honorable Chief Minister MK Stalin's visit" said A. Raja through his tweet by adding the pictures of visit.
Here's his tweet :
மாண்புமிகு தமிழ்நாடு முதல்வர் @mkstalin அவர்கள் நீலகிரி வருகையை முன்னிட்டு விழா ஏற்பாடுகளை பார்வையிட்டபோது. pic.twitter.com/ci50bzHplY

— A RAJA (@dmk_raja) May 19, 2022
The pictures showed A. Raja mounting some of the flags of party DMK by digging hole in the public roads. Many users questioned the act of the politician and few advised him to refrain doing such damages to the property that belongs to people.
Famous youtuber Madan Gowri who has 5 million plus subscribers for his youtube channel, replied to the senior DMK member's tweet saying that he has so much respect for him but damaging roads is very bad.
"Sir, i respect you so much, but damaging the roads for a CM visit is very bad" read the reply of the youngster.
Sir, i respect you so much, but damaging the roads for a CM visit is very bad.

— Madan Gowri (@madan3) May 20, 2022
Many other twitter users questioned the politician about the same. Check out some of their reactions below :
In case you forgot about your Leaders view on Flag pole .. your doing against his decisionhttps://t.co/cI4maDD1yN

— நாராயணன் | Narayanan (@narayanank) May 20, 2022
Sir, why are you damaging road to welcome @mkstalin pic.twitter.com/bPx06pexTY

— Thinakaran Rajamani (@thinak_) May 19, 2022
மலை சாலையை உடைப்பது தவறு. அங்கே சட்டத்தை மீறி இவ்வாறு ஆபத்தான கொடி கம்பங்கள் நடுவது தவறு. அதை ஒரு நாடாளுமன்ற உறுப்பினர் படம் எடுத்து பெருமையாக பதிவு செய்வதும் தவறு.
இந்த தவறுகளை தவறு என்று இவர்கள் உணர்வது எப்போது?

வெற்று விளம்பரங்களுக்காக எத்தனை உயிர்களை பலி கொடுப்பார்கள்

— ரெங்கசாமி இராமச்சந்திரன் (@RamcHanish) May 20, 2022
மதிப்பிற்குரிய பாராளுமன்ற உறுப்பினர் அவர்களுக்கு கனிவான வேண்டுகோள்.

வரவேற்பதற்காக சாலைகளை சேதப்படுத்துவதை முதலமைச்சரே விரும்பமாட்டார் என்பதை தாங்கள் அறியாதது அல்ல.

சாலைகளை சரிசெய்ய தேவையான நடவடிக்கைகளை எடுங்கள்.

— இரா.கந்தசாமி – R.Kandasamy (@mrkandasamy) May 19, 2022
இவ்வாறு செய்வது கண்டிக்கத்தது

முதல்வரே விரும்ப மாட்டார்

— Arun Arjun (@arunarjun23) May 19, 2022
வரிப்பணத்தில் போட்ட ரோடுல ஓட்ட போட்டு கொடிய வைக்கிறத ஒரு MP பார்த்து பாராட்டுறத பார்க்குறப்போ.. ரொம்ப பெருமையா இருக்கு Sir. இதெல்லாம் ஒரு தப்பா என்ற மன நிலைமையில் தான் மக்களை வைத்துள்ளீர்கள். மக்கள் விழித்துக்கொள்ளும் வரை ஆட்டம் தொடருட்டும்.

— Selva Ramasamy (@iSelvaRamasamy) May 20, 2022
நல்லா இருக்கிற ரோட்ட ஓட்டை போட்டு இதெல்லாம் தேவையா நீங்களும் இப்படித்தான் பண்றீங்க அதிமுகவும் இப்படித்தான் பண்ணுச்சு..எதுக்கு பொது இடத்துல இப்படி பண்றீங்க🤦🤦🤦🤦🤦 வேணும்னா உங்க மூஞ்சில பச்சை குத்திக்கொண்டு உங்க தலைவர்கள் வரும் போது உங்க உற்சாகத்தை வெளிப்படுத்துங்கள்

— KARTHIKMOHAN (@mohankarthie) May 19, 2022
சாதாரண சாலைகளில்கூட துளையிடக்கூடாது. அதைவிட கவனமாக பராமரிக்க வேண்டிய மலை சாலையில் ஓட்டை போட்டு கொடியை நட்டதே தப்பு. இதை தடுக்க வேண்டிய ஒரு நாடாளுமன்ற உறுப்பினரே அதை செய்வது அதைவிட பெரிய தப்பு.

நாம் அனைவருக்கும் முன் மாதிரியாக இருக்க வேண்டும் @arivalayam

— தா.நிவேதா 𝓑𝓔 (@Nivi_Twitz) May 19, 2022