Disability Rights Activist Exposed A Businessman/Producer !!
activist
Instagram
Model
Virali Modi
6 months ago
By Dhiwaharan
Motivational speaker cum Disability rights activist Virali Modi, through her recent Twitter thread, accused a businessman of sexually harassing her in the pretext of casting her in an advertisement. She shared a series of screenshots in her twitter thread which showed her conversation with the business tycoon.
Virali Modi is a specially-abled model and first runner up of the 2014 Miss Wheelchair India contest. Spending most of her childhood in United States, Virali visited India for a short trip in the year 2006. Upon returning to US, she began having high fever. Despite visiting multiple hospitals, her parents couldn't able to diagnose the issue and kept her on medication.
View this post on Instagram
Later, it was diagnosed that she contracted Malaria while she was in India and went to 23 days long coma when her condition worsened. When she woke up from her coma, she found that she was paralysed from neck down. After multiple sessions of Therapy, Virali was able to gain mobility in her upper body.
The official Twitter handle of MeToo India shared the tweet thread of Virali Modi after she narrated her ordeal through it. She accused Mr. Rajiv Oberai, a businessman, investor and producer. After her revelation, many women came forward to expose him which was shared by Virali Modi in her tweet thread.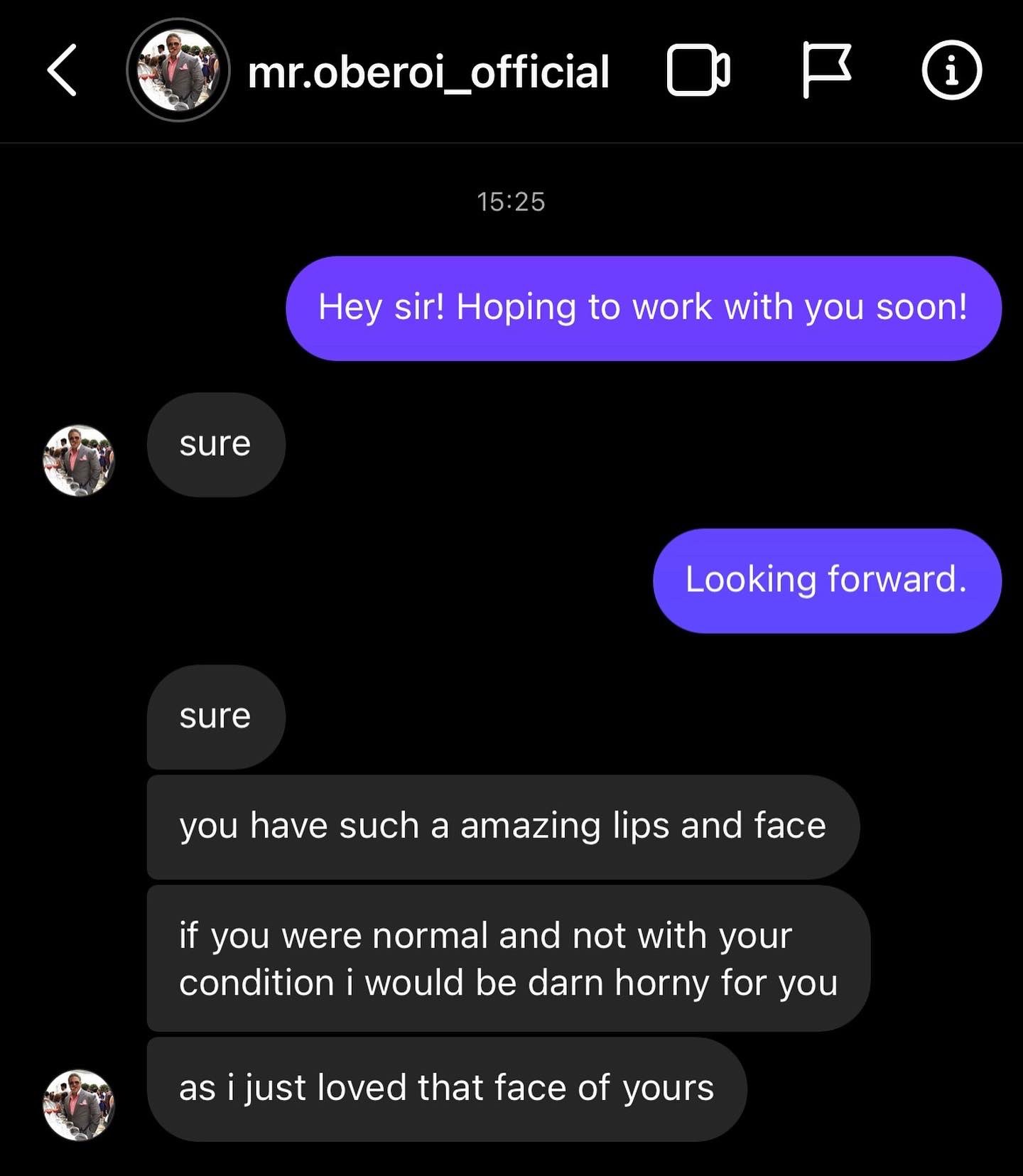 "This person posted an ad on Instagram for a casting call regarding a modelling gig for a big brand. He said I was pretty but he wasn't looking for someone on a wheelchair for that specific modelling gig but he would keep me in mind for future projects" read the first tweet of Virali Modi.
In the chat screenshots provided by Modi, the accused could be seen saying that he would get ho*ny if she is normal and appreciating her face and lips.
After sharing the screenshots, Modi wrote "First and foremost, my disability doesn't make me any less desirable. Secondly, he shouldn't EVER be speaking to anyone in such a way, no matter their gender, physical condition, race, caste, or sexual preference. This is online sexual harassment"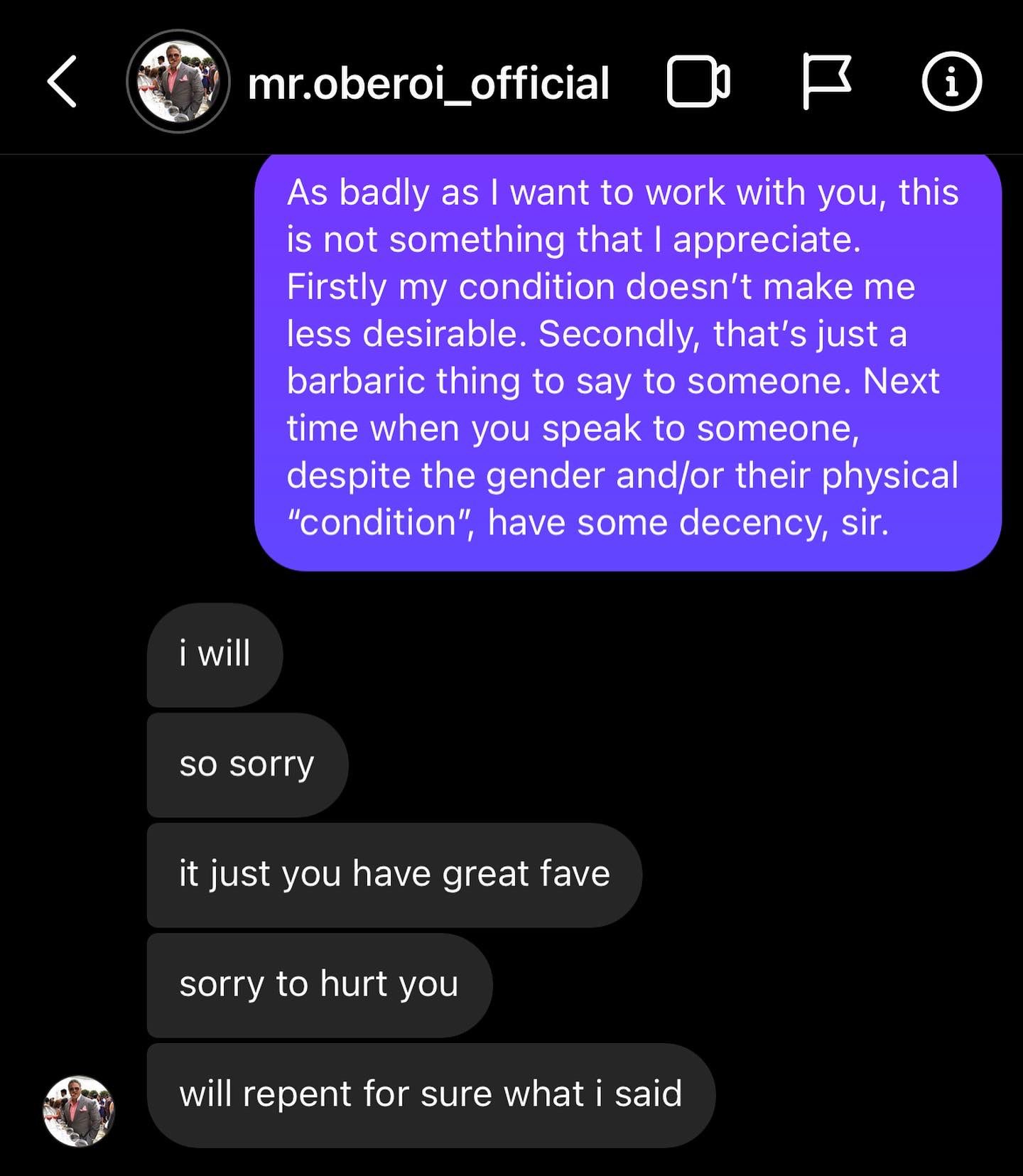 "Just because he's "influential" doesn't give him the right to speak to me or anyone in such a way. This is exploitation of his privilege and "influence". In the age of the #MeToo    movement, you would think people in would have common sense but that's what's lacking, common sense" she further said.
Virali also said that she knows that she is jeopardizing her chances to get into the industry by exposing him but she doesn't care about it as she has witnessed men approaching her similar way in the past.
"My self respect, morals, and dignity are worth more than my need for work. I am an extremely hard working person and the first wheelchair using model in India. I have worked for many prestigious brands as a freelance model" her tweet read.
"Receiving such messages really brings me down because I know that I'm not the first person this man has messaged in the hopes of tricking someone into bed in order to get work. This is the dark truth" She further said.
She also exposed him luring other girls in similar way by sharing the screenshots she received from them. "On his website he's associating himself with well known directors in the entertainment industry but as it turns out, his website is also fake. Screenshots of the same. RAJIV OBEROI IS A FRAUD AND HAS BEEN HARASSING WOMEN SINCE GOD KNOWS WHEN!" she added and tagged the media portals to expose him.
Here's her tweets :
TW: Sexual Harassment

This person posted an ad on Instagram for a casting call regarding a modelling gig for a big brand. He said I was pretty but he wasn't looking for someone on a wheelchair for that specific modelling gig but he would keep me in mind for future projects. pic.twitter.com/3euvwlMmEu

— Virali Modi (@Virali01) October 3, 2022
First and foremost, my disability doesn't make me any less desirable. Secondly, he shouldn't EVER be speaking to anyone in such a way, no matter their gender, physical condition, race, caste, or sexual preference. This is online sexual harassment.

— Virali Modi (@Virali01) October 3, 2022
I know by speaking up and against him, I am jeopardising my chances of getting future work in the industry but I honestly don't care. My sentiments weren't hurt by him but it's aggravated me. I have PTSD because men like him have tried to take advantage of me and my disability.

— Virali Modi (@Virali01) October 3, 2022
My self respect, morals, and dignity are worth more than my need for work. I am an extremely hard working person and the first wheelchair using model in India. I have worked for many prestigious brands as a freelance model.

— Virali Modi (@Virali01) October 3, 2022
He also had the audacity to change his username to @itsrajivofficial on Instagram and he's blocked me. Please RT this, tag the necessary individuals, and report his account on Instagram.

— Virali Modi (@Virali01) October 3, 2022
Every single photograph of "Rajiv Oberoi" on Instagram is photoshopped or morphed in order to portray himself as an influential media tycoon. pic.twitter.com/WmqgNmhP6S

— Virali Modi (@Virali01) October 4, 2022
On his website he's associating himself with well known directors in the entertainment industry but as it turns out, his website is also fake. Screenshots of the same.

Website: https://t.co/jrovt0UB0V pic.twitter.com/ozJ8NO95pj

— Virali Modi (@Virali01) October 4, 2022
RAJIV OBEROI IS A FRAUD AND HAS BEEN HARASSING WOMEN SINCE GOD KNOWS WHEN! #metooindia #metoo @smritiirani @DCWDelhi @MasalaBai @zigzackly

— Virali Modi (@Virali01) October 4, 2022