Director CS Amudhan Tagged His Producer After Seeing Kamal Gifting Loki A Lexus!!
Written by Dhiwaharan Published on Jun 07, 2022 | 17:30 PM IST | 74
Follow Us
Comments: 0
On seeing Kamal Haasan gifting Lokesh Kanagaraj a expensive Lexus car, director CS Amudhan who is known for directing the only parody film franchise of Tamil cinema, tagged his producer Sashikanth of Y not studios, in a way of asking him to gift him something expensive. Replying to him, Dhananjayan of BOFTA who is currently producing Amudhan's upcoming film "Raththam" starring Vijay Antony, asked him to give him a blockbuster and assured him a car if the film becomes success.
நேற்றிரவில் உதவி இயக்குநர்கள்
13 பேருக்கு அப்பாச்சி 160 RTR பைக்
காலையில் இயக்குநருக்கு லக்சஸ் கார்
தன் பெற்ற இன்பம் பெறுக சார்ந்தோரும் 😊 @ikamalhaasan @RKFI @maiamoffl pic.twitter.com/w7qM6dPvIC

— Murali Appas (@MuraliAppas) June 7, 2022
A picture of actor/producer Kamal Haasan gifting an expensive Lexus car to director Lokesh Kanagaraj is doing rounds in social media platforms post the success of Vikram. Many fans who saw the picture praised Kamal Haasan for sharing the victory with his colleagues and also stated that Lokesh Kanagaraj deserves it. Apart from that, to everyone's surprise, an information about Kamal Haasan presenting bikes to the 13 assistant directors of Lokesh Kanagaraj has been surfaced in the internet.
"Vikram" released on 3rd of June with much expectations among fans and has exceeded it. The film, reportedly collected Rs. 165 crores world wide until the weekend, according to reports. Plot of the film revolves around former militant Vikram accomplishing a mission to destroy the drugs that has potential to ruin the society.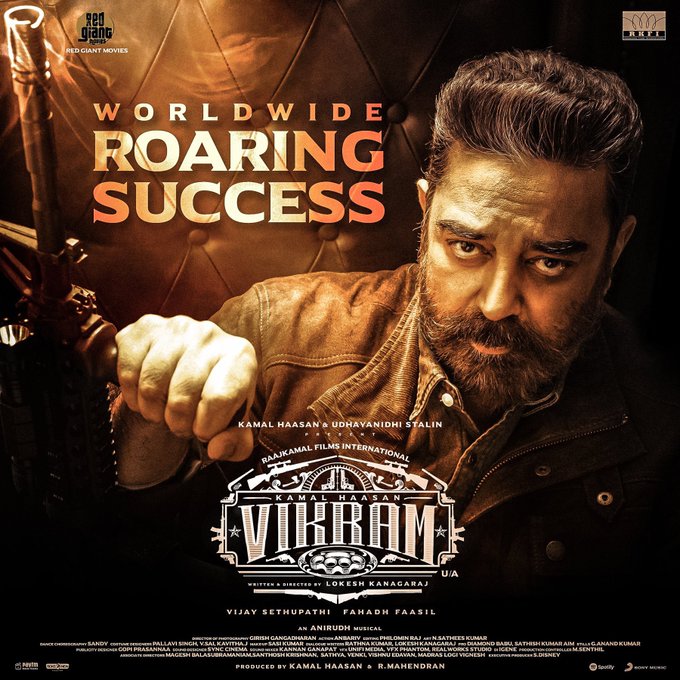 "Tamil fans never failed to save good quality films and the talented actors as well. Its our pleasure that you people chose our "Vikram" movie to become a success. Starting from Mr. Anirudh, Mr. Gireesh, Mr. Philomin, Mr. Anbariv, Mr. Sathees to the anonymous one who worked for the film should receive the appreciation of fans equally and that's what right too" Kamal Haasan said in a gratitude video that was released earlier today.
"The love Lokesh Kanagaraj has on cinema and me were evident in every frame of the film and in each day of the shooting spot. The love of fans is also similar. As an employee of Raajkamal films international, I long for the love to be continued" the actor cum producer said.
Now, a picture of the Kamal Haasan gifting a Lexus to his ardent fan Lokesh Kanagaraj is doing rounds in social media platforms. The picture shows Kamal Haasan handing over the car key to Lokesh in a parking lot. Sharing the picture in his twitter timeline, Lokesh Kanagaraj thanked Kamal Haasan saying "Thank you so much Aandavarey"
Here's his post :
Thank you so much Aandavarey @ikamalhaasan 🙏🏻 ❤️❤️❤️ pic.twitter.com/h2qZjWKApm

— Lokesh Kanagaraj (@Dir_Lokesh) June 7, 2022
Sharing the post, director CS Amudhan tagged producer Sashikanth of Y not studios. Sashi produced both Tamizh Padam 1 and 2 and also did a cameo in the second part.
Here's Amudhan's tweet :
@sash041075 @StudiosYNot https://t.co/Z2Ca2butqD

— CS Amudhan (@csamudhan) June 7, 2022
"@csamudhan Please give us Picture 1 with #Ratham …surely Picture 2 is guaranteed from @FvInfiniti @bKamalBohra @pradeepfab @lalithagd" replied Dhananjayan who is producing gis upcoming film "Raththam".
@csamudhan Please give us Picture 1 with #Ratham …surely Picture 2 is guaranteed from @FvInfiniti @bKamalBohra @pradeepfab @lalithagd 💐😇🏆 https://t.co/xcTaQf2PBV pic.twitter.com/39OuAExUAA

— Dr. Dhananjayan BOFTA (@Dhananjayang) June 7, 2022
"Ooh I'm getting a BMW X6….." Amudhan replied back to which Dhananjayan said "Ha ha. Get ready to receive once we deliver a blockbuster in #Ratham sir 🏆😇💯"
Ha ha. Get ready to receive once we deliver a blockbuster in #Ratham sir 🏆😇💯

— Dr. Dhananjayan BOFTA (@Dhananjayang) June 7, 2022