Director Seenu Ramasamy Replied To Blue Satta's Review !!
Blue Satta
Maamanithan
Vijay Sethupathi
CM / Updated: 2022-06-26
08:08 IST
By Dhiwaharan
Director Seenu Ramasamy, "Maamanithan" of whom got released in theatres recently, replied to the review of Blue satta Maaran who labelled the film as a mega serial. Replying to the logic loop hole Blue Satta mentioned in his review, Seenu Ramasamy said that Maaran could kill a Man but not "The Great Man" referring to the title of his film.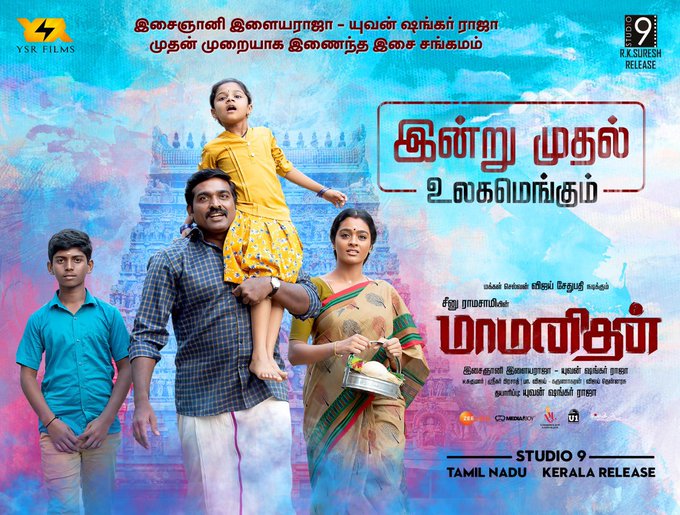 In his review, Blue satta Maaran said that the screenplay of the film was pretty much predictable and the film contained an unwanted love angle. The reviewer said that the film ran only for 2 long hours and the love angle which was not necessary absorbed 45 minutes of it. "Though the story of the film as good, the weak screenplay made it look like a mega serial running in the in big screen"
Maaran also criticized the title the film had and said that it was kept only to get the dates of the lead actor Vijay Sethupathi. He also pointed out a scene in the film and questioned which father would go to buy the jewel for his daughter's marriage without her. Watch his review below :
The review caught the attention of director Seenu Ramasamy himself who came up with a reply through his official twitter handle. The filmmaker greeted Maaran before giving reply to his review and said that he is sending his love for his review. Seenu also justified why the father went alone to buy jewel for his daughter's marriage and said tat he can't kill "The Great Man".
"The father could have went to give order for the jewel with his daughter and going alone to receive it. couldn't he do that ?? You can kill the man, not the "Great" man" the filmmaker said in his reply by writing "இனிய மாறா வணக்கம் உங்கள்
விமர்சனத்திற்கு எனதன்பு நகை ஆர்டர் குடுக்க மகளோடு போயிருக்கார்
வாங்க தனியா போகலாம் இல்லையா? மனிதனை கொல்லலாம் மாமனிதனை
உங்களால் கொல்ல முடியாது @tamiltalkies நன்றி…"
The filmmaker tagged actor Vijay Sethupathi, Producer and music director Yuvan shankar Raja and Suresh of studio 9 in his tweet. Check out his tweet below :
இனிய மாறா
வணக்கம்

உங்கள்
விமர்சனத்திற்கு எனதன்பு

நகை ஆர்டர் குடுக்க மகளோடு போயிருக்கார்
வாங்க தனியா போகலாம் இல்லையா?

மனிதனை கொல்லலாம்
மாமனிதனை
உங்களால் கொல்ல முடியாது @tamiltalkies

நன்றி…@VijaySethuOffl@thisisysr @studio9_suresh#Maamanithanhttps://t.co/UNRjFvJvSQ

— R.Seenu Ramasamy (@seenuramasamy) June 25, 2022
Blue Satta Maaran replied to the Seenu Ramasamy's tweet saying that the fact about whether people are celebrating the film or not in few days and sarcastically commented on the filmmaker tagging the film's actor and producer.
பண்புள்ள சீனா… இனிய வணக்கம்.

மாமனிதனை இம்மண்னின் மனிதர்கள் கொண்டாடுகிறார்களா அல்லது ஏற்றுக்கொள்ளாமல் விட்டுவிட்டார்களா என்பது சில தினங்களில் தெரிந்துவிடும்.

அன்பிற்கு நன்றி.

குறிப்பு: தனிப்பட்ட மடலில் யாரையும் Tag செய்து துணைக்கு அழைப்பதில்லை. #Maamanithan pic.twitter.com/UfaKd6JnBi

— Blue Sattai Maran (@tamiltalkies) June 26, 2022