Director Pradeep Deactivated His FB Account ?? Memes Are Trending
By Dhiwaharan
After becoming internet sensation due to success of his second film "Love Today", director Pradeep Ranganathan who debuted through a film named "Comali" as a filmmaker, became a subject to the attention of online users. His old Facebook and twitter posts are being dug and are getting resurfaced. As a result, the young filmmaker deactivated his handle but it didn't stop there as memes started flooding the online platforms, trolling him.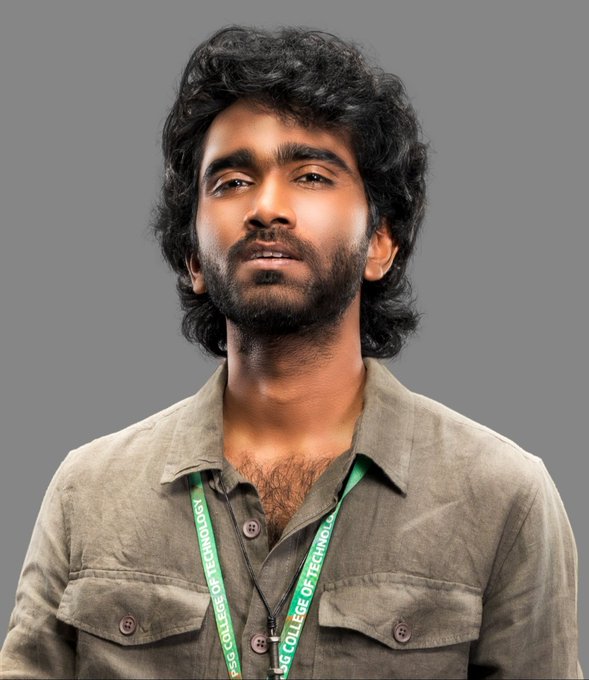 "Love Today" starring Pradeep Ranganathan and Ivana got released in theatres recently and is running successfully among the audience of Tamil nadu. Along with the lead stars, Yogi Babu, Sathyaraj, Radhika Sarathkumar, Raveena and many youtube stars were included in the cast list. Produced by AGS, the film impressed it's target audience and is receiving positive reception from fans and from the critics.
The film's plot revolves around Uthaman Pradeep and Nikitha played by Pradeep and Ivana respectively, seeking permission from the latter's father to get married. Father of Nikitha wants the couple to exchange their cell phones for one day and use it. He says that if they still want to get married the next day, he will give them the permission they want.
What more can I ask for ? It was like to be near a sun . So warm . The tight hug , those eyes , the laugh , the style and the love . What a personality . SUPERSTAR @rajinikanth saw #LoveToday and wished me ❤️ Will never forget the words you said sir ❤️@archanakalpathi pic.twitter.com/Zm0ceJ1iZm

— Pradeep Ranganathan (@pradeeponelife) November 12, 2022
After the duo come to know about the dark secrets of their personal lives after going through each other's cell phones, they scold each other and their relationship is about to end. The film's climax relies on how they managed to reunite, despite all the barriers.
Apart from the film's engaging screenplay and relatable content, performance of the artists were also got highly appreciated by the audience and critics. Pradeep has been giving interviews to youtube channel ever since the film got released and his some of his statements are making headlines.
Now, 10 year old Facebook and twitter posts of the filmmaker are trending in social media platforms. In one of the posts which was allegedly uploaded by Pradeep, he could be seen degrading Yuvan Shankar Raja with whom he collaborated in "Love Today".
Check out them below :
Here's some of the reactions that these alleged posts of Pradeep received :
U1 to Pradeep ~ ipothan un FB old post lam pathen ..ennoda hater aa da nee pic.twitter.com/oEoaSbrifN

— Dharmaツ (@itz_dharma) November 16, 2022
U1 na after seeing Pradeep na's past FB posts : pic.twitter.com/dF7pLghj9p

— Karthiii (@this_is_karthii) November 16, 2022
சோஷியல் மீடியால இந்த மாதிரி ஆர்வக்கோளாறுல போடுறதுலாம் சகஜம்தான்…

ஆனா, 'பழைய யுவன் வேணும், சார்.. பழைய சத்ரியனா வாங்க சார்'ன்னு பண்ண அந்த அலப்பறை இருக்கே 😒😒 மிஸ்டர் பிரதீப் pic.twitter.com/I78jP4Nkqx

— Second Show (@SecondShowTamil) November 16, 2022
U1 na to Pradeep : pic.twitter.com/JIHZorGRom

— prabha (@prabh_here) November 16, 2022
Pradeep now vs. Pradeep in early days 😂#LoveToday #PradeepRanganathan pic.twitter.com/xwUADxub2R

— Shreyas Srinivasan (@ShreyasS_) November 16, 2022
*Pradeep Ranganathan deactivated his FB account*

— prabha (@prabh_here) November 16, 2022
~ Pradeep deactivated his fb account pic.twitter.com/Kf5mMHWK1Y

— ராஸ்கல் (@Rascal1_) November 16, 2022
pradeep Ranganathan

அறியா வயசுல போட்ட post-அ கிளறி I'd-வே deactivte செய்ய வச்சிடிங்களே டா..😔 pic.twitter.com/NYQDjdKOTE

— black cat (tribal) (@Cat__offi) November 16, 2022
Pradeep Ranganathan deactivated his fb account

Mamtians and drug dealer fans : pic.twitter.com/p0eelIL5re

— Dharmaツ (@itz_dharma) November 16, 2022
Facebook Id ah search pana start panitaanga pradeep !😂😂 pic.twitter.com/JJcpek6aUn

— C B 🕶️ (@Crazy_boy__66) November 16, 2022
Drug dealer after seeing pradeep's old fb postpic.twitter.com/tYTSiNhsvl

— 𝘈𝘯𝘪 𝘚𝘵𝘢𝘯 (@Ani_Stan_) November 16, 2022
Pradeep ranganathan Right Now… pic.twitter.com/jHpMiiUuhc

— black cat (tribal) (@Cat__offi) November 16, 2022
When U1 na saw Pradeep Ranganathan 's FB post pic.twitter.com/5rw3b81CXy

— FM 🎭 (@Front_Man13) November 16, 2022
Pradeep na creating new fake id, watching everything what's happening in Fb 😂#PradeepRanganathan #Pradeep #LoveTodayreview pic.twitter.com/FS81WnSiai

— Shittier Tamil Movie Details🇮🇳 (@stmdoffl) November 16, 2022