Director Muthaiah's Comment On Casting Director Shankar's Daughter Caused Controversy !!
Written by Dhiwaharan Published on Jan 18, 2022 | 19:21 PM IST | 148
Follow Us
Comments: 0
Director Muthaiah's comment on restricting his daughter to click a picture of herself in a shopping mall, triggered a set of online users who questioned about his perspective towards the heroines he casted in all his films. The filmmaker who is going to introduce ace director Shankar's daughter Adithi Shankar in his upcoming film "Viruman", said that he sees the latter as his own daughter and described about how he would like to raise a daughter as a "woman".
Known for his rural action films such as "Kutti Puli", "Komban", "Marudhu" in which he worked with actors Sasi kumar, Karthi, Vishal respectively, Muthaiah is currently working on a film named "Viruman" produced by actor Suriya's 2D Entertainment. Karthi and Adithi Shankar are playing the leads in the film which is currently going through the post production process.
First look of the film released recently in online platforms and the makers are actively involved in promoting the film. Director Muthaiah appeared in an interview with Cinema Vikatan youtube channel and talked about how the film initiated with Karthi and 2D Entertainments. Talking about casting Ace Director Shankar's daughter as heroine, Muthaiah said that Sai Pallavi, Keerthy Suresh and Rashmika were the first options. After knowing that they all got busy with their dates, Muthaiah received the picture and video of Adithi from Rajasekar Pandiyan of 2D Enttertainment.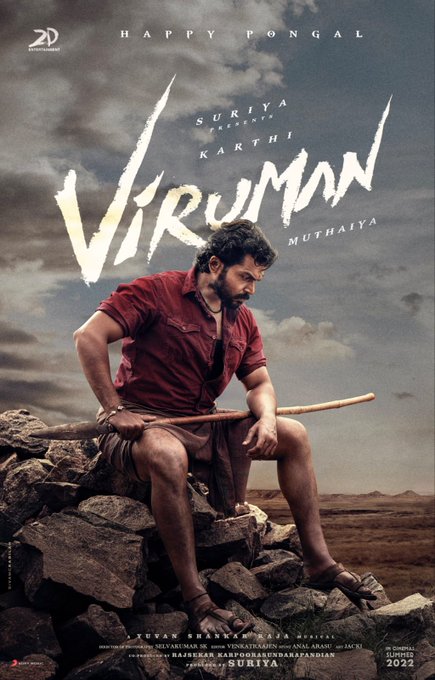 While talking about Adithi's interest in acting, Muthaiah said "Shankar sir is India's one of the best directors. His daughter is like my own daughter. I won't let my daughter to take a picture of herself in public places. I can click her pictures or she can take picture with my family but I won't let her take a picture of herself in forum mall"
When the anchor questioned why he wouldn't let, Muthaiha said "Yes I am a conservative person. When she is clicking her picture, others might click her pictures too. I just don't want to give room for miscreants. I don't care about what society thinks of me. I wish to raise my daughter as a woman" the filmmaker said.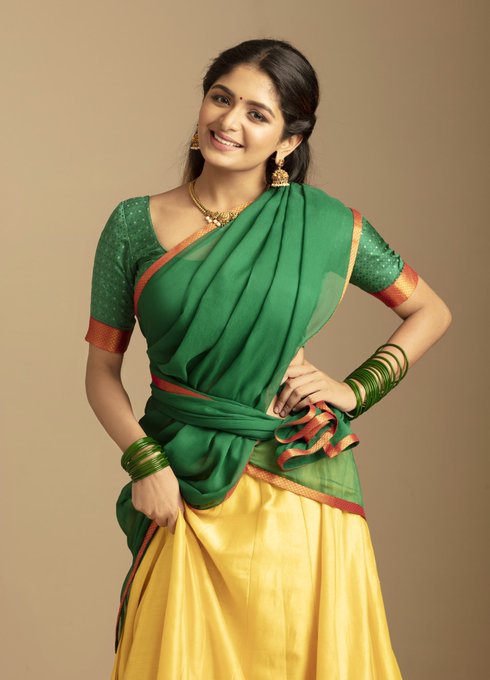 "Shankar sir's daughter is like my daughter and I have all the responsibilities of him. I must see her as my daughter as she is a daughter of my super senior director. When I asked how sir accepted her to become a heroine, she said that it took a long time for her to convince him. I think it is because of the compound of Suriya and Karthi" he added.
Watch the video below :
Video source : Cinema Vikatan 
Muthaiah's comment about controlling his own daughter and the way he made his other heroines act in his previous films, raised so many questions among the social media users.
"Wtf is ponna ponna valakradhu? Imagine someone stopping you from taking pictures of yourself. Men really do think that women are some kind of non living thing that they own" a social media user who is a woman said after watching the video whereas many other users uploaded screen shots of the heroines from his previous films.
Check out some of the reactions below :
Wtf is ponna ponna valakradhu? Imagine someone stopping you from taking pictures of yourself 😭. Men really do think that women are some kind of non living thing that they own. https://t.co/SA8BHwjRPa

— ASA (@asa_tamil) January 16, 2022
Eventhough my father is cold hearted asf thank God he never talks shit like this https://t.co/tlohsjdKrA

— amitochondria (@theawkwardfryy) January 17, 2022
"I'll ruin my home and also others' because en ishta mayiru" https://t.co/noD4wDEUf2

— Gnanapriya (GP) (@MaskPodraMayiru) January 17, 2022
What is more disturbing is the number of people who find nothing wrong in these statements.

Exemplifies how normalised patriarchy is in our part of the world!! https://t.co/m6KOnOzLgc

— Harik (@harionaroll) January 16, 2022
I feel sorry for the female artists in this guy's movies and the women in his family. https://t.co/yRJQNE0n9G

— Vasanth 💫 (@gully_point) January 16, 2022
These fucking filthy mind set ppl think they r d one who is protecting women.

Being a Daughter doesn't mean tat she s our Valuable property or slave

We can guide her bt We have no rights to take control over thier life

Hope ur daughter come out of u & explores whole world. https://t.co/RUwuL5CT9s

— Karal🍁 (@ItsKaral) January 16, 2022
Ponna ponna thaa valappen tff it is not new how some fathers think they have all rights to control the actions of their daughter, irrespective of her opinion, in the name of guarding her ffs. I wish this girl grows to be more powerful and wrongs his every "pazhamaivaathi" thought https://t.co/x17O9uFFVk

— momo 💌 (@psichip) January 16, 2022
tf he means by "en ponna ponnaa valarka aasa padren" im scared to know what he thinks of the women who work in his movies.. https://t.co/5Qek6YIud7

— varsh (@zomvbii) January 16, 2022
தனை பழமைவாதி என ஒப்புக்கொள்கிற எவனுமே கலைஞனாக இருக்க முடியாது. காட்டுமிராண்டியாக மட்டுமே இருக்க முடியும். முத்ததையா தன் படங்களில் பிரதிபலிக்கின்ற அதே காட்டுமிராண்டித்தனத்தைதான் வாழ்விலும் கடைபிடிக்கிறார். https://t.co/HdLPVhYB5Y

— ச.கருணாநிதி (@karna_sakthi) January 17, 2022
ஏண்டா மயிராண்டி இதுவும் நீ எடுத்த பாட்டு தான்….அது என்ன உன் பொண்ண போட்டோ கூட எடுக்க விட மாட்ட ஆனா அடுத்த பொண்ணுனா படுக்கவச்சு படம் எடுப்பியா… pic.twitter.com/FcPfXfGmPt

— கொக்கி பாலிடிக்ஸ் (@Kokkipolitics) January 16, 2022
Jyo nadikkura padangalum indha aaloda padamum edukkuradhu ore producer ah?!? https://t.co/dndhh0mMiv pic.twitter.com/vpLlQXkTYS

— Grumpy Periyavar (@GrumpyPeriyavar) January 16, 2022
பொண்ண ஃபோட்டோ எடுக்க கூட விடமாட்டானாம்!

அப்போ அடுத்தவன் பொண்ண ஹீரோயினா போட்டு என்ன மயித்துக்கு படம் எடுக்குற ?? https://t.co/Z2HOqjNxa5

— Athreyadaw™ (@SuriyaaAddict) January 16, 2022
அது என்னவோ தெரியல ஜாதி வெறி மத வெறி ஆணாதிக்க புத்தி இருக்கிற முக்காவாசி பேருக்கு பெண் குழந்தைகளாக பிறக்குது 😒

— Dr. Po Mairu  (@kuttykulanthai) January 16, 2022
Perfect pic.twitter.com/yNefRPxcDo

— ManiR (@maniraju07) January 16, 2022
அடேய் துப்பட்டா போடுங்க டோலி கலாச்சார காவலர் குரூப்தான நீ pic.twitter.com/3dBE3Ab4bO

— துருவ🌟 (@Kiruba2Daniel) January 16, 2022
அவன் பொண்ணை பொண்ணா வளக்கணும் அதான் போட்டோ எடுக்க மாட்டேன் சொல்றான் அப்போ ஹீரோயின வச்சு படம் எடுக்கானே அந்த ஹீரோயின் எல்லாம் என்ன ஐட்டம்னு சொல்ல வரானா ? என்ன ஜந்துடா இது ச்சைக்.. https://t.co/tEcIwHmOzt pic.twitter.com/S0Vt3JHmEk

— 𝗩𝗮𝗹𝘂𝗕𝗼𝘆 (@ValuBoy_) January 16, 2022