After Ajith fans trended an abusive hashtag against Vikatan magazine on Saturday, controversial director Mohan G came up with a tweet criticizing the magazine for degrading the actor with a design. He said that he won't attend their award functions, no matter what. Mohan G is an ardent fan of actor Ajith kumar and is planning to direct him in near future.
[wp_ad_camp_1]
A design made by Anandha Vikatan magazine left many fans of actor Ajith kumar in a dejected state. The actor, on Thursday released a press note asking public not to believe in frauds who are identifying themselves as the representative of himself. He said that Suresh Chandra is the only representative of him. The press release became a trending topic in social media. Now, a design made by Ananda Vikatan having Ajith kumar created ruckus among the fans of the actor.
அஜித் தீ ஷர்ட்!#TShirt | #AjithKumar pic.twitter.com/3T3SnxLY3K

— Ananda Vikatan (@AnandaVikatan) September 18, 2020
As we all know Ajith is one of the toppest actors in Kollywood industry who avoids attending public events and promotional functions. Being one of the leading actors of Kollywood, he enjoys a huge fan base in Tamilnadu. Despite of getting a humongous amount of love from his fans, Ajith refused to have fan clubs and dismantled it few years ago as he wants his fans to look after their families. This only increased the love of fans for him as they started admiring him more for his attributes.
Now, in a way of mocking Ajith kumar for not raising his voice for public issues like Suriya and Vijay, Anandha Vikatan made a design in which his T-shirt said "Veliya Varamaten Poda" (I won't come out, get lost). The T-shirt is an imitation of recent trending T-shirt "Hindi Theriyathu Poda".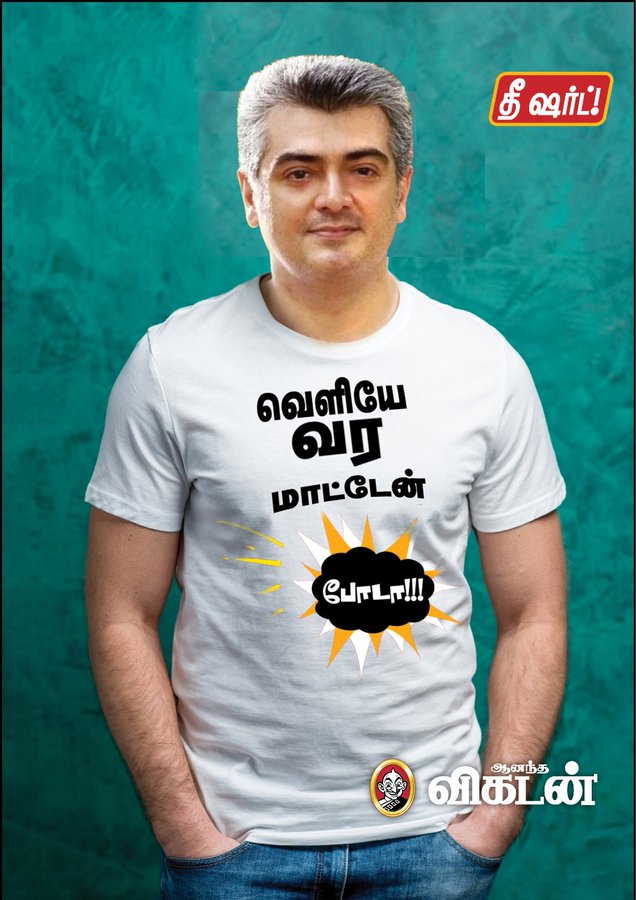 [wp_ad_camp_1]
Fans of the actor got extremely disappointed on seeing this post from the legendary magazine. As a result of it, a hashtag "விபச்சாரவிகடன்" trending in the micro blogging social media site.
Director Mohan G posted a tweet asking why Vikatan is trying to seek attention in this way. "Your hand will get crushed if you keep your hands in wrong places. He doesn't have to come out, his movies are enough for us. Don't dream that he will come to the politics mixed award functions that you are conducting. Get lost" he said in his tweet.
"விகடனுக்கு டன் டனா டன்… எதுக்கு இந்த விளம்பரம்.. வைக்க கூடாத இடத்துல கைய வச்சா நசுங்க தான் செய்யும்.. அவரு வர வேணாம்.. அவரு படம் வெளிய வந்தா போதும் எங்களுக்கு.. நீங்க நடந்துற அரசியல் கலந்த விருது நிகழ்ச்சிகளுக்கு வருவாருன்னு கனவுல கூட நினைக்க கூடாது.. போங்கடா.." his Tamil tweet read.
Check out his tweet below :
விகடனுக்கு டன் டனா டன்… எதுக்கு இந்த விளம்பரம்.. வைக்க கூடாத இடத்துல கைய வச்சா நசுங்க தான் செய்யும்.. அவரு வர வேணாம்.. அவரு படம் வெளிய வந்தா போதும் எங்களுக்கு.. நீங்க நடந்துற அரசியல் கலந்த விருது நிகழ்ச்சிகளுக்கு வருவாருன்னு கனவுல கூட நினைக்க கூடாது.. போங்கடா..

— Mohan G Krish 🔥😎 (@mohandreamer) September 18, 2020
Check out the other designs Vikatan made by having other influential personalities :
[wp_ad_camp_1]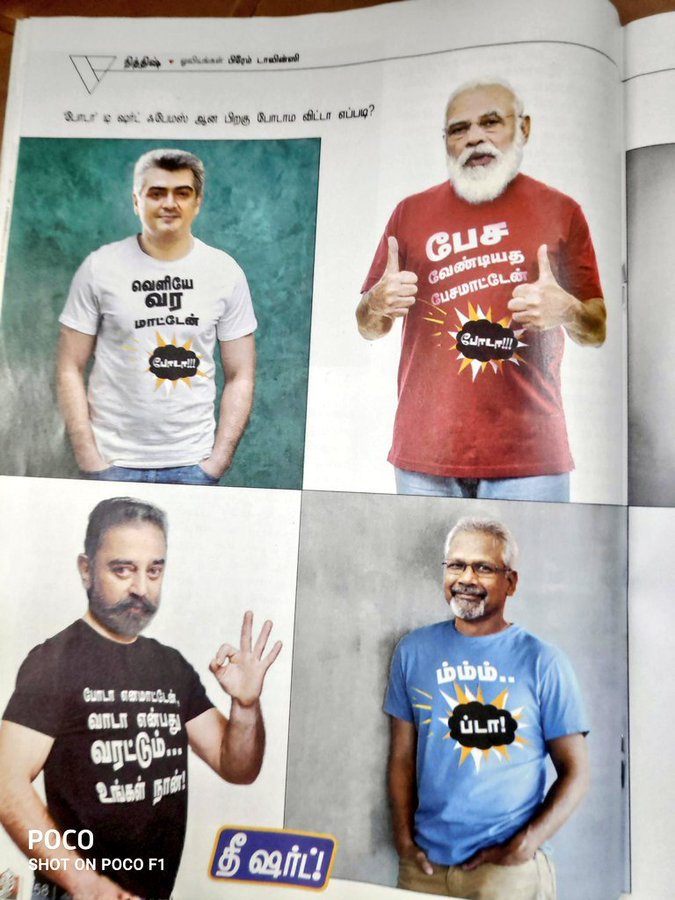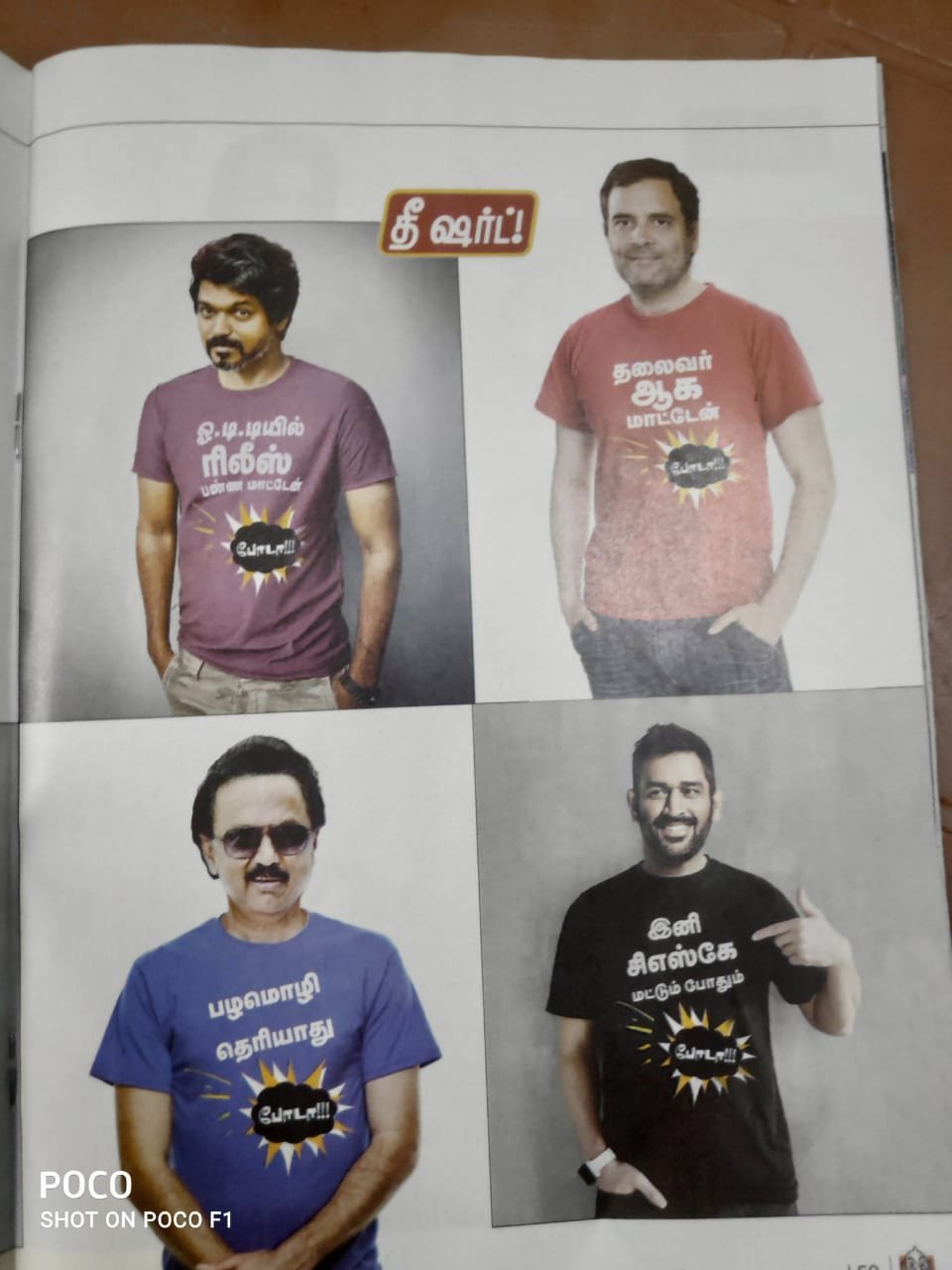 Comment your views on this tweet of Mohan G !!