Director Atlee Got Trolled For This Cheap Reason ?? Internet Exploded !!
Atlee
IPL
Shah Rukh Khan
Thalapathy63
4 years ago
By Dhiwaharan
Director Atlee and Bollywood superstar Shah Rukh Khan were spotted sitting next to each other at the latest match of Chennai Super Kings, where it took on SRK's Kolkata Knight Riders at MA Chidambaram Stadium, Chepauk. CSK emerged victorious. More than the victory of the team, K-Town is now all about the meeting of Shah Rukh Khan and Atlee.
[wp_ad_camp_1]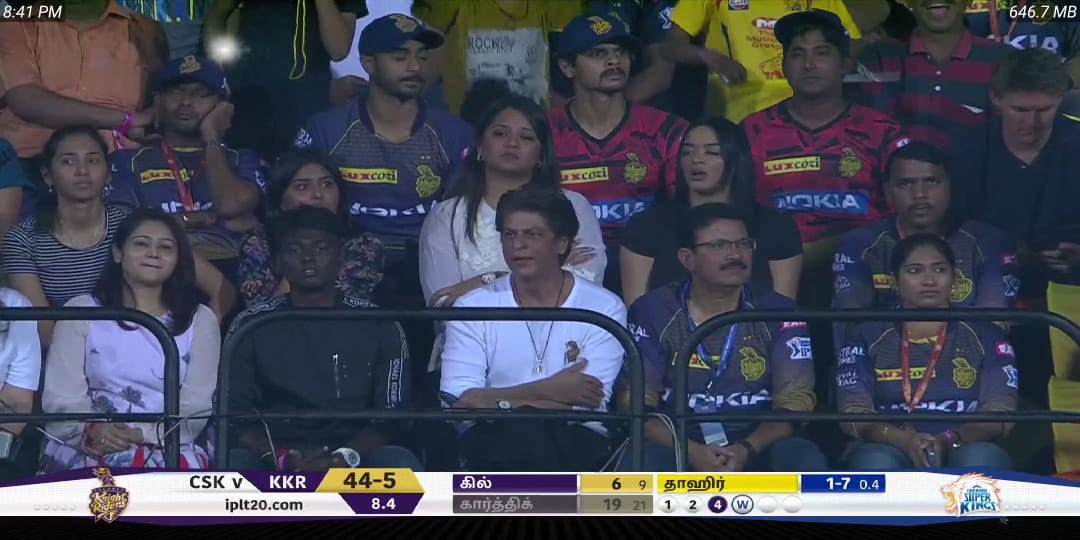 Earlier, it was rumoured that Atlee is trying to rope in SRK for a cameo in his upcoming film with actor Vijay. Tentatively titled Thalapathy 63, the film is based on the game of football. Other speculations predict that the film is Hindi remake of Tamil blockbuster Mersal.
Now, the recent meet of Atlee and Shah Rukh Khan has resulted in various speculations. Some predict that the Tamil director is trying to rope in SRK for a Bollywood film and some say that it was for Thalapathy 63. But the general notion is that 'something is cooking.'
King #SRK @iamsrk sitting with @Atlee_dir at the #CSKvKKR match..

Hmm. Something cooking 😎..#IPL2019

— Kaushik LM (@LMKMovieManiac) April 9, 2019
[wp_ad_camp_1]
Meanwhile as soon as the pictures surfaced in Internet, many online users trolled the Director for his dark skin. They started posting trolls and memes against the director which created massive outrage between two separate set of fans.
What if Atlee sat left side of Sharuk last night, infront of that #Black tshirt Girl pic.twitter.com/QdNH8Duuda

— Tonystark™ (@tonystark_offl) April 10, 2019
Deiii நில்லாம் black dress போடலாம்டா😂😂😂 தேடி கண்டு புடிக்க வேண்டியிருக்குது #Atlee pic.twitter.com/SpyupEUtzB

— தல Vairam🇮🇳 (@madhavan_vaira) April 9, 2019
வேற வழி இல்ல
சொல்லிடுவோம் 😞

ஆனால் நக்கல் பண்ணல அக்கறைல சொல்றேன் 🙁

அன்பு @Atlee_dir அண்ணா
இந்த மாதிரி live telicos நடக்குற ஏகபட்ட கேமாரா போக்கஸ் அதும் ஒரு Indian Mega artist பக்கதுல இருக்கிங்க பாருங்க அவர் கலருக்கே White T shirt போட்ருக்காரு

நீங்க ஏன் black ல வந்தீங்க 😞 pic.twitter.com/y5Y67hkHxb

— CSK 💛 தாரா செல்வி 💛 (@itz_selvi002) April 9, 2019
People expressed their disgust on the racist mark and slammed the trolls. Check out some of them here :
Seeing lot of trolls against @Atlee_dir by comparing color. This is totally disgusting. I have read only in newspaper about racism but for the very first time i am seeing it. I thought all my fellow people in TN are well educated more importantly kind hearted.

— Muthukalai (@muthu_kalai) April 9, 2019
It's such a shame to see people troll Atlee Kumar for his skin complexion especially compared to Shah Rukh Khan in the last evening's match. Look at your face on the mirror first before you create such shitty memes…it would be as shitty as your memes and trolls…

— Rathish M Saravanan (@dearrathish) April 10, 2019
[wp_ad_camp_1]
#Atlee is an inspiration for young aspirants who wish to achieve their dreams of passion irrespective of hardships! Unethical trolls about him is nothing before his vision & connect with people through his movies. Let's wait for the official word but already he is our superstar❤ pic.twitter.com/Bf9sIKYMnK

— Abe♡ (@Abegowri17) April 10, 2019
Be it Atlee or Siruthai Siva, You have all the rights to criticize their movies, but not their physical appearances.

Troll pannalam, abuse lam echainga pandra velai! Venam Nanba 😉

— BlastingTamilCinema (@BLSTG) April 10, 2019
Myself being mostly dark, I feel bad for the trolls that #Atlee has to go through when he makes public appearances. #Priya should be proud that her hubby has reached a height that to sit besides #SRK is no less feat. pic.twitter.com/aDsAIm8OJ2

— 🎞Pravs🎧 (@filmsnut) April 9, 2019
Stop body shaming and racism. Criticise their work not their appearance. Recent Atlee trolls are disgusting

— கார்த்திக் சந்திரன் (@KarthickCdm) April 9, 2019
அட்லி மீதான நிறவெறி தாக்குதல் இந்த சமூகம் முன்னோக்கி செல்ல வேண்டிய தூரம் நாம் எதிர்பார்ப்பதை விட மிக அதிகம் என உணர்த்துகிறது.

— DON ஸ்டைல் பாண்டி (@i_StylePaandi) April 9, 2019
மூன்றே படம் இயக்கிய ஒரு இயக்குனர்,இந்தியாவின் மிகப்பெரிய நடிகரின் உடன் அமர்ந்து மேட்ச் பார்ப்பதுயெல்லாம் அவர் உழைப்பின் வளர்ச்சியே👏ஒருவரின் உருவத்தையும் அவரின் நிறத்தையும் வைத்து பேசும் முன்,அவரின் வெற்றின் உயரத்தை என்னிப்பார்👍அவர்த்தொட்ட உயரம்
இன்று பலபேரின் கனவு🔥@Atlee_dir pic.twitter.com/PChcVvmXLP

— Rajapandiyan Raja (@imrajapandiyan) April 9, 2019