Dinesh Karthik Once Again Instructed Varun In Tamil When Jadhav Came In To Bat !!
By Dhiwaharan
Not many days ago, Dinesh Karthik grabbed headlines for using Tamil language to communicate with Varun Chakravarty, a Tamil speaking cricketer who rose to fame through TNPL during a match between Kolkata Knight Riders and Rajasthan Royals. Now, he used the same method against Chennai Super Kings, a team which belongs to Tamil nadu. Video of the incident is doing rounds in social media platforms with hilarious reactions as fans of the yellow team are dejected with the performance of the middle order batsmen.
[wp_ad_camp_1]
Mahendra Singh Dhoni, in the post match presentation said that the team's batsmen have let the bowlers down with their poor performance. Despite of the solid start from Shane Watson and Faf du plessis, the team succumbed to defeat due to below average batting performance from captain Dhoni and Kedar Jadhav.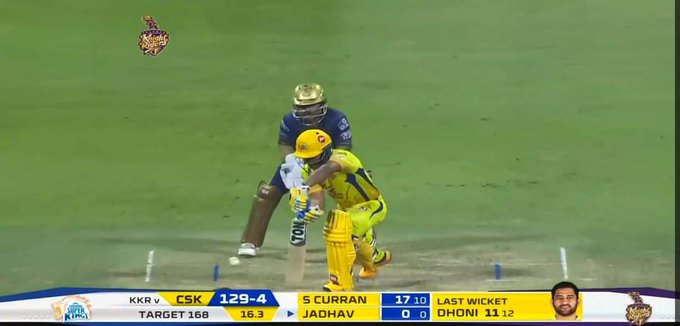 It all started when Rayudu went for a shot instead of keeping it with the ground when the required run rate per over was just below 9. When Dhoni tried to hit Varun Chakravarthi for a biggie, he completely missed the ball and got bowled which caused Kedar Jadhav to make his presence in the middle to bat. When he came to bat, CSK needed 39 runs from 21 balls and he played a solid defence in the very first ball he faced. No runs came in the next two balls as well.
After Varun Chakravarty sent Dhoni to the pavilion in the third delivery of his last over, Kedar Jadhav came in to bat. When the right handed batsman was getting ready, Dinesh Karthik, captain of KKR team who also keeps wicket, instructed Varun not to bowl too straight and predicted that Kedar would try to tap it gently.
Dinesh who caught in the stump mic, could be heard saying "Romba neraa venaa ulla vantha thatti uda paapan . . Ok yaa" (Don't bowl too straight, he would try to tap it) to get a nod from Varun Chakravarty as response.
[wp_ad_camp_1]
Watch the video below with headset :
"Romba neraa venaa ulla vantha thatti uda paapan. . Ok yaa. . " @DineshKarthik
strikes again 🤣🤣🤣 apo Avan thatti thaan viduvaan nu unakum therinjirku la yaa. . 😭 pic.twitter.com/lFZbt52HcR

— Unknown (@Mysteri13472103) October 8, 2020
Dinesh used Tamil not to let Jadhav or Curran to understand what he is communicating with his bowlers. Followed by the instruction, Varun bowled a quicker which was defended by Jadhav. He also restricted Jadhav from scoring runs in the next two balls. He got off the mark in the 6th ball he faced. Jadhav scored 7 runs from the 12 balls he faced and Jadeja made 21 runs from the 8 balls he faced. In his innings, the right hander was involved himself in so much drama such as counting the fielders, changing bat, not giving strike to his partner etc.
In the match against Rajasthan Royals, during the start of 11th over, when Tom Curran and Rahul Tewatiya were in crease, Dinesh handed the ball to Varun. When the captain was adjusting the field, Varun who called his captain, gestured that he needs a field change in off-side. Responding to that, Dinesh, effortlessly says "Illa la . . ithu Aada chance illa athanala . . Paakalam" (No. . No . . There is no chance for him to hit the ball that way. That's why. Let's see). Being a wicket keeper, he got caught in the stump mic.
[wp_ad_camp_1]
Watch the video here :
Illa la ithu aada chance illa athanala thaan. . Paakalm 🤣🤣🤣@DineshKarthik caught in stump mic while interacting with #Varun #KKRvRR #Tamil #Varun pic.twitter.com/KKNWYCMq4P

— Dhiwa (@VisualKaaran) October 1, 2020
Here's an another video clip of the cricketer talking in Tamil :
தமிழ் 💛@MSDhoni | @ChennaiIPL #WhistlePodu | #CSK pic.twitter.com/4chvfTFFBe

— MSD Kingdom™ (@MSDKingdom) October 1, 2020
This is not the first time Dinesh using the language to interact with his teammates. During International matches, while playing with Tamil nadu players like Ashwin, Dinesh made the headlines for giving him suggestions and appreciations in Tamil. Not only Karthik, even Dhoni and other Indian wicket keepers would use their respective regional languages to avoid their foreign opponents understanding their game strategies.