Dhoni's Tweet Comparing Jadeja and Rajini Goes Insanely Viral!!
By Dhiwaharan
After Mahendra Singh Dhoni handed over the captaincy to Ravindra Jadeja ahead of IPL 2022, a cheeky tweet uploaded by the cricketer 9 years ago comparing the left hand batsman and Tamil Superstar Rajinikanth is being widely shared among the users of the micro blogging social media site with various kind of reactions. In the tweet, Dhoni said that God created Ravindra Jadeja after realizing that Rajinikanth is aging.
On Thursday, CSK, in a statement said that Jadeja will be taking over the captaincy from Mahendra Singh Dhoni for the second most successful IPL team, Chennai Super Kings.
The statement of Chennai Super Kings clearly indicated that it was Dhoni who picked Jadeja to be his successor. It is notable that the left arm all rounder was retained for Rs. 16 crore ahead of the IPL meha auction.
"Jadeja who has been an integral part of Chennai Super Kings since 2012, will only be the third player to lead Chennai Super Kings" said CSK in it's statement. "Dhoni will continue to represent Chennai Super Kings in this season and beyond" the statement further added.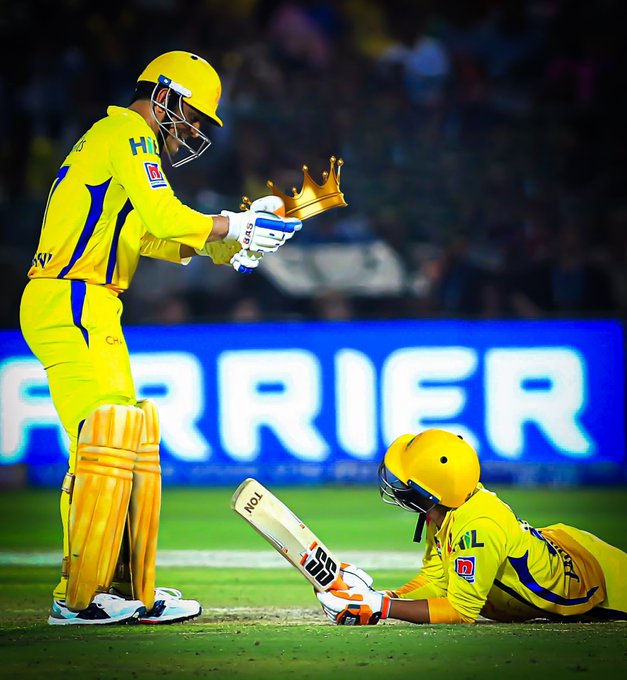 Dhoni who has been leading the four time IPL champions since the inaugural season in the year 2018, has never endorsed any political party in his 20 years international cricket.
Now, as a reaction to the major decision off MS Dhoni, an old tweet he shared about Jadeja as a joke is trending with different photo shopped edits. However, in the real tweet, Dhoni made fun of Jadeja saying "God realised RAJNI sir is getting old so he created sir ravindra jadeja"
Here's the tweet which was uploaded by Dhoni on 9th of April 2013 :
God realised RAJNI sir is getting old so he created sir ravindra jadeja

— Mahendra Singh Dhoni (@msdhoni) April 9, 2013
At that time, jokes on Superstar Rajinikanth's super powers were trending across the country. Now, after Dhoni made Jadeja as CSK's captain, the old tweet is trending with various kind of reactions from fans.
Check out some of the them below :
How well this has aged https://t.co/Xtwawr8pcp

— Yogesh Shenoy (@YShneoy) March 25, 2022
AGED, extremely well lol. #CSK𓃬 #IPL2022 #MSDhoni https://t.co/l4NQMRF9Ql

— saksham (tox) (@sakshamok) March 24, 2022
God realised Mahi is getting old so he created Ravi Jadeja 😔 https://t.co/xJF0VY9hBR

— Srivathsan B (@srivathsanb14) March 24, 2022
When #MSDhoni typed this in 2013.. Never knew, all would come back to this in 2022.#CSK𓃬 #IPL2022 #RavindraJadeja https://t.co/1kkvMJ5Chn

— Sharon Solomon (@BSharan_6) March 24, 2022
God realised once Dhoni sir will be done, CSK will be required a successor of MS Dhoni, so he created Sir Ravindra Jadeja !#MSDhoni #CSK𓃬 #Jadeja https://t.co/nMTZhnfKBU

— TegtaJi (@iamtegtaharsh) March 24, 2022
He knew way ahead!#CSK𓃬#MSDhoni https://t.co/TTYyRkPEA0

— 🔰 Ramek Buji 🔰 (@Ramek_Buji_RB24) March 24, 2022
🙏💛😭 @msdhoni #captaincool #MSDhoni https://t.co/wXyqfELyhd pic.twitter.com/ovaTui2yGB

— கத்திகதிர்⁰⁷࿐ (@kaththikathir97) March 24, 2022
No God realised you getting old that's why he created sir @imjadeja
Congratulations 👏 to sir jadeja. https://t.co/Z3qAjuZxLE

— Parth (@_Parth_07) March 24, 2022