Dhoni's run out devastated the fans in the stadium as there was a pin drop silence in Manchester crowd. The two day international world cup semi finals match went in favours of the black caps due to the top order collapse for the first time in this world cup. Three of the top order batsmen scored just 1 run and got out while chasing just 240 runs in 50 overs.
[wp_ad_camp_1]
kane Williamson's brilliant captaincy was lauded all over the Internet. When India struggled at one point and seemed to lose the match by large margin, it was Ravindra Jadeja and Dhoni's partnership which kept the hopes of billions alive.
Jadeja played the knock of his life time and got out while trying for a  big one in Boult's over. Dhoni who has done it for many time as Sourav Ganguly in the commentary said got run out by Martin Guptil's sharp direct hit throw. That moment shattered the dreams of Indian people's dream about the world cup.
Now it has been alleged that the delivery in which Dhoni got out is an illegal one as there were 6 fielders outside the 30 yard circle. Only 5 fielders are allowed to be outside the 30 yard circle during bowling powerplay.
[wp_ad_camp_1]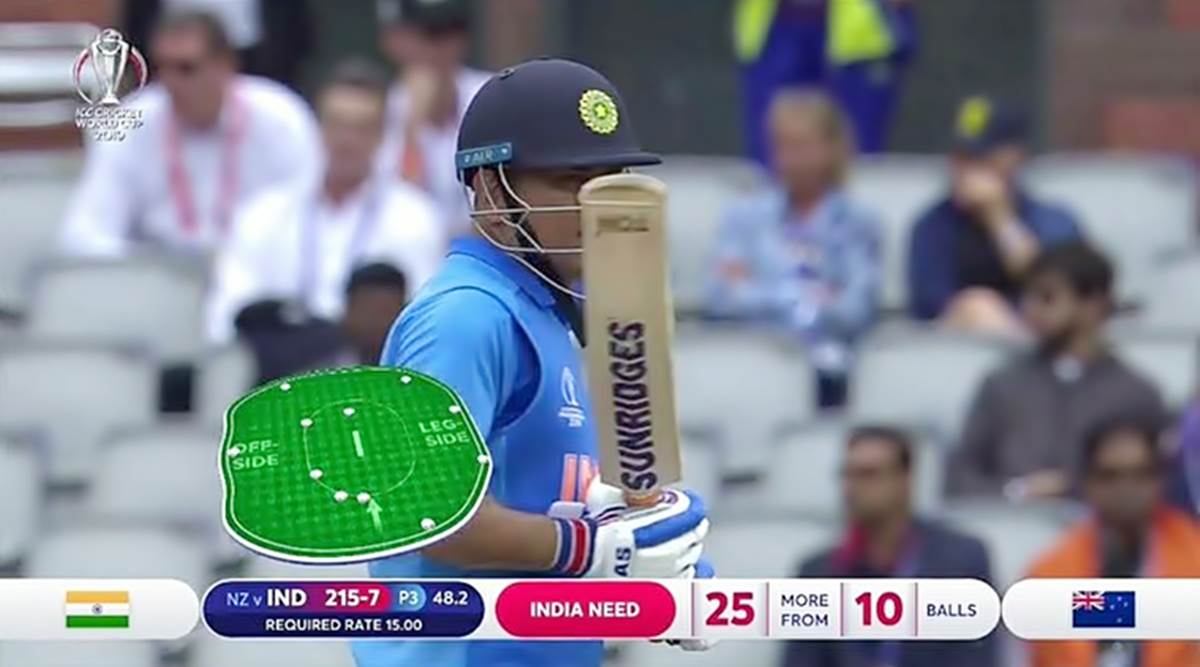 Check out the reactions from fans here :
Issue is not the fact that there would anyway have been a run out off a no ball. Had Guptill been the fielder inside the circle Dhoni may not have gone for the 2nd run.

— Sumanth Raman (@sumanthraman) July 10, 2019
Glaring umpiring error? Could they afford this in a World Cup semi final? 6 players outside the circle… how long did they play like that in P3? #INDvNZL #Dhoni pic.twitter.com/Hb5UlA4tsI

— Anand Narasimhan (@AnchorAnandN) July 10, 2019
Hey @ICC the ball on which #Dhoni was given run out should be a #deadball or a no ball… because 6 players were outside the 30 yard circle and how can the umpire be such careless..👏 pic.twitter.com/2gMSDvkaxc

— Harpalsinh Rajput (@Harpals97639592) July 10, 2019
What A great Umpiring Skills….The Ball Msd became runout should be given as NoBall…& Dhoni should have played and India have Won….What A Great WC?What a great exhibition of Umpiring skills???? pic.twitter.com/1Xthq2Qyjv

— L@cchi (@LacchiOrange) July 10, 2019
This shameless & spineless @ICC has no moral right to organise Cricket World Cup anymore.#PKMBK

— Always Somewhere (@amitvikram108) July 10, 2019
Dhoni got out on an illegal delivery. pic.twitter.com/1j0lQtefV7

— Vikas Kothari (@VikasKo52772514) July 11, 2019
It's a illegal delivery on which dhoni got out I don't understand no one notice this field umpires, third umpires match refre every one become at that moment pic.twitter.com/1ga23sWNUW

— Aryan goyal(INC) (@Aryango49660700) July 10, 2019
There were 6 fielders outside the 30 yard circle when Dhoni was run out. Shame on Umpires for this level of awareness and that too in World Cup Semi-final 👿👿👿 pic.twitter.com/ocA8xSuNbz

— MasterYoda (@PrasidthJ) July 10, 2019
[wp_ad_camp_1]
Its totally illegal and wrong…ICC should ban Newzeland
…
ICC can see the Indian Army logo in gloves of Dhoni….but ignored 6 players outside the 30 yards circle….@ICC #ICC #BCCI #CWC19 https://t.co/wCqFzPbsaK

— yogendra singh (@yog_indian) July 11, 2019
However Dhoni's run out in a no ball due to field placement error is legal, Fans stating that Dhoni would not have taken the risk if Guptil was inside the circle and he would let Bhuvaneshwar Kumar to take a single in the free hit to keep strike.
What do you think on this ?? Comment your views below !!