Dhanush's Fitting Reply To Those Who Trolled Him For His Looks!!
Chris Evans
Dhanush
The Gray Man
CM / Updated: 2022-07-25
17:11 IST
By Dhiwaharan
Tamil actor Dhanush who became a global star by featuring in the recent Netflix project of Russo Brothers "The Gray Man", is his recent speech, gave a fitting reply to those who trolled him for his looks during his early days of cinema career. The actor, while answering to a question on what would be the advise he would give to his younger self, had mentioned about how Chris Evans called him in the Hollywood film and received huge applause from the audience in the Hall and from those in the internet.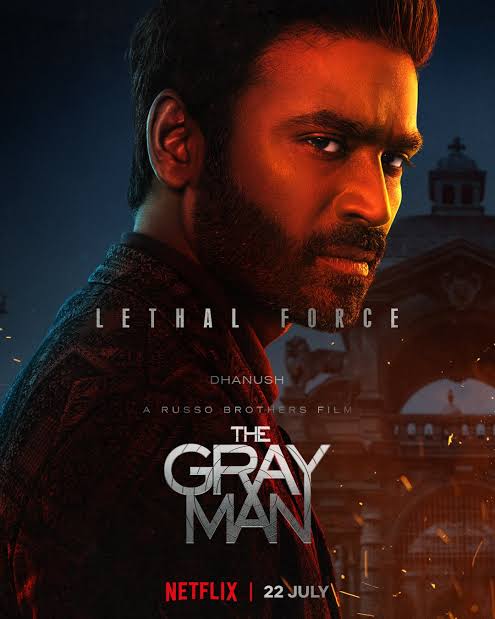 With the most expected "The Gray Man" releasing in "Netflix" platform, cast of the "Russo Brothers" directorial are busy promoting the film by appearing in interviews and promotional events. The film which stars few of the high profile stars of Hollywood including Ryan Gosling, Chris Evans, Ana De Armas, also has Tamil actor Dhanush in a prominent role. Video clippings and the posters of the actor who has a huge fan base in India, especially in Tamilnadu were released by the makers and he is one of the main reasons for the fans in India to watch the Hollywood project in Netflix.
Recently, the entire cast of "The Gray Man" attended the premiere of the film in Los Angeles. Dhanush who plays the role of Avik San in the film, made his presence in the event with his sons Lingaa and Yathraa. In one of the recent promotional interviews to an Indian channel, Ana De Armas and Chris Evans, lead actors of the film heaped al praise on the Tamil nadu based actor for his patience and professionalism.
Tag that friend 👀👇 pic.twitter.com/m6LTgCDcHB

— Netflix India (@NetflixIndia) July 22, 2022
In the film, a scene was kept in a way of Chris Evans terming Dhanush as his "Sexy Tamil friend". Fans from India, especially from Kollywood film industry, shared the screenshot of the same and expressed their excitement over Dhanush being recognized.
Hello my sexy Tamil friend Its Really proud Moment @dhanushkraja @Russo_Brothers 💐🎊🎉#TheGrayMan pic.twitter.com/KIgP83qjkP

— ℳર.கௌசி 𓃬 (@koshi_twits) July 23, 2022
Now, in a recent interview, Dhanush was asked what would he advice to his younger self at this point of time. Replying to the question, the actor said "I would tell him don't worry about people who are trolling you for your looks. Ome big Hollywood hero would call you "Sexy Tamil friend"
Watch the video below :
.@dhanushkraja has a message for his younger self and it's the most badass advice we've ever heard ❤️‍🔥 pic.twitter.com/XiCf4IcND0

— Netflix India (@NetflixIndia) July 24, 2022
The video is trending in the internet platforms with fans expressing their admiration over Dhanush for his growth, irrespective of being trolled for his looks. Check out some of the reactions below :
— lokiplis (@lokiplis) July 24, 2022
Best Motivation Of The Decade..😎❤🔥#TheGrayMan #Vaathi @dhanushkraja https://t.co/JS2aOqnB3P

— வாத்திツᵁⁿᵏⁿᵒʷⁿ😷 (@TheRickesDfan) July 25, 2022
To all those mfs who used an specific emoji for him, take this!!!
He is the sexy Tamil friend now😍#dhanush #TheGrayMan https://t.co/Fsx8BPQX20

— Thulazi ❁ (@Thulazi333) July 24, 2022
ironic that @netflix has Little things too 😂 https://t.co/dtAglsY1aa pic.twitter.com/3E8hITQmYe

— lokiplis (@lokiplis) July 24, 2022
Who dare to criticize his looks hey he looks so fine, always looked so beautiful to me 💗 https://t.co/lFizEqZ5Pe

— Jen 🔥 (@JBLifeOLLG) July 24, 2022
Dear Haters This is for you.♥️@dhanushkraja #Vaathi #TheGrayMan https://t.co/bgVArNnmCe

— × PETTA VELAN × (@Petta_Velan_) July 24, 2022