Devraj Patel, A Famous Youtuber Died Due To Road Accident!!
Written by gokul krishnan Published on Jun 27, 2023 | 17:13 PM IST | 131
Follow Us
Comments: 0
Devraj Patel, a beloved comedian and YouTuber hailing from Chhattisgarh. Known for his infectious laughter and catchphrase "Dil se bada lagta hai," Devraj became a social media sensation, capturing the hearts of millions across the nation. Sadly, his promising journey was cut short when he met with a fatal vehicle accident while en route to Raipur to film a comedy video. This article pays tribute to Devraj Patel, highlighting his impact, achievements, and the profound void he leaves behind.
Devraj Patel rose to prominence in the world of comedy through his YouTube channel, where he showcased his unique brand of humor and infectious energy. With his natural flair for comedic timing, he effortlessly won the hearts of his viewers, who eagerly awaited each new video. His catchphrase, "Dil se bada lagta hai" (feels bigger from the heart), resonated deeply with his fans, and soon became a cultural phenomenon, spreading across social media platforms like wildfire.
In 2021, Devraj Patel made his debut in the highly popular comedy-drama series "Dhindora," created by renowned YouTuber Bhuvan Bam. The collaboration was eagerly anticipated by fans, who relished the opportunity to witness their favorite social media stars together. Devraj's appearance in the show marked a significant milestone in his career, and he expressed his joy and gratitude on Twitter for the immense opportunity. The chemistry between Devraj and Bhuvan Bam was palpable, and their on-screen camaraderie added a new layer of humor to the series.
also read: Mother Arrested For Not Taking Care Of Her Kid For 10 Long Days!!
Devraj Patel's magnetic personality and unique comedic style propelled him to social media stardom. His videos garnered millions of views, and he amassed a substantial following across various platforms. Devraj's ability to connect with his audience on a personal level set him apart from the rest. He had a genuine talent for bringing a smile to people's faces and brightening their days with his infectious laughter.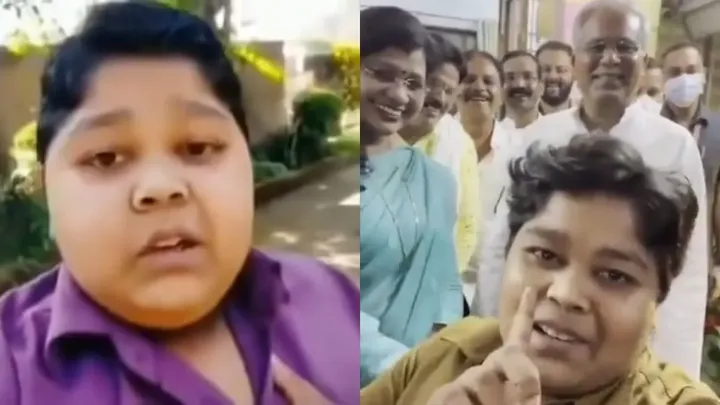 As news of Devraj Patel's tragic demise spread, an outpouring of grief and condolences flooded social media platforms. Fans, fellow YouTubers, and celebrities alike expressed their shock and sadness, honoring the memory of the talented comedian. The impact Devraj had on people's lives was evident through the heartfelt messages, videos, and artistic tributes shared across the internet. His loss was felt deeply by his fans, who considered him not just a comedian but a friend.
also read: Delhi : Couple Escaped From Robbers After Having Just Rs. 20 With Them!!
Bhupesh Baghel, the Chief Minister of Chhattisgarh, also took to Twitter to convey his condolences on the untimely passing of Devraj Patel. Baghel recognized Devraj's talent and the joy he brought to people's lives. The Chief Minister's heartfelt tribute reflected the profound impact Devraj had on his home state and the wider entertainment industry.
Although Devraj Patel's life was tragically cut short, his legacy of laughter and joy lives on. Through his videos and performances, he touched the lives of millions, spreading happiness in a world that often craves it the most. Devraj's comedic genius and ability to connect with his audience transcended boundaries, making him a beloved figure nationwide.
also read: Aishwarya Arjun & Umapathy Fell In Love Due To This Reason??
Devraj Patel's sudden and tragic departure leaves a profound void in the comedy and entertainment world. His infectious laughter and catchphrase will forever echo in the hearts of his fans, who found solace and happiness in his humor.
"दिल से बुरा लगता है" से करोड़ों लोगों के बीच अपनी जगह बनाने वाले, हम सबको हंसाने वाले देवराज पटेल आज हमारे बीच से चले गए.

इस बाल उम्र में अद्भुत प्रतिभा की क्षति बहुत दुखदायी है.

ईश्वर उनके परिवार और चाहने वालों को यह दुःख सहने की शक्ति दे. ओम् शांति: pic.twitter.com/6kRMQ94o4v

— Bhupesh Baghel (@bhupeshbaghel) June 26, 2023
Devraj's rise to social mediastardom and his collaboration with Bhuvan Bam showcased his immense talent and potential. Though his time with us was short, Devraj Patel will be remembered as a comedic genius who touched the lives of millions, reminding us all to find joy and laughter, even in the face of adversity.