Design Of This Popular Magazine Irked Ajith Fans !!
Ajith
Anandha Vikatan
twitter
3 years ago
By Dhiwaharan
A design made by a popular tamil magazine made many fans of actor Ajith kumar is a dejected state. The actor, on Thursday released a press note asking public not to believe in frauds who are identifying themselves as the representative of himself. He said that Suresh Chandra is the only representative of him. The press release became a trending topic in social media. Now, a design made by Ananda Vikatan having Ajith kumar created ruckus among the fans of the actor.
[wp_ad_camp_1]
Ajith Kumar is an Indian film actor who works predominantly in Tamil cinema. In addition to his acting, he is also a motor car racer and participated in the MRF Racing series in Chennai. He began his career with a small role in the 1990 Tamil film En Veedu En Kanavar. Singer S. P. Balasubrahmanyam introduced Ajith to Tamil film industry by referring him to play lead role in Amaravathi.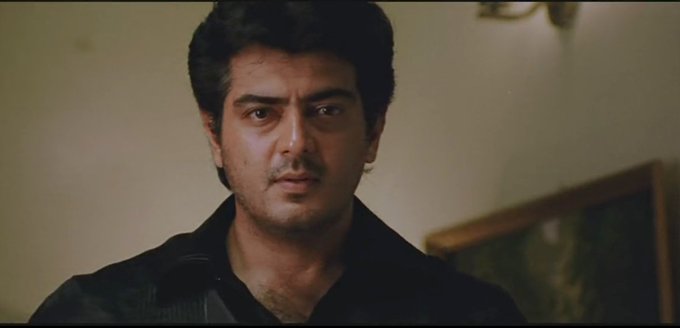 Actor Ajith Kumar who has huge fan base in Tamil nadu despite of his very limited public appearance, always insisted his fans to look after his family instead of spending time and money on worshipping him.
As we all know Ajith is one of the toppest actors in Kollywood industry who avoids attending public events and promotional functions. Being one of the leading actors of Kollywood, actor Ajithkumar enjoys a huge fan base in Tamilnadu. Despite of getting a humongous amount of love from his fans, Ajith refused to have fan clubs and dismantled it few years ago as he wants his fans to look after their families. This only increased the love of fans for him as they started admiring him more for his attributes.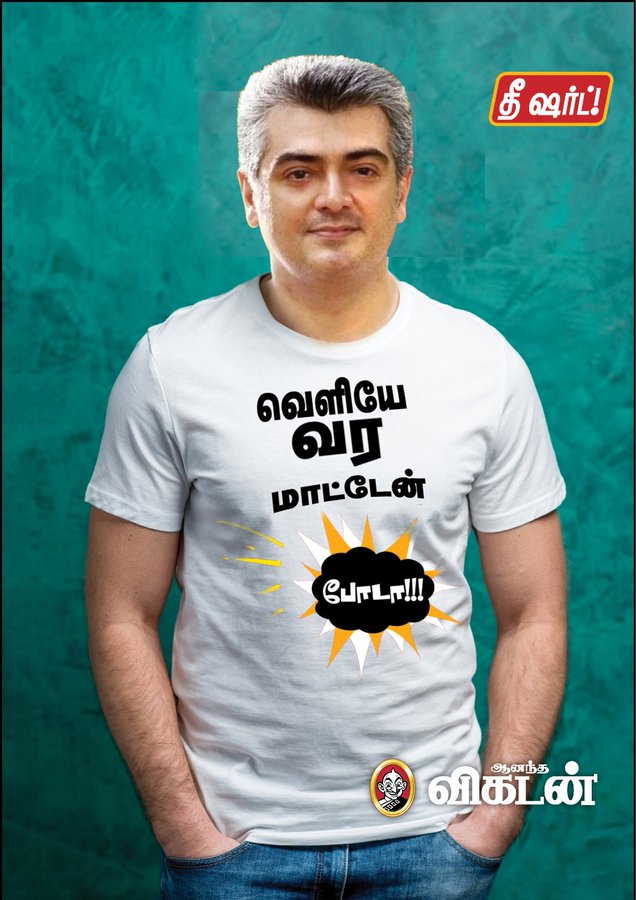 [wp_ad_camp_1]
Now, in a way of mocking Ajith kumar for not raising voice for public issues like Suriya and Vijay, Anandha Vikatan made a design in which his T-shirt said "Veliya Varamaten Poda" (I won't come out, get lost). The T-shirt is an imitation of recent trending T-shirt "Hindi Theriyathu Poda".
Check out the tweet here :
அஜித் தீ ஷர்ட்!#TShirt | #AjithKumar pic.twitter.com/3T3SnxLY3K

— Ananda Vikatan (@AnandaVikatan) September 18, 2020
Fans of the actor got extremely disappointed on seeing this post from the legendary magazine. As a result of this, a hashtag "விபச்சாரவிகடன்" is trending in the micro blogging social media site caused by the fans of actor Ajith Kumar.
Check out some of the tweets under the hashtag :
தல பேன்ஸோட வலிமை என்னனு விகடன் விரைவில் உணரும்.

இதேமாறி #விகடன்_வாங்க_மாட்டேன்_போடா னு நாங்க சொன்னா உங்களுக்கு எப்படி இருக்கும் @AnandaVikatan ???? https://t.co/DhWMDmpywW

— THALA KARTHICK🔰 (@karthick_thevan) September 18, 2020
Never mess with Thala fans 🤘🔥#விபச்சாரவிகடன்

— தல ViNo MSD 3.0🤘 (@KillerViNo007) September 18, 2020
These pictures Makes Perfect Slipper shot to @AnandaVikatan#விபச்சாரவிகடன் pic.twitter.com/3ABbIc243P

— S A R A N…..! ❤ ᵀʰᵃˡᵃ (@SaranVikaash2) September 18, 2020
[wp_ad_camp_1]
#விபச்சாரவிகடன் pic.twitter.com/zsGfu1b101

— நந்தா தமிழன்🚩 (@Nanda_twtz) September 18, 2020
ஒரு தளபதி ரசிகனா எனக்கே கொஞ்சம் கடுப்பா தான் இருக்கு #சில்றைவிகடன் ப்ப்ச் சோகங்கள் https://t.co/4ajC2MBdKa

— நவின் (@navin_iv) September 18, 2020
#விபச்சாரவிகடன் SwitchedOffffff.😂#Valimai pic.twitter.com/70uqqlQAhz

— тнαℓα яαנєѕн ™ (@ThalaRajesh_) September 18, 2020
Spoiling Thala Name by getting the money from Vijay 💯 .. Such a cheap activity @AnandaVikatan#விபச்சாரவிகடன்

— Rᴅx_Sᴜɴᴅᴀʀツ🔥™²⁸ʸʳˢᴼᶠᴬʲⁱᵗʰⁱˢᵐ (@Itz_Rdx) September 18, 2020
Comment your views on this design made by Vikatan and the reactions from the fans of actor Ajith Kumar !!