Depressed Girls Can Now Hire A Boyfriend On Hourly Basis !!
Written by Dhiwaharan Published on Sep 27, 2022 | 20:25 PM IST | 194
Follow Us
Comments: 0
A report that emerged saying that the girls of Bengaluru city being able to hire a boyfriend on hourly basis, has grabbed headlines among the media portals. Widely regarded as Silicon valley of India, Bengaluru is known as India's leading Information Technology exporter. Considered as the centre of India's tech city, Bengaluru is celebrated for it's night life, food and parts.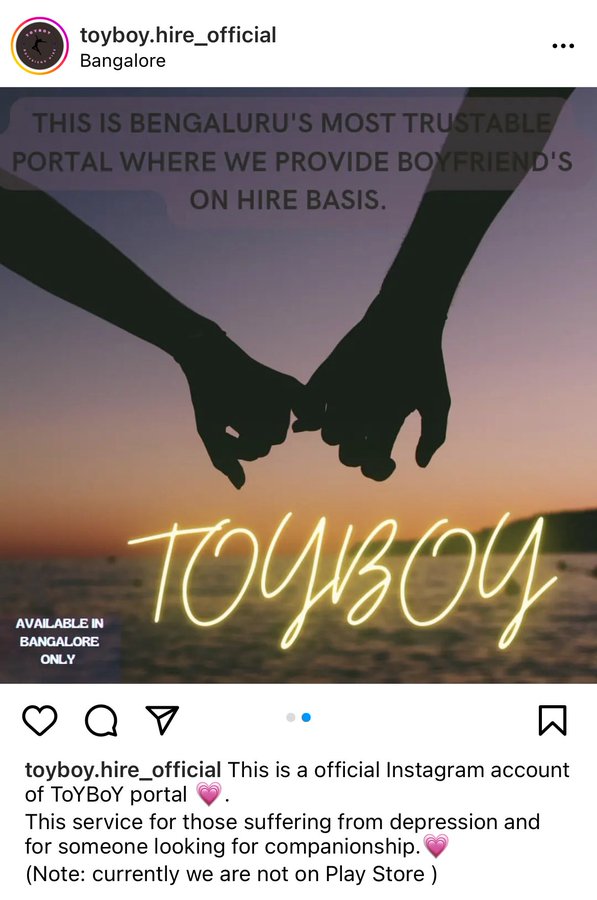 However, that alone is not enough to prevent some people from feeling lonely and depressed. Heartbreaks and Breakups with our beloved ones can happen at anytime and all of a sudden one can feel lonely, despite being surrounded by people. Having someone to lean our shoulder on and to get emotional support is always special.
Not everyone could afford an immediate partner and few would require some time to recover from heart breaks and will long for someone to talk to. Now, the city has came up with a solution for the issue. If the girls who reside in the city, can now hire a boyfriend on hourly basis through a mobile application.
Known for their innovations and creativity, the engineers of Bengaluru has now developed a website named "Toy Boy" for girls who feel depressed and heartbroken. It has been reported that boyfriends ranging from model, celebrities to regular dudes, the app provides all kind of boyfriends.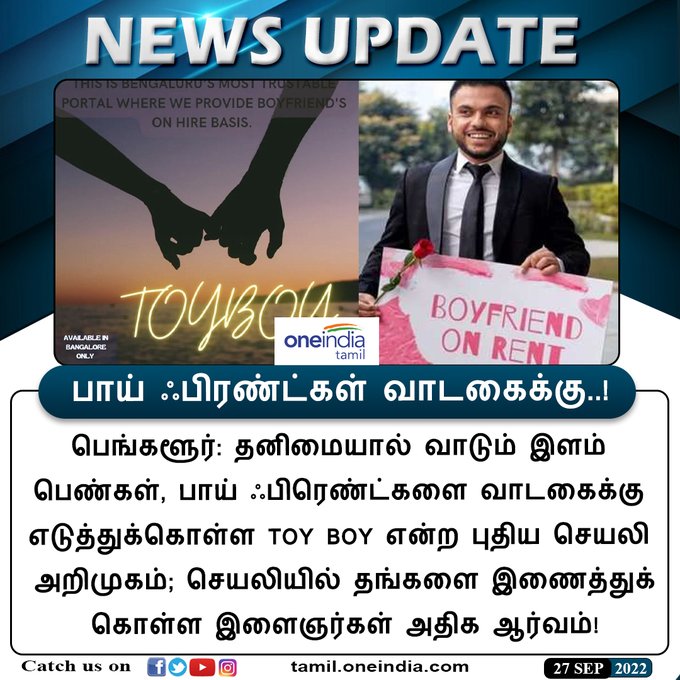 The app is not available on Google play store and the makers of app want their consumers to contact them through the Instagram handle. Sharing about the news, a social media user came up with a tweet writing "whatever the heck it is – but I am so ON for this.. Only Bangalore could have come up with it..😂" a twitter user said whereas another one wrote "Why would somebody pay for something that is abundantly available for free?"
Checkout some of the reactions below :
Why would somebody pay for something that is abundantly available for free?

— Mehul Ved (@mehulved) August 9, 2022
whatever the heck it is – but I am so ON for this..Only Bangalore could have come up with it..😂

— Jatin Khandelwal (@jr_khandelwal) August 9, 2022
There is no outrage because it's boys.
Even if they are called toys.

Is this new business found after researching on extortion thru #LegalTerrorism ? https://t.co/8AMqUYYkj9 https://t.co/ipzl0mFTTY

— Being MEN..!! (@saviour_era) September 25, 2022
😂😂😂

Bangalore becoming Japan…. https://t.co/xyeI3H55VY

— MPK (@ImMPK) September 24, 2022
You fucking idiots are you trying to run prostitute using bloody apps & ruin my city. I warn you, better get lost from My Bangalore before I found you. This is my words & I will show what happens if messup with My Karnataka culture & Kannadigas emotions. https://t.co/ab5JsXM7C7

— Kesha (@KeshaKCM) September 24, 2022