Dejected "Blue Satta" Thrashed G.V Prakash's "Kuppathu Raja" Left & Right !!
Written by Dhiwaharan Published on Apr 07, 2019 | 11:41 AM IST | 43
Follow Us
Comments: 0
Kuppathu Raja  is a 2019 Indian Tamil action comedy drama film film directed by Baba Bhaskar. The film features G. V. Prakash Kumar and Parthiban in the lead roles. Featuring music also composed by Prakash Kumar and cinematography by Mahesh Muthuswami, the film began production during March 2017.
[wp_ad_camp_1]
The movie is about the relationships between a few slum dwellers and how some anti-social elements create unrest in their lives. The slum is dominated by a five-member gang, headed by MG Rajendran (Parthiban), a do-gooder and a hardcore fan of MGR. G.V Prakash who comes as Rocket in the film is in love with Kamala (Palak Lalwani), another girl from the slum. When the couple dreams of a life together, Mary (Poonam Bajwa), a new resident to the slum, changes their lives. Meanwhile, a series of untoward incidents disrupt the peaceful lives in the slum.
[wp_ad_camp_1]
The movie released day before yesterday and receiving bad reviews from everywhere. Blue Satta, one of the prominent reviewers of Kollywood also reviewed this movie in his youtube channel which lasted 4 minutes of duration.
Started his review by introducing the characters of the movie Blue Satta said that there is no character in the movie makes impact to the story. "The director who has an ample of experience in film industry as dance master does no good to the movie. The reason behind the conflicts between characters are silly. The ending of the movie is even sillier" said Blue Satta in his review.
Source : Tamil talkies 
"A movie should be successful in atleast in one department. This movie's output is not looking like a movie at all. There is no meaning in casting high profile artists and spending crores of money in a movie which does not have a proper output." added Blue Satta who referred the movie as "Upma Padam" (movies which failed to impress audience and critics).
[wp_ad_camp_1]
"Being a top music director and experienced dance master, can't you hold audience for atleast 5 minutes with a single song ?? It really hurts to see experienced people stumbling like this while youngsters who made 2 short films are shining in the industry" said Blue Satta directly to the director Baba Baskar and GV Prakash.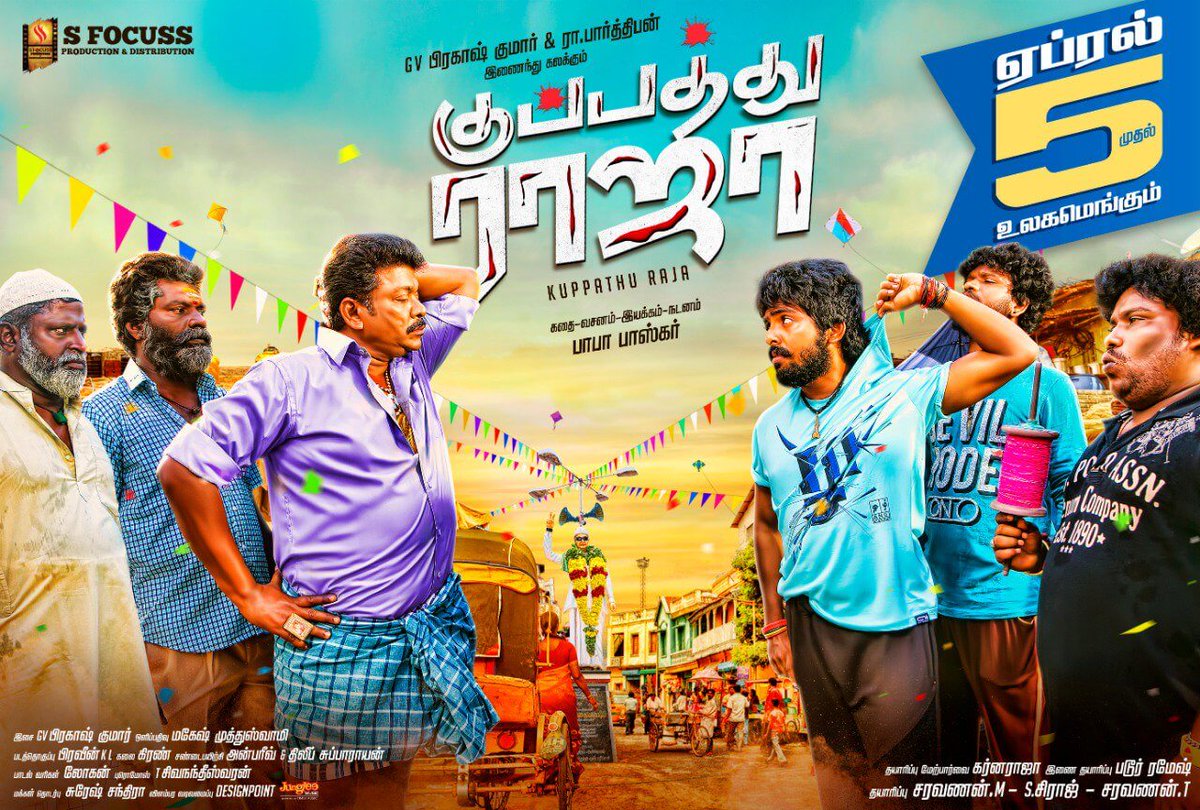 "Blue Sattai" Maaran is one of the prominent movie reviewers of Kollywood films. He is very well known for his rural slang, funny phrases, short stories and real life incidents in his movie reviews. For his unique style of movie reviewing, the man who always wears blue shirt has a separate set of fan following and his youtube channel Tamil talkies enjoys more than 8 lakh subscribers.
What do you think on this movie review of Blue satta maaran ?? Have you watched the movie "Kuppathu Raja".? Comment your views below !!