Match number 34 that took place between Delhi Capitals and Rajasthan Royals saw so much drama in the last over after Roman Powel smashed three back to back sixes when the required runs were 36. The third ball bowled by Obed Mccoy caused so much drama in the match as Delhi captain Pant decided to abandon the match by calling his batsmen back.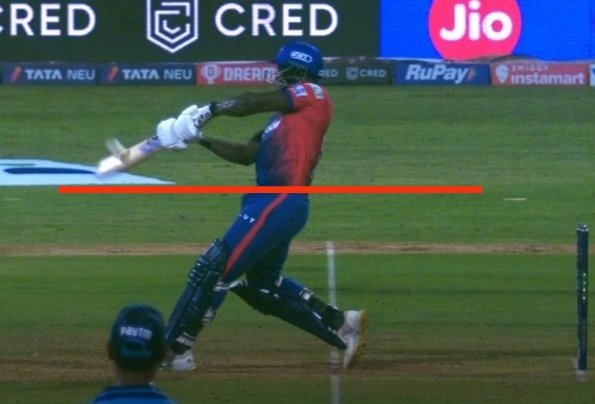 When six sixes were needed in the last over of McCoy, Powel sent first three balls to the stands effortlessly and gave a tiny bit of hope to the Delhi pavilion. The third ball of the over was threw at Powel without a bounce and it seemed to have faced at above the waist.
The whole Delhi dugout including Shane Watson and Rishabh Pant claimed for a no ball by signalling with their hand. No ball was not given by the onfield umpires as a result of which the Delhi dugout insisted in going for a third umpire review.
#RishabhPant 😯🤯🔥

Whole incident on umpiring…..#DCvsRR #DCvRR #RRvsDC #RRvDC #IPL2022 #IPL #umpire #noball #Shardulthakur #SanjuSamson #umpiring #Cheater @RishabhPant17 @IamSanjuSamson #DelhiCapitals #shanewatson #rovmanpowell @tanay_chawda1 @Cricketracker #JosButler pic.twitter.com/NRYdlMxrZk

— Anmol Narang (@Anmol_Narang_) April 22, 2022
After the umpires refused to do so, Pant started calling his batsmen back to the paviliin in order to protest against the decision of the on field umpires. Pravin Ambre, coaching staff of Delhi capitals entered the field and argued with the umpire as well. However, an enraged Pant was calmed down by senior Australian cricketer Shane Watson to bring things back to normal.
Powel who missed his momentum, failed to meet the fourth ball and the match went to the RR way. In the last ball Powel got hit on the top edge of his bat and dismissed by McCoy as well. Rajasthan Royals led by Sanju Samson registered their fifth win in the tournament and grabbed the top spot in the table.
Angry Rishab Pant Asking Rovman Powell To Stop The Play. Poor Poor Umpiring, Watch The Video Here Exclusive. #IPL2022 #DCvsRR #RishabhPant pic.twitter.com/pFWjYF0p4n

— Vaibhav Bhola 🇮🇳 (@VibhuBhola) April 22, 2022
Post the match, the behaviour of 24 year old Pant became a subject to debate among the fans of cricket game. Many of the experts condemned the left hand batsman for not respecting the decision made by the umpires and called him out for his aggressive behaviour. Few even pointed out the rules of IPL which says that the no ball can be referred with the third umpire only if the batsman gets out.
Rishabh Pant on no-ball drama in the last over.

📸: Disney+Hotstar pic.twitter.com/x13i5r8u2g

— CricTracker (@Cricketracker) April 22, 2022
In the meantime, a number of online users and cricket experts supported Pant saying that his anger is understandable. Glenn Maxwell, through his tweet, wondered how front foot no ball is checked for every delivery by the third umpire but not height no ball.
Check out some of the reactions from cricket experts and fans below :
No-ball'o illayo, I felt Nitin Menon was too rigid to not check for the no-ball at such a crucial moment in the game. It became a battle of egos. Technology use pannarthuku dhaana iruku! Even though DC created drama in the heat of the moment, I can understand their anger. #NoBall

— Srini Mama (@SriniMaama16) April 22, 2022
Such is life that a matured man becomes immatured on the heat of moment #PravinAmre What were u doing Man ??? #RRvsDC

— MANOJ TIWARY (@tiwarymanoj) April 22, 2022
First ever declaration in T20 cricket. Captain Rishabh Pant. pic.twitter.com/xgyr8DUt9v

— Manya (@CSKian716) April 22, 2022
Kevin Pietersen said, "Rishabh Pant calling batters back and coach entering the field to stop the play was unacceptable. I hope I never ever see this kind of a thing again".

— Mufaddal Vohra (@mufaddal_vohra) April 22, 2022
Shocking night. The umpiring has been worse than even gully-mohalla standard but Rishabh Pant had no business to suggest his batsmen to stage a walkout #DCvRR

— Vikrant Gupta (@vikrantgupta73) April 22, 2022
Umpires refusing to refer NO BALL

~ Pant na from dug out pic.twitter.com/vnPO3IsWsn

— Prabha Rio (@prabh_here) April 22, 2022
1st ever declaration in T20 by Rishabh Pant 🤣
Pant on fire 🔥🥵
But that is clearly no ball 😏#Pant #Powell #RRvsDC #DCvRR #RishabhPant #IPL2022 pic.twitter.com/uTviM6jaAc

— Nara Akhil Chowdhury (@prabhas_mania17) April 22, 2022
Watson literally slapped pant for that clownery act 😂😂🔥🔥🔥🔥#DCvsRR #IPL2022 pic.twitter.com/IPkIHX0rwN

— MaayoN ᶜˢᵏ 🦁 🎩💫 (@itz_satheesh3) April 22, 2022
Meanwhile Chahal & Kuldeep #pant #noball #pant 😂 pic.twitter.com/A4975pt3uH

— Troyboi™ (@1ove_it786) April 22, 2022
Third umpire should have intervened but i guess what Rishabh Pant did isn't acceptable too.

— Bhawana (@bhawnakohli5) April 22, 2022
Bad sportsman spirit on display by #DelhiCapitals
Cricket is a game of gentlemen and this behaviour is completely unacceptable. #IPL20222 #DCvsRR

— Mohammed Azharuddin (@azharflicks) April 22, 2022
That was a clear no ball. #umpiring

— Irfan Pathan (@IrfanPathan) April 22, 2022
Powell starting the last over with 3 sixes, Praveen Amre running out on the field, Rishabh Pant calling his batsman back, umpire not checking that no ball thing … Excellent entertainment, this is WWE level stuff, I was waiting for Vince McMahon to run out on the field too!

— Danish Sait (@DanishSait) April 22, 2022
Umpires been shit all through IPL but their audacity to not even refer

— arfan (@Im__Arfan) April 22, 2022
Kickass reaction from Watson though!! 'Oh, ulla poi prechana panna poreengala? Ponga sir!' 😂 pic.twitter.com/9dB3NpL6M1

— Srini Mama (@SriniMaama16) April 22, 2022