Articles
David Miller's Special Message To His Old Team After Smashing 3 Back o Back Sixes In The Last Over !!
South African middle order batsman David Miller did the job for Gujarat Lions and helped the team to reach the finals in the Qualifier 1. The cricketer who was left unsold in the first round of the mega auction that took place on February 12, 2022, played a major role in taking his team to the finals. He was representing Rajasthan Royals last year and was released by the team due to the auction rules.
Now, after smashing three back to back sixes in the last over against the same team in order to send the team to Qualifier 2, Miller came up with a special message to his Rajasthan Royals through his official twitter handle. The cricketer was bought for Rs. 3 crore by Gujarat titans in the second day of the auction.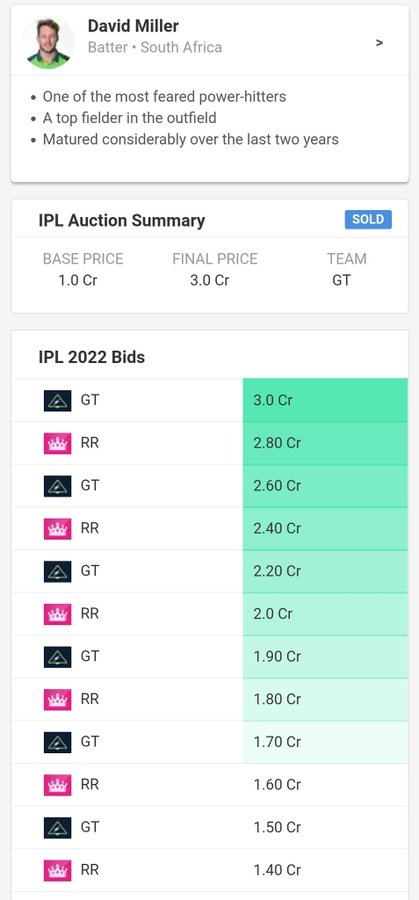 Chasing 189 runs, Gujarat Lions lost their 1st wicket of Wriddhiman Saha for a duck and went through a pressure situation during the early hours. Shubman Gill and Mathew Wade provided stability to the innings with some good shots. However, they both failed to take till the end as a result of which Hardik Pandya and David Miller came into the crease while the team needed 100 runs off less than 70 balls.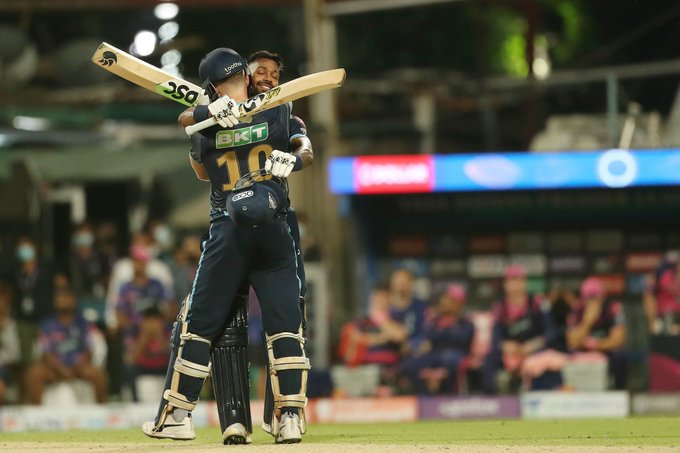 The duo formed an unbeaten partnership of 106 runs and took their side home with 7 wickets in hand. With the help of Hardik's 27 ball 40, David Miller player the major role in the chase. He smashed 68 runs off just 38 deliveries which includes 3 fours and 5 sixes.
In the last over, Gujarat needed 16 runs and Miller was on strike. He sent the first three balls of the over to the stands and made the chase look easier. He won the man of the match award and a cash prize of Rs.1 lakh for his match winning innings.
'Agent' Miller ended up booking our ticket to the #IPLFinal! 😆 pic.twitter.com/RRw495pmPu

— Gujarat Titans (@gujarat_titans) May 24, 2022
"Understanding my game a lot better. In high-pressure situations you tend to go away from your gameplan but I feel like I'm trying to keep everything together close to the gameplan. There has been a lot of going wide to me on the off-side, so I decided actually for the first time to step across. Backed myself and went with it. The rest I tried to hit as hard as possible" David Miller said about the innings in the post match presentation.
Right after giving his post match speech, Miller came up with a tweet in his twitter handle, apologizing for his old family for the damage he done. Rajasthan Royals need to win the next match against Lucknow Super Giants or Royal Challengers to face Gujarat again in the finals.
Here's the tweet of Miller which garnered wide reach in no time :
Sorry #RoyalsFamily 🤷‍♂️

— David Miller (@DavidMillerSA12) May 24, 2022
Check out some of the reactions below:
They knew it, no need to be sorry🤙 pic.twitter.com/a7iQ3mQEKT

— A (@AppeFizzz) May 24, 2022
OMG.. You player a wonderful and measured counterattacking knock under pressure mate @DavidMillerSA12 . You have respect of your opponent team too…

Go well Miller champ ☺️♥️

— Saran R S (@CricaholicJammy) May 24, 2022
Whyyyyyyyyyyyyyy 😭😭 pic.twitter.com/EEzg2nsCye

— Hara Sreekar (@Royal_HaRRa) May 24, 2022
Sorry 😢 pic.twitter.com/RjT7OzXIPX

— Ravi Jain (@ravijain9999) May 24, 2022
Haha, Befitting Reply , They Underestimated you & Wasted you on the bench!

— Madhav Narayan (@MadhavNarayan3) May 24, 2022
While Kuldeep v KKR and Warner v SRH got all the attention during the group stages, Killer Miller had other plans for the knockouts! https://t.co/CxRnXUdXsj

— Suhel Banerjee (@suhel) May 24, 2022
They mistreated you. No need to apologize 😝 https://t.co/RfsGNuQz0l

— Navaneet  (@Navanneett) May 24, 2022
This is some next level shit. I AM LOVING IT https://t.co/sxI54Bp2cb

— a depressed Shaurya (@WandaKaBeta) May 24, 2022
6 6 6 and 6

— Mon (@4sacinom) May 24, 2022