"Darbar" Makers To Remove These Scenes From The Movie !!
Written by Dhiwaharan Published on Jan 10, 2020 | 13:05 PM IST | 109
Follow Us
Comments: 0
Lyca Productions, the banner which bankrolled Superstar Rajinikanth's Darbar has came up with a press release to make a statement. The makers have said in their statement that they are ready to remove the dialogues with "hurt" the sentiments of a set of people. The dialogue is about the characters in "Darbar" making fun of prisoners in South who roam outside jail while doing their sentence.
[wp_ad_camp_1]
Lyca in their statement said that the intention was to entertain audience and it didn't take place to offend any specific individual. "In our "Darbar" film, particular words and dialogues having references to prisoners or inmates going out of jail or prison during their imprisonment term was only included with an intention of providing an entertainment to the audience and is not intended to refer to any specific individual or to offend anyone. However, since some of those particular words seemed to have hurt some people, we have hereby decided to remove the same from the film" the press statement of Lyca read.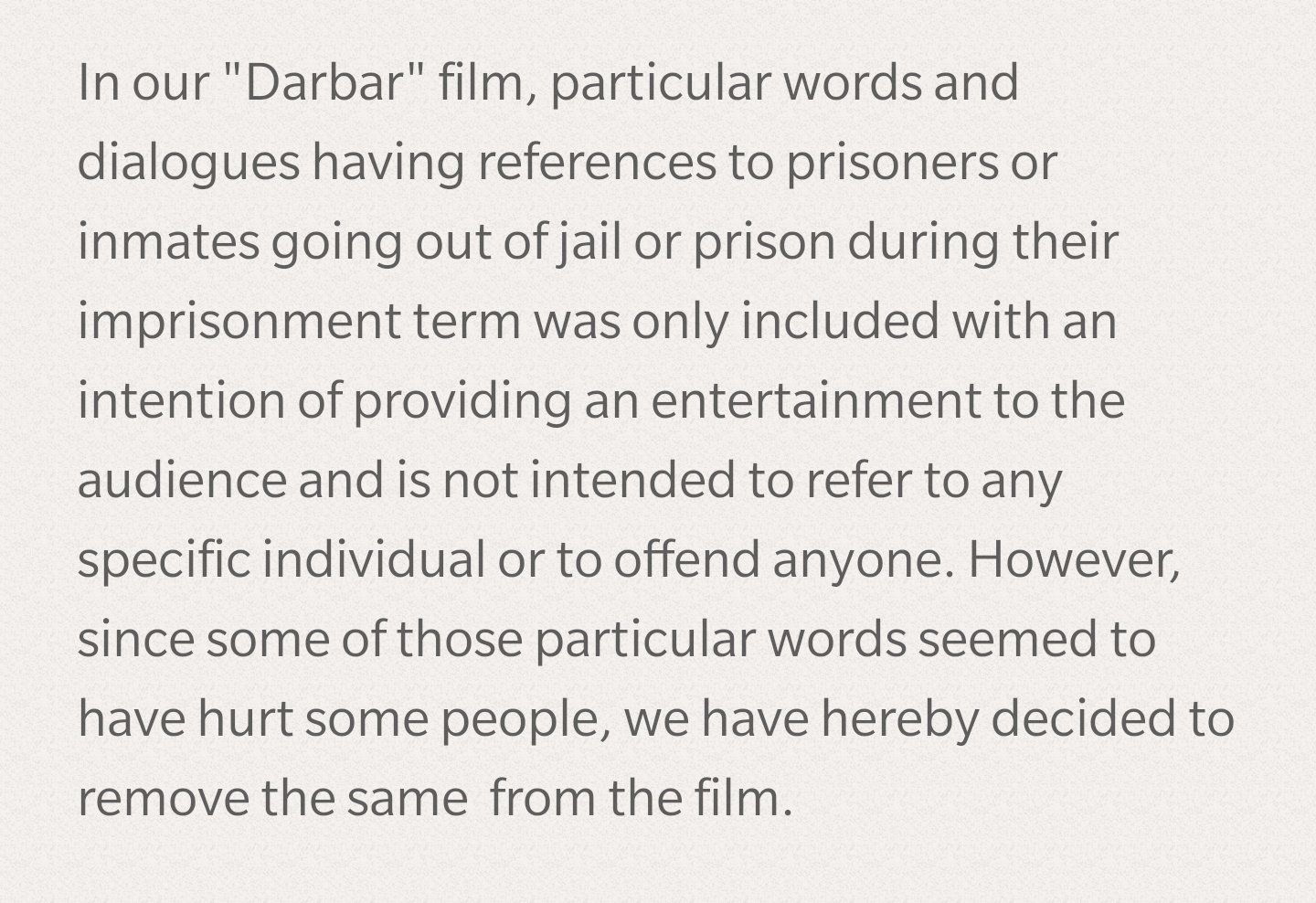 Check out their post below :
#DARBAR @rajinikanth @ARMurugadoss #Nayanthara @anirudhofficial @santoshsivan @sreekar_prasad #Santhanam @SunielVShetty #DarbarThiruvizha #DarbarRunningSuccessfully 💥🔥 pic.twitter.com/zj6Mcwsxu3

— Lyca Productions (@LycaProductions) January 10, 2020
In the film, Superstar Rajinikanth plays the role of Adhithya Arunachalam Commissioner of Mumbai city police. When he successfully arrests a drug lord and lodges him in jail, the accused manages to masquerade and roams in foreign country. While he discusses about the issue to his colleagues, one of a character would mention that the similar incident is taking place in south too. In another scene, when Rajinikanth questions about the prisoners using cell phones in jail, an officer would reply by saying that one can go shopping inside the jail if they have money.
[wp_ad_camp_1]
These dialogues are clearly takes sly dig at Sasikala who is an aide to late chief minister J. Jayalalitha. She currently serving 4 years of jail term for a disproportionate assets case. On several occasions, CCTV video footages of Sasikala and her relative Ilavarasi flouting prison rules were released. One of a video clip showed them carrying a bag and roaming out of female barrack. These videos clips might have triggered the makers to keep such dialogues and scenes which is not going to take place in the film hereafter.
Followed by these, Sasikala's advocate Raja Senthoora Rajan has made a threat to sue director Murugadoss, Rajinikanth and minister Jayakumar for addressing about the scene in his recent speech. He further justified that Sasikala never went shopping. Phone call audio of the same was released in Jaya Plus channel.
Listen to the audio here :
Check out some of the reactions for this press release :
அப்ப அவங்க ஷாப்பிங் போனது உண்மைனு ஒத்துக்கறாங்க இல்லையா! நீதிமன்றம் கவனத்துக்கு 😃😃!

— Thalaivar Darbar 🤘 (@Vijayar50360173) January 10, 2020
அவனுங்களே ஒத்துக்குறானுங்க ஷாப்பிங் போனது உண்மைனு நீ ஏன்யா டெலிட் பண்ணுற…🤦🏻‍♂️🤦🏻‍♂️🤦🏻‍♂️🤦🏻‍♂️#Darbar #DarbarThiruvizha #DarbarPongal #Thalaiva #தர்பார்

— தலைவர் ரசிகன் 😎 (@maha578237) January 10, 2020
[wp_ad_camp_1]
அதை எதற்கு நீக்குகிறீர்கள் வழக்கே கொடுத்தாலும் செல்லாது
1)யாருடைய பெயரையும் குறிப்பிடவில்லை!

— Kalimuthu (@kaliyethapur) January 10, 2020
Darbar released in theatres today and fans are very much excited to witness the film. The film which revolves around the protagonist Adhithya Arunachalam ( Rajinikanth), has the every element of a Superstar movie. Apart from Rajinikanth, Nayanthara and Suniel Shetty, The film also features Prateik Babbar in a negative role and Rajinikanth is returning on screen as a cop after 25 years.
What do you think on this statement from Lyca ?? Comment your views below !!