Daniel Balaji Revealed Why SUN TV Edited His Speech !! Fans Thrashing The Channel !!
BigilAudioLaunch
Daniel Balaji
Thalapathy63
ThalapathyVijay
CM / Updated: 2019-09-26
12:32 IST
By Dhiwaharan
Daniel Balaji, one of the most talented actors in Kollywood industry is known for his performances in films like Vettaiyadu Vilayadu, Polladhavan, Kaaka Kaaka etc. The actor who was last seen Vettri Maaran's Vada Chennai is about to make his appearance in Vijay's most anticipated film BIGIL.
[wp_ad_camp_1]
The high budget movie's audio launch took place in Sai ram Engineering college last week and the crew members of the movie were given a chance to deliver their Thanks speech. The event was telecasted a day later in Sun Television.
Daniel Balaji who saw the telecast, on Monday, reported that the channel has edited a part of his speech about Thalapathy Vijay. Fans of Vijay requested the actor to share it in his social media account. Check out the tweet of him regarding the matter here :
விஜய் அண்ணாவைப் பற்றி நான் பேசியதிலிருந்து, சன் டிவி ஒரு பகுதியை வெட்டியுள்ளது

— Daniel Balaji (@DanielBalaje) September 22, 2019
Now the actor, in his another tweet has revealed what he actually said about Vijay. The tweet he shared shows that the actor has actually praised Vijay for being a protector to his co-artists. "He is a good friend for me, a good son for his followers and for the fans who are living in his heart, he is a good leader. He will come soon" the post read further.
Check out his tweet here :
#bigil @archanakalpathi @Ags_production @rangarajan_ags @Atlee_dir @actorvijay @arrahman. ஒரு ரசிகராக, அரசியல் இல்லாமல் pic.twitter.com/CoUrckkXDQ

— Daniel Balaji (@DanielBalaje) September 23, 2019
[wp_ad_camp_1]
As soon as seeing this tweet, Fans of actor poured their love on Daniel Balaji and also thrashed Sun Television for not telecasting it. Check out some of their reactions here :
@Suntv or @JayaTvOfficial They will use Thalapathy only for their TRP business..

Both DMK and Admk are worst only..

Thalapathy Paththi yaaru Enna nallathu sonnalum Intha groupsku pidikathu..

Thalapathy AV ya Kaatuna latchanam paarthomey..Antha Varigal #Bigil

— Sathish (@ProudTamizhar) September 23, 2019
மனசுல இருக்குறத சொல்லியிருக்கீங்க.. கண்டிப்பா அவர் வந்தா பயப்படுறவங்க தான் நீங்க பேசுன பேச்சை எடிட் பண்ணி கட் பண்ணி விட்டுருப்பாங்க…

— SPARTAN™ (@Immuraliraj) September 23, 2019
Super bro !! வாழ்த்துக்கள் !!@SunTV oru echai ..yenda suntv paradesi .ithulam cut pani ne Enna tha saathikapora?

— 🔥 Anantha 🔥 (@KAnanthakannan) September 23, 2019
Sun TV eacha pasanga atha cut pannitanga

— Sathish mk (@Sathish02290041) September 23, 2019
[wp_ad_camp_1]
Sun Tv is doing politics in this.

— Antony Kingsley (@king8antony) September 23, 2019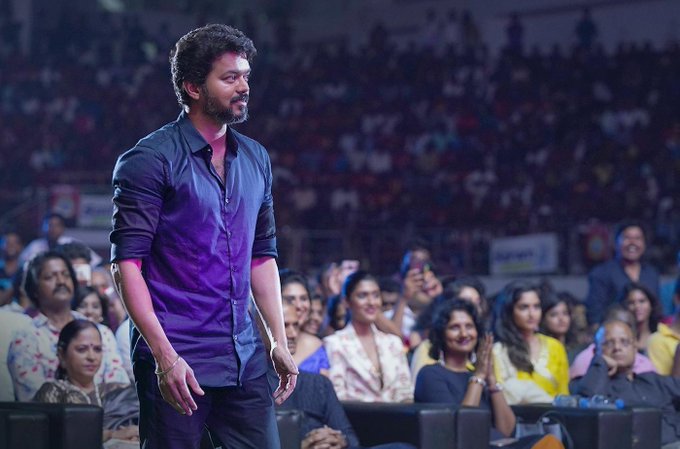 Vijay's speech in the audio launch of Bigil is talk of the town since it took place. Right from addressing each and every person in the film by their names to requesting fans to use social media responsibly, Vijay struck the right chords with the audience. The actor even spoke about Subashree, a young woman who recently died in Tamil Nadu after an illegally placed hoarding fell on her scooter and killed her. He offered his condolences to the family and asked fans to put hashtags and trends to a better use. The audio launch was officially streamed on Sun Tv during Sunday evening.
What do you think on Sun TV editing a particular part of Daniel Balajee's tweet ?? Comment your views below !1