Dale Steyn Got Thrashed By Indian Fans For This Tweet About Bumrah !!
By Dhiwaharan
Former South African Pace bowler Dale Steyn facing the heat of Indian fans after uploading a tweet criticizing Jaspirit Bumrah based on the rift that took place between him and Marco Jansen of South Africa. Steyn said that he remembers Bumrah doing the same thing to James Anderson and asked the Indian pacer to learn to take "it". This tweet from the cricketer irked a number of Indian fans who started trolling the former cricketer saying that his "facts are messy".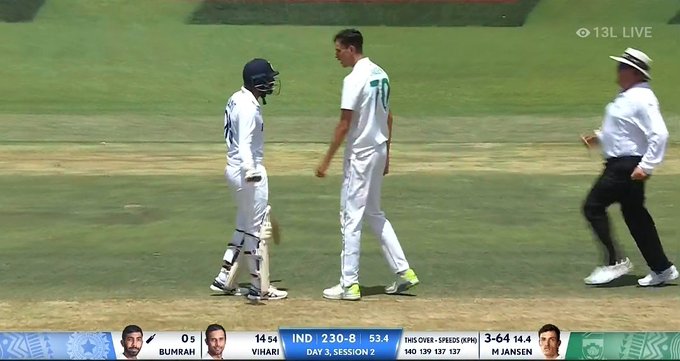 The controversial incident took place in the 55th over of India's second innings as Jansen and Bumrah were seen sharing glares following a short delivery by the Porteas player. The action didn't stop as Jansen went up to the Indian, after which both exchanged words which forced umpire to intervene and stop the mid-pitch confrontation. Jansen who made his debut at centurion, has been one of the effective bowlers of the South African camp.
Wen Bumrah went for a slog, the ball hit him on the shoulders and rolled on towards the close-in fielder. However, what seemed to have irked the South african bowler is the fact that Bumrah was swinging his bat at everything he bowled. Jansen trued to rattle Bumrah by a barrage of bounders but the Indian tailender, didn't bog down instead intended to go after the bowler.
Bumrah vs Jansen💙↪️🔥#bumrah #Jansen #INDvSA #lockdown #TamilNadu #tamilnadulockdown pic.twitter.com/cI34wePMdH

— Tanny (@Tannnyy24) January 5, 2022
After repeated play and misses, Jansen tried to get under the skin of Bumrah. The incident grabbed headlines across the globe and former South African bowler replied to a tweet of former bowling coach of South Africa, writing "I swear I remember Bumrah doing the same thing to a Mr James Anderson not too long ago. Learn to take it kid"
Here's his tweet :
I swear I remember Bumrah doing the same thing to a Mr James Anderson not too long ago.
Learn to take it kid.

— Dale Steyn (@DaleSteyn62) January 5, 2022
His tweet didn't go well with the Indian cricket fans who started countring the tweet of Steyn. "James Anderson was complaining dude. You have your facts messed up" a follower said whereas another one wrote "Dale, we heard Bumrah on the stump mic say "I don't mind the bouncers, you're going to get it here". Don't twist facts here by saying he was annoyed by the bouncers"
Check out some of the reactions below :
Dale, we heard Bumrah on the stump mic say "I don't mind the bouncers, you're going to get it here". Don't twist facts here by saying he was annoyed by the bouncers.

— Aaditya Narayan (@AadityaN_28) January 5, 2022
James Anderson was complaining dude.

You have your facts messed up.

— A-Man (@ratedAMAN) January 5, 2022
To Steyn bro, it was Anderson who was whining , I don't see indians whining about anything,pitches, conditions,injury.

— Archer (@poserarcher) January 5, 2022
It was actually Mr James Anderson and Marco Jansen who both got frustrated at Jasprit Bumrah when they didn't have their way with him, everybody saw it on TV so please don't twist the narrative.

— Arjun (@LifeIsAnElation) January 5, 2022
Who's complaining? Unlike Uncle Anderson, Bumrah won't say "Marco wasn't trying to take his wicket".

— C4 (@sirojaa_) January 5, 2022
Same smile ..same composure ..give or take #bumrah pic.twitter.com/0AZePvGpiw

— Abhineet Singh (@staytuned_abhi) January 5, 2022
Do you guys actually watch the game ? He was smiling throughout , he had a go at Jansen only after he had something to say to him .You can bowl a 100 bouncers at him or any of our bowlers . We ain't complaining. And the kid here is Jansen tbh 😂 #SAvIND https://t.co/lhp6N4Xhy6

— Indiancricketfan (@bleedbluearmy) January 6, 2022
https://t.co/7fwW5W8d28 pic.twitter.com/vPTXprBIlV

— Anakin Skywalker (@lord_wayder) January 5, 2022
It was Mr. James Anderson who started crying that time around.
Bumrah unlike him didn't whine here and tbh Jansen at 130 kmph didn't even scare Bumrah !

So stfu legend ! https://t.co/qGe8Sek0I0

— ° (@anubhav__tweets) January 5, 2022
Mr Dale Steyn, Bumrah was not crying like Mr James Anderson did on that day.!!😂😂😂
So u should do some research.!!😎 https://t.co/RZQLofdbIA

— Srushti (@Srushtipb) January 5, 2022