Dada Played Spoilsport In The Advertisement That Involved Top Celebrities !!
Written by Dhiwaharan Published on Sep 02, 2022 | 21:59 PM IST | 131
Follow Us
Comments: 0
On Wednesday, some of the notable celebrities of Indian film industry such as Deepika Padukone, Rashmika Mandanna, Kapil Sharma, Karthi, Trisha, Rohith Sharma, Sourav Ganguly came up posts in their respective social media platforms uploading a poster which said "Mega Blockbuster". Among the all, what caught everyone's attention is the post uploaded by Ganguly in his social media handle.
Deepika Padukone said "Surprise! #TrailerOut4thSept #MegaBlockbuster" in her posts whereas Trisha said "Can't keep calm!" through her caption. "Stay tuned to find out more…!" Karthi's caption for the post read. "Butterflies in my stomach. A debut of a kind #TrailerOut4thSept #MegaBlockbuster" Indian captain Rohith Sharma's caption read.
Check out their posts below :
View this post on Instagram
View this post on Instagram
Stay tuned to find out more…! ​#MegaBlockbuster​ #StayTuned pic.twitter.com/W2VAygN5o7

— Actor Karthi (@Karthi_Offl) September 1, 2022
View this post on Instagram
View this post on Instagram
However, former Indian captain Sourav Ganguly, while sharing the poster, unexpectedly revealed the toolkit that was shared to him by the authorities Meesho App. Sharing a similar message like other celebrities, Ganguly, in the end of his caption, said "Please ensure that the MEESHO branding or hashtag is nowhere mentioned in September 1's post." after writing "*Post Copy* It was fun shooting for it. My new mega blockbuster is rele doiasing soon !!"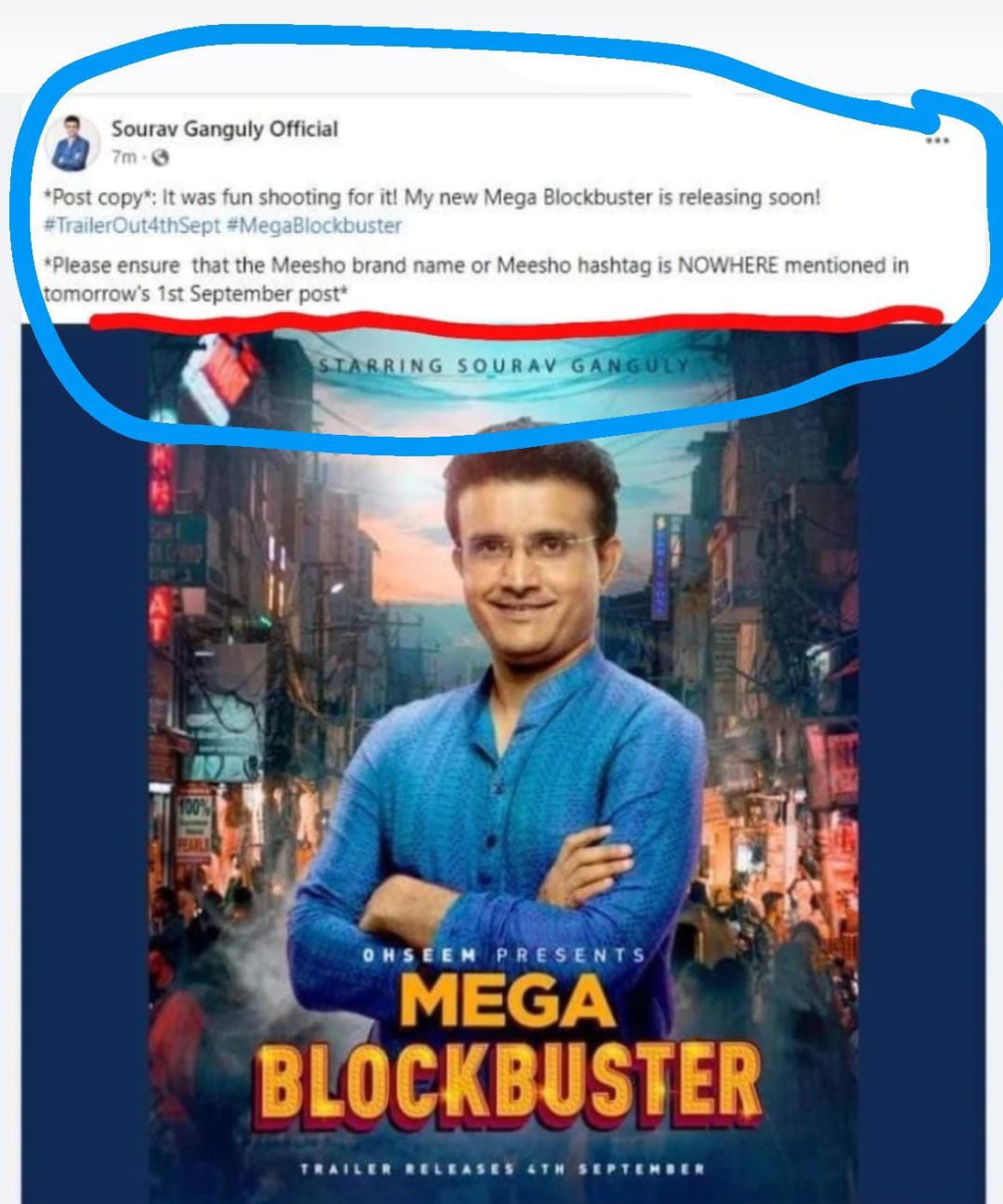 Though the post was deleted immediately, screenshot of it is doing rounds in social media platforms with hilarious reactions. "The "Mega Blockbuster" campaign being posted by many celebrities belongs to @Meesho_Official . Ruined by Ganguly's social media team. Welp!" a journalist said by sharing the screenshot whereas another user said "Sourav Ganguly ruined the fun. 😂"
Check out some of the reactions below :
The "Mega Blockbuster" campaign being posted by many celebrities belongs to @Meesho_Official. Ruined by Ganguly's social media team. Welp! pic.twitter.com/eiEqAomEA9

— Tanuj Lakhina (@tanujlakhina) September 2, 2022
Sourav Ganguly ruined the fun. 😂 pic.twitter.com/OMKaQY8iUn

— Mufaddal Vohra (@mufaddal_vohra) September 2, 2022
Sourav Ganguly before posting meesho ad pic.twitter.com/izlVEORDM7

— SURYA (@Suryasaharan) September 2, 2022
So this is a Meesho brand advertisement starring Rohit Sharma, Ganguly, Rashmika mandana , Kapil Sharma 🤣 pic.twitter.com/vbgum7oMu4

— Subham. (@subhsays) September 2, 2022
Ganguly while posting something on social media pic.twitter.com/A2XfwQfEji

— Sir Yuzvendra (parody) (@SirYuzvendra) September 2, 2022
Nobody

Ganguly https://t.co/HWiNPE62Jz pic.twitter.com/Cr0Gm7ZHvC

— AZLAN𐦂 (@hashtag_tamizh) September 2, 2022
I thing Sourav Ganguly trolling the advertisement agency. No one can give suggestions to Dada. Fck the rest Dada is the best pic.twitter.com/N0aH7YdCvr

— Sunil the Cricketer (@1sInto2s) September 2, 2022
Sourav Ganguly: Hey Can I copy your homework?
Friend: Yeah, just don't make it obvious.

Sourav Ganguly's homework:
Yeah, just don't make it obvious

— Numbyaar (@NumbYaar) September 2, 2022