JUST IN : Court Ordered FIR Against Suriya & Jyothika!!
By Dhiwaharan
As a result of a petition moved by Rudra Vanniyar Senna Organisation, a Chennai court ordered police to file FIR against actor Suriya and Jyothika along with director Gnanavel. The organization, in it's petition, alleged that an "ulterior motive to instigate communal violence between communities" through their film "Jai bhim.
The Vanniyar group, through their petition, has said that people who belong to the community of Vanniyar has been show in a bad light in the movie. The Chennai court has ordered to file First information report against producers Suriya, Jyothika and director Gnanavel under the charges of allegedly misrepresenting the community of Vanniyar in Jai bhim.
View this post on Instagram
The petitioners approached Chennai court during November month 2021 seeking directions for a case to be registered as in the movie, several scenes and the names of the antagonists refer to their community. They also alleged that the movie was made out of "Vanniyar Phobia" and has an "ulterior motive to instigate communal violence between communities"
On 29th of April 2022, the petition came up for hearing and neither actor Suriya, Jyothika nor director Rajavel appeared in the court. The petitioner also submitted that several scenes in the movie has been shot "only to show the Vanniyar community in a bad light"
The Chennai court has directed the Police to file an FIR against all three naming them as accused after accepting the argument of the petitioner. The court noted that "some cognizable offence is disclosed" in the complaint and in the prima face, a case is made out. The court has forwarded the complaint to the Inspector of police in Velacherry to register am FIR, according to law and investigate the case. The case is expected to be heard again on 20th of May.
"Jai Bhim" released on Amazon Prime on 1st of November with much expectations among fans. The film is getting humongous amount of positive response from fans and is being widely watched due to the word of mouth. Based on a true event that happened in the year 1995, the film concentrates on showing light to the hardship people of tribal community went through at that time. Exposing the police brutality, the film shows how lawyer Chandru won the case without receiving a penny from his client who is a wife of the victim. Though the incident took place 25 years ago, it looks still relevant due to the police atrocities that are still taking place in the state.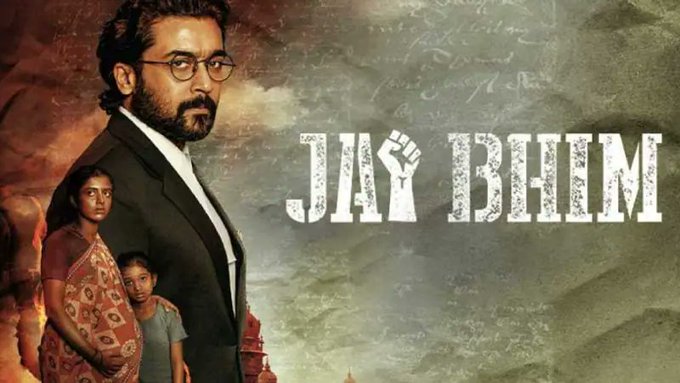 In the film, director Tamil acted as Inspector Gurumoorthy who leads the lock up harassment. In a scene where he attends a phone call from his house, a calendar that contains the symbol of "Vanniyar" caste, an "Agni Motif", could be seen hanging. Leaders of PMK party and many other people who belong to the Vanniyar community found it offensive and condemned the film crew. They also questioned why characters like Chandru, Rajakannu were kept real name and Inspector Anthony Das was named as "Gurumoorthy"