"Cooku With Comali" Thaniga's Open Statement About Chef Venkatesh Bhat !!
Chef Venkatesh Bhat
Cooku with Comali
Thaniga
CM / Updated: 2023-03-21
23:39 IST
By Dhiwaharan
"Cooku with Comali" show's contestant Thaniga who took part in the third season of the show, said that he got angry on Chef Venkatesh Bhat after threw objects at contestants on the first day. However, he said that he does it for a reason as Bharath, a Comali of the show teased him, irrespective of hos reputation. The 7 month old video became a subject to discussion after Chef Venkatesh Bhat replied to one of his followers who criticized him for throwing objects at contestants.
also read : Manimegalai Left Cooku With Comali For This Reason !! Thangadurai Reveals
The reality show "Cooku with Comali" which became a huge hit, demands a seasoned cook to join hands with a comedian to make delicious food items in order to impress the judges of the show. The show became a huge hit among the Television and Internet audience. Not only the women, even youngsters including college, school students started celebrating the show as it mainly concentrates on providing humour unlike other cookery shows.
Fourth season of the show got inaugurated on 28th of January 2023 with happening celebrities taking part in the show as "Cooks" and "Comalis". Along with the likes of GP Muthu, Manimegalai, Pugazh, Raveena, Tiger garden Thangadurai, Singapur Deepan, Monisha Sunitha, "Otteri" Siva, Kuraishi also took part in the show as one of the contestants.
also read : "Otteri" Siva Entered "Cooku With Comali" Sets In Drunk State ?? Here's His Clarification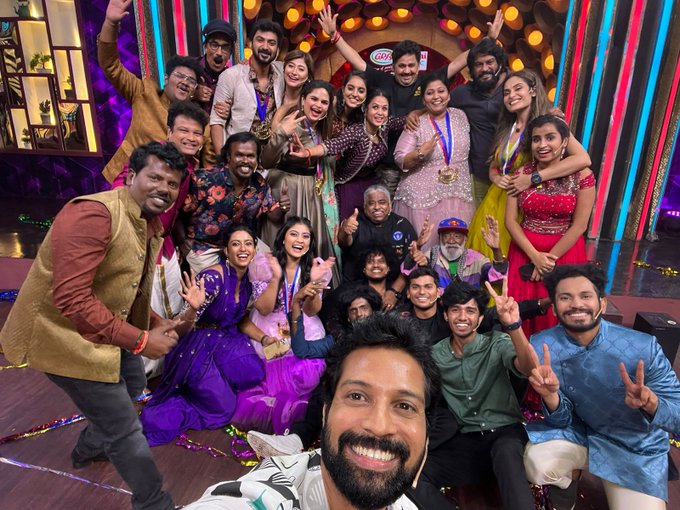 Most lately, Chef Venkatesh Bhat has received a comment from his Malaysian Fan regarding his behavior with the Comali's in the Cooku With Comali show. Through the comment, the follower said that Chef Venkatesh Bhat is not respecting the Comalis and is throwing objects at them.The follower advised him to give respect and get it from them.
However, Chef Venkatesh Bhat defended his activities saying that it is just for the show and compared his gestures with the likes of Goundamani-Senthil, Tom and Jerry etc.
The fan, through his comment, said "Namaskaaram chef, I'm a fan for CWC from Malaysia. The way u treat the comalis …. omg really irritating..pls show good examples to the viewers, stop throwing objects onto others…. give respect n get respect…. even
though u guys said that all those are only for fun n not real…. we Malaysians can't accept those kind of acts…pls change as soon as possible " read the comment.
Replying to the same, Chef Venkatesh Bhat said "all l can say is it's a show…if you don't like pls don't watch…. can you say Mr goundamani not to beat senthil.. or can you stop charlie Chaplin being hit…laurel being beaten by hardy…or Tom not being irritated by Jerry.. Common grow up…it's a show… don't drink poison just because I told you to.. have a thinking of your own and grow up"
Here's the screenshot of their conversation :
Now, as the reply of Chef Venkatesh Bhat went viral, a video which shows Cooku with Comali contestant Thaniga expressing his thoughts over the show's judge's behaviour. "I got extremely angry at Chef Venkatesh Bhat on the first day of my "Cooku with Comali" stint. He threw ladle at Bharath. I got surprised wondering why he is beating others. That's what my first thought on that day" Thaniga said in the interview which was shot for a YouTube channel.
also read : "Cooku With Comali Show Made Women Pregnant" – Venkatesh Bhat !
"It happened when I know nothing about the show. But I realized that Bharath is not keeping quiet too. He is mischievous. He called Bhat as " Pattukutti" and asked him to learn "cooking" from him. He is a reputed Chef. Obviously, he would lose his temper. He took away his vessels on that day" Thaniga remembered.
Watch the video below :
Video credits : Behindwoods