Articles
"Comparing To Janani, Her Sister Is Looking Too Good !!" Said Married Rio !! Check Out Fans Reaction !!
Bigg Boss gave a task where the contestants had to pin an angel or a devil badge on their fellow inmates. The angel badge was for the inmate who they felt had shown constructive changes after the first meet in the house; and devil badge if they thought otherwise. Some inmates thought the naive and guileless Aishwarya had changed over the weeks to an ill-tempered person and therefore, she got more devil badges. Mumtaz who was hated by most of the housemates in the initial days earned two angel badges for her positive changes from Riythvika and Yashika.
The inmates received letters from their family which they read out to fellow contestants. The contestants cried their hearts out while reading the messages and listening to other's notes. It was during this task that the awkward gap between the housemates and Yashika and Aishwarya waned. Mumtaz's brother sent Sendrayan the white shirt which Mumtaz promised to gift him.
[wp_ad_camp_1]
Balaji's estranged wife Nithya sent him a letter where she asked him to stop backbiting and promised to lend her support forever as a friend. Balaji, who was always in the hope of reuniting with her after leaving the show, was upset by her letter and sat in solitude. Mumtaz who herself is a daughter of a single parent could easily empathise with Balaji and how he longs to be with his daughter, Poshika. Mumtaz opened up about her father to Danny and how her stepmother didn't allow him to meet her.
The inmates had a fun time with this week's luxury budget task, where the inmates had to play according to Bigg Boss's freeze and release, loop, fast forward and slow motion commands. But what they did not expect was the surprise visits of their loved ones. Danny's girlfriend, who accompanied his mother, opened up about the news of their wedding. After hinting about Yashika and Aishwarya backstabbing him, she asked him not to gossip and be kind to Mumtaz whom she mentioned was her favorite contestant in the show.
When Aishwarya's mother visited the house, she apologised to Balaji, Mumtaz, Riythvika, and Janani on behalf of her daughter for her behavior towards them during the tasks. Hours before her mother's visit, she had opened up to Balaji about how her relationship with her mother was not the best. "I used to send money every month to her and in case of any delays, she would drive me crazy with her tantrums. At times, she would ask me if she could try  to find work as a domestic help since there was no money."
[wp_ad_camp_1]
The housemates put aside all their misunderstandings and got together to extend a warm welcome to all the guests on Wednesday's episode. It turned out to be the most heartwarming episode in this season of Bigg Boss.
Janani's family members also entered the house where janani's sister visited the house. ON seeing her so many people around social media made memes for her sister glorifying her beauty. Some also said that she is way beautiful than her elder sister.
VJ Rio who was known for his appearance his TV shows and serials also commented on Janani's sister. He said "Actually… Janini ah vida avunga Thangachiiii… Nalla irukkanga nu…………. en pondatty sonna" (Janani's sisiter looks beautiful……….. says my wife)"
Actually… Janini ah vida avunga Thangachiiii… Nalla irukkanga nu………….
en pondatty sonna 😁😋😋 @sruthi137@vijaytelevision
#BiggBossTamil2 #BiggBossTamil

— Rio raj (@rio_raj) August 28, 2018
[wp_ad_camp_1]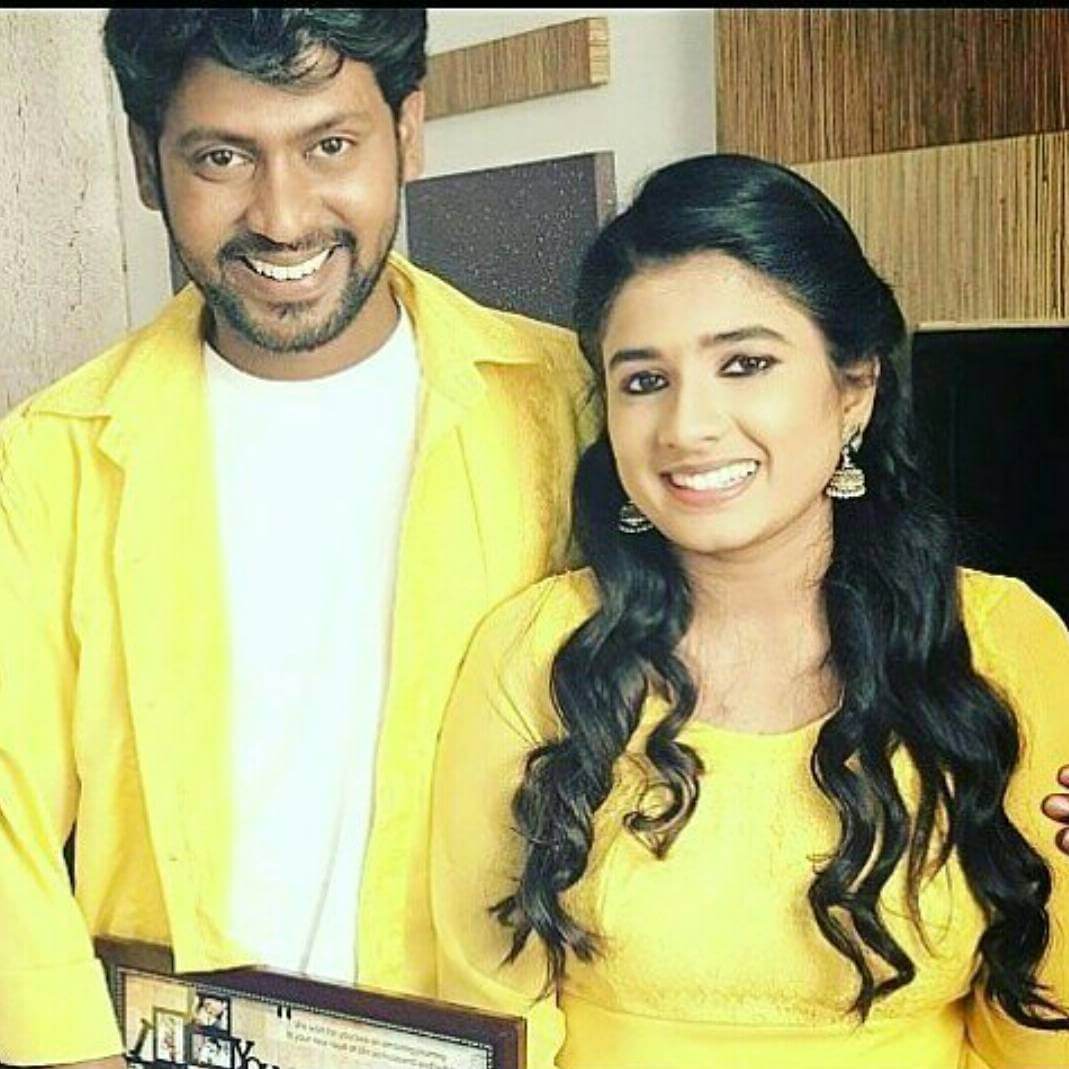 For his comment most of his followers agreed. Check out their comments :
avanga sister ah vitrukanum bb house kula😂😂😂😂therika vitrupa

— Sadanah (@KalkiSadanah) August 28, 2018
Ithu Anni Sonna Mathere Illayea….

— Dhivagar Ryan (@DhivagarRyan) August 28, 2018
Rio nee yarnu ennaku therium. Wait shuruti akka ta solrean

— ManiKandan .J.k. (@kesavmanikandan) August 28, 2018
Rio lam oru aalanu en pondatti sonna😃😆😋😋

— RishiVardhan (@RishivardhanK) August 28, 2018
Enakum same feeling…😊
But rendu perum nalla thaan irukanga😜😝…

— Mohan (@mohankpc2006) August 28, 2018
Sruthi Akka Unmayaaa neenga dha sonningalaaahhh..illa Bro adichuvidraaaaraaa😂😂

— Bhavithra S (@bhavithra_s) August 29, 2018
Pondatty sonna mathiri theriyala bro….. நீங்க மைண்ட் வாய்ஸ்னு நினைச்சு சத்தமா பேசுறிங்க……😰😰😰

— Chiyaan Pandi (@ChiyaanPandi2) August 29, 2018
ஒரே மூஞ்சிய எவ்லோ நாள் தான் பாத்துட்டே இருக்க முடியும்!!! 🤷‍♀️அதான் feel ஆகிடாப்ல

— Rajalankesh (@rajalankesh) August 28, 2018
My pondati also said same words @rio_raj pic.twitter.com/4caiifGGSJ

— Azarudeen (@i_azar) August 28, 2018
Yen kannu idha nanga nambanum.. Nenga dha playboy.. Kandipa nenga dha solirpinga.. Kalyanam aanalum manasa alaipaya vida kudadhu.. Shruti juice pulinchidunga ivara..

— vignesh.M (@satvicky) August 29, 2018
உன் பொண்டாட்டி மூஞ்சிய விட ஜனனி ரொம்ப அழகுன்னு என் வப்பாட்டி சொல்றா..

— Arjun (@Arjun_Tkr) August 29, 2018
People's Reaction pic.twitter.com/RY7FIgLQQ2

— Gopinath M P (@GOPINATHMP22) August 28, 2018
— Raja ks (@rajaks1612) August 28, 2018
Machi naa thaa aarambichathu.
Neenga thaa number 2. Proud moment for the two of us !#JananiThangachiArmy pic.twitter.com/74CifQX13j

— Panda Palkova (@itispalkova) August 28, 2018
உங்கள் விட உங்கள் மனைவிக்கு நல்லா அறிவா இருக்காங்க so send வைல்ட் கார்டு என்ட்ரி #BiggBossTamil2 #BiggBossTamil #BiggBoss2Tamil

— மகிழ்ச்சி 😍💏🎸🎹🎈🎥🎯 (@satupaiyan1) August 28, 2018
Actually janani sister nala energetic ah ,active ah ,elar kitayum free ah pesuranga when compared to janani ! #BigBoss2Tamil #BiggBossTamil2#BigBossTamil #Riythvika #Janani #mumtaz

— bala (@bala__krish) August 28, 2018
Now what do you think ?? Janani Or Her Sister ?/ comment below !!