College Banned Hostel Students From Attending Marriage Functions Without Invitation !! Check Reactions !!
By Dhiwaharan
National Institute of Technology, Kurukshetra (NIT Kurukshetra) is a public engineering institute located in Kurukshetra. In December 2008, it was accredited with the status of Institute of National Importance (INI). It is one of the 30 National Institutes of Technology established and administered by Government of India. It runs undergraduate and postgraduate in programme Engineering and Doctor of Philosophy programme in Engineering, Sciences and Humanities.
[wp_ad_camp_1]
Now today a post in social media suggests that the college has warned it's students not to go to marriages and parties without invitation. This bizarre warning made many social media users to laugh and made them think deeply about the issue as well.
The tweet of Mr.Vasu who posted the picture of the notice board read as "It has been reported some students of our institute are going to attend the marriage/parties in the city without having any invitation. These type of activities are highly unethical / immoral/ unwanted/ uncalled for. All the students are hereby informed that they should desist away from such type of uncivilized activities. Disciplinary action will be taken against such students as per institute rules."
[wp_ad_camp_1]
Check out the picture here :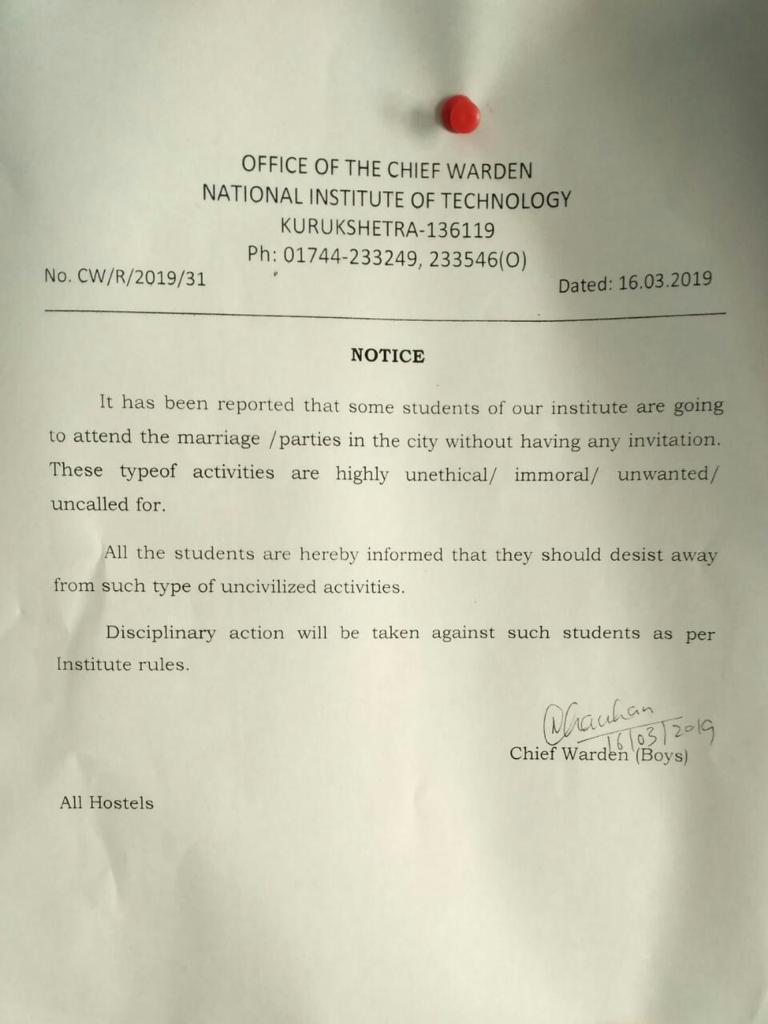 Vasu posted this picture with the caption "A NIT college warns its students not to attend weddings in the neighborhood without invitation."
A NIT college warns its students not to attend weddings in the neighborhood without invitation. pic.twitter.com/CxPpE8g9Wb

— Vasu (@vasudevan_k) March 19, 2019
Check out some of the reactions to the post here :
May be there are complaints of gate crashing

— Latha Srinivasan (@latasrinivasan) March 19, 2019
Hahaha. My brother, who studied at REC Moorthal, used to do this with his friends. Haha.

— Nidhi Jamwal (@JamwalNidhi) March 19, 2019
My guess is that the hostel food is…well…uncivilized

— Krish Ashok (@krishashok) March 20, 2019
Given I have completed my degree 6 years ago..I strongly condemn it too..It is highly immoral 😂😂

— ₹@v! (@raviranjan164) March 20, 2019
[wp_ad_camp_1]
In weddings at Baradari Marriage Hall in Lucknow, hosts prepare food for additional 100-150 people than what they have inVited. Just because it's close to Lucknow University Hostel.

— Faraz (@iamAKHTER) March 20, 2019
We used to attend weddings uninvited in Bangalore for food and to resell the coconuts to the college canteen for more food

— subbakrishna rao (@SubkrishnaRao) March 20, 2019
Hahaha 3 idiots anyone?

— Girish (@Girish_Mir) March 20, 2019
Well, if you are an Engineering hostalite who lived away from your home for four long years you must have done this crime atleast once with your group of friends. But doing it so often to an extent till the arrival of warning from the management itself is something sounds like an atrocity.
What lead the students to do it often ?? Comment your views on this !!