Coimbatore Police Released Press Note Regarding The Swiggy Boy Harassment Video !!
Written by Dhiwaharan Published on Jun 05, 2022 | 19:19 PM IST | 48
Follow Us
Comments: 0
Official twitter handle of Coimbatore Police, on Saturday, came up with a press note, updating about the action initiated in the case against a traffic police who harassed a Swiggy Delivery agent. The press note said that the police officer named Satheesh has been arrested and got suspended temporarily from his posting due to the complaint registered by Mohana Sundharam, the victim.
இந்த சிக்னல்ல தான் பீளமேடு காவல் நிலையம் இருக்கு அதுக்கு முன்னாடியே நடந்திருக்கு .. கரோனவுல பாதிக்கபட்டவங்க எப்படியாவது மீண்டு வரணும்னு தான் ஒடறாங்க .‌ சுயமரியாதை எல்லாருக்கும் இருக்கு @tnpoliceoffl @mkstalin @DrSenthil_MDRD @KanimozhiDMK @V_Senthilbalaji pic.twitter.com/7Wxlllo1YH

— 🅿️🔼🅱️⛸️⭕ — 🤡 (@Dravida_oviyan) June 4, 2022
A Swiggy delivery person named Mohana Sundharam, video of whom getting slapped by a traffic police went viral, shed tears while talking to a news channel and said that he stopped a school bus only because the driver didn't stop after hitting a woman. Mohan said that he is a graduate and is delivering food only due to his family situation. The victim registered a complaint in the police station against the traffic police for slapping him without any particular reason.
The incident happened in Coimbatore, Tamilnadu. While explaining to the media about what really happened, Mohana Sundharam said that he stopped the National model school bus after it hit a woman and went past without stopping. Traffic police who came to spot, started slapping Sundharam without asking any questions and snatched his cell phone, bike key and damaged his headset, according to the statement of the swiggy delivery person.
"I was delivering food around 5 : 30 to 6 pm yesterday and was standing near fun mall. The school bus of National model school hit a woman and went past without stopping. I stopped the bus and questioned the driver for not stopping the vehicle after hitting a woman" Mohana Sundharam said in the video.
A policeman was caught on camera slapping a #Swiggy delivery executive in Coimbatore. The policeman was shifted to the police control room. An inquiry has been ordered. @THChennai pic.twitter.com/dMJf5BnFW9

— Wilson Thomas (@wilson__thomas) June 4, 2022
"At that time, a traffic police came to the spot and started slapping me without inquiring about what happened. "Are you a police or VIP?? How could you stop the vehicle of a National Model school?? Are you a Rowdy?" he asked me and slapped. He threw my headset away and snatched my phone and bike key" Mohana Sundharam said.
Sundharam further said that he doesn't even have money to go to hospital. "I had Rs. 500 yesterday and used 200 of it for the petrol of my vehicle. I don't even tell about this incident to my family members. Swiggy is my part time job, I am running a stationary shop" said the youngster. Also Read : Atrocious Behaviour Of Police Towards A Swiggy Boy!! Heart Breaking Video
"During Corona period, I couldn't pay rent and happened to join Swiggy to meet my ends. My goal is to do business and I'm working hard to pay my debts. Many Swiggy workers are educated and most of them completed B.E. I can speak 6 languages" said Mohan and mentioned about his experience in the IT field.
"Only due to my family situation, I have been working in Swiggy. In companies, there will be leave for one or two days but I can't put leave for three days. For that alone, I have been working in Swiggy and meeting my family's basic requirements. Else I would have been joined a company and would have worked in it" he further said.
Many users of online thrashed the police officer after seeing the video of Mohan and have been seeking justice for the  youngster. It has also been reported that Mohan registered a police complaint against the traffic police for slapping him. Earlier, it was reported that the grade 1 constable Sathish attached to Singanallur traffic police station has been shifted to the city police control room as a punishment.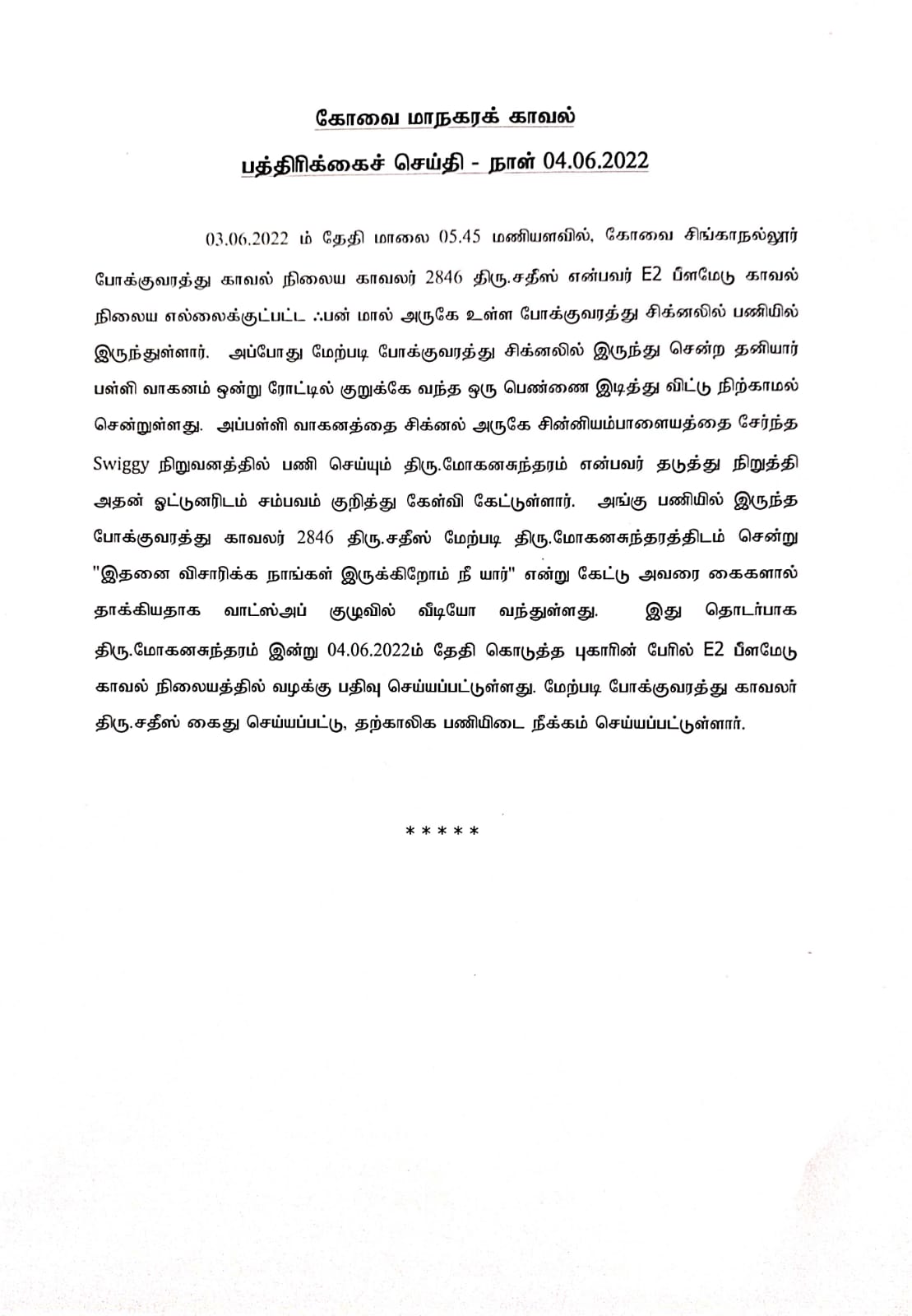 Now, the official ttwitter handle of Coimbatore police has released a press note explaining the details about the incident. The post said that Satheesh slapped Mohana Sundharam asking "We are here to inquire about this, who are you ??". "Regarding a complaint filed by Mohana Sundharam on 4th of June, a case has been registered against Satheesh in Peelamedu police station. The Traffic police has been arrested and has been temporarily suspended from his posting" the note read.
— கோவை மாநகரக் காவல் Coimbatore City Police (@policecbecity) June 4, 2022