Coca Cola's Financial Loss After Ronaldo's "Single Move" Left Internet Talking !!
CM / Updated: 2021-06-16
14:23 IST
By Dhiwaharan
The brand Coca cola faced a financial loss of USD 4 billion which is equal to Rs. 29,333 crore after Footballer Cristiano Ronaldo moved a couple of Coca Cola bottles away from the camera and gestured people to drink water instead. It is reported that Coca-Cola's stock price dropped 1.6 % after the gesture of Ronaldo. The Daily star has reported that the worth of the company was dropped from USD 242 billion to USB 238 billion in one day.
[wp_ad_camp_1]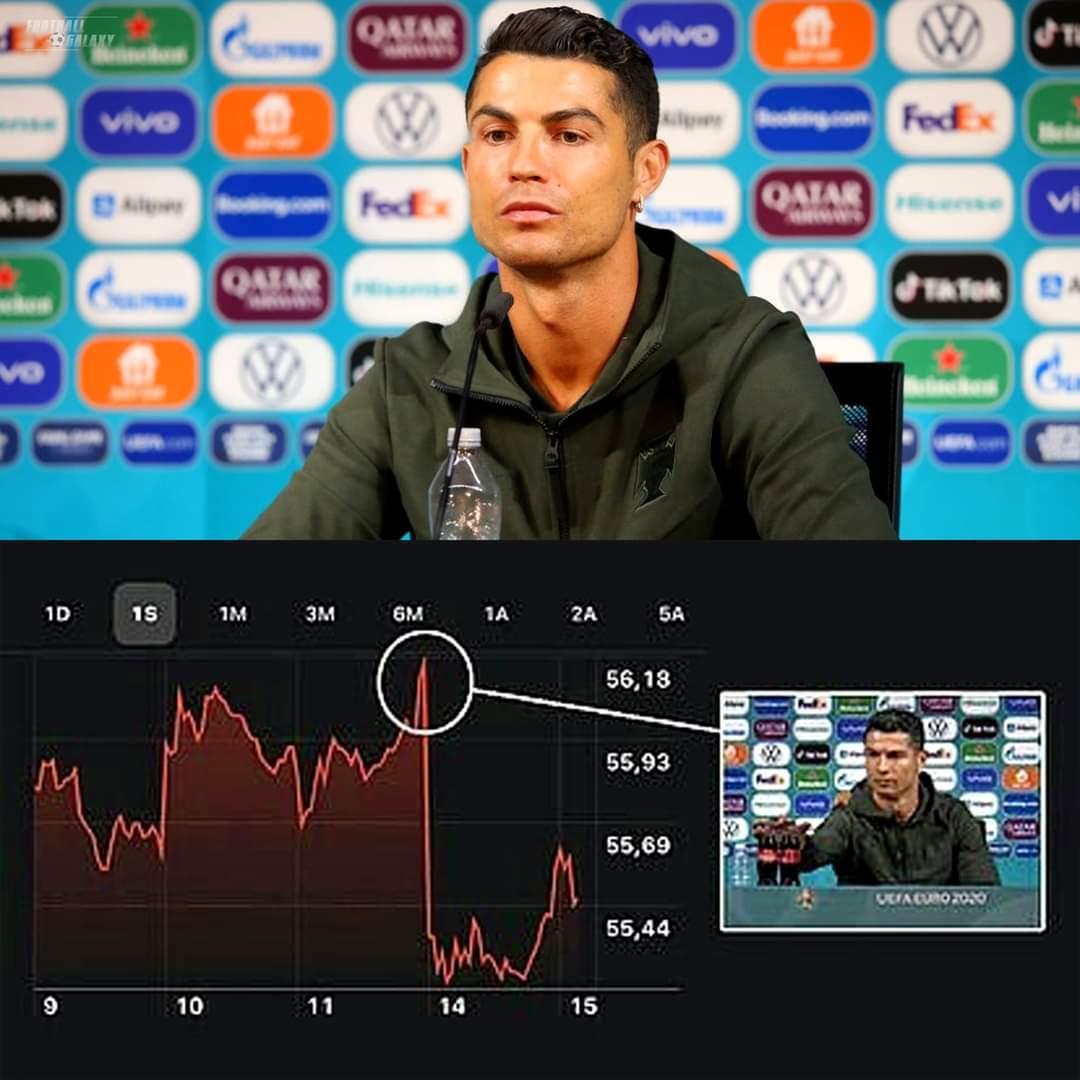 As we all know, the world famous football played Cristiano Ronaldo is a fitness freak and has inspired millions of people around the world to be fit. The 36 year old has been giving "goals" to people of his age to look younger like him. His young looks got acknowledged by several people including media, fans even his fellow footballers. Now, a gesture of the global icon at the Portugal's press conference has grabbed the attention of the Internet users. He removed the Coca cola bottles which were placed in front of him and gestured public to "Drink Water" by showing a water bottle.
He appeared in the press conference with Coach Fernando Santos. After arriving to attend the press conference, Ronaldo who saw two Coca Cola bottles placed in front of him, removed them and placed it away so that it couldn't get captured with him in camera. Further, the man who enjoys a huge fan base across the world, lifted a water bottle and suggested people to "Drink Water". He literally said "Be with water" in Portuguese. His gesture surprised many including his coach who was sitting beside him.
[wp_ad_camp_1]
Watch the video below :
Cristiano Ronaldo was angry because they put Coca Cola in front of him at the Portugal press conference, instead of water! 😂

He moved them and said "Drink water" 😆pic.twitter.com/U1aJg9PcXq

— FutbolBible (@FutbolBible) June 14, 2021
Now, as soon as the reports on the financial loss of Coca Cola surfaced, users of social media platform can't keep calm as trolls, memes and reactions are flooding the feeds. Hashtag "Coca Cola" is trending in Twitter with various kind of reactions as well. Check out some of them below :
CocaCola பாட்டில தூக்கி கீழதான் வச்சேன்.. அவனுக்கு 30,000கோடி லாஸ்.. pic.twitter.com/qocnjbP6B4

— James Stanly (@JamesStanly) June 16, 2021
#CocaCola

Reel Real
Influencers. Influencer. pic.twitter.com/XCNFJkbWwh

— Varsha saandilyae (@saandilyae) June 16, 2021
MBS: My oil can change world economy.

MUSK: My one tweet can change crypto market

Cristiano:Hold my water Bottle. #CocaCola pic.twitter.com/ykA8ws0D9J

— IbnAdam. (@IbnAdam34) June 16, 2021
#CocaCola Stock after Ronaldo removed bottle of coke from table: pic.twitter.com/FL043QLXHv

— Rohit Chauhan (@imrchauhan5) June 16, 2021
[wp_ad_camp_1]
After #CocaCola incident, other brands be like: pic.twitter.com/5JKvX9svov

— 🇮🇳CA Hemanth B.T♓️🟠💭 (@Hemanth1369) June 16, 2021
Looks like Ronaldo been here . #ronaldo #CocaCola #Messi pic.twitter.com/kajuOkmVMb

— David Thomas (@Davidthomas999) June 16, 2021
I chose to drink water from the fridge instead of coca-cola after that CR7 presser. 😅 #CocaCola #CR7

— Siddarth Sankar (@galaxygambit) June 15, 2021
Christiano Ronaldo removes #CocaCola bottles from frame

Coca Cola stock price: pic.twitter.com/cKj6B3jfa1

— Argha Tribedi (@ArghaTribedi) June 16, 2021