"Cobra" Director Responds To Negative Comments !!
Written by Dhiwaharan Published on Sep 05, 2022 | 12:17 PM IST | 53
Follow Us
Comments: 0
Ajay Gnanamuthu, director of recently released "Vikram" starrer responded to the negative criticisms the film received through his Instagram handle. When a follower said that he got disappointed with the climax, the filmmaker said that it is possible for him to write a climax where the hero gets to freely roam with mass music and added that it's not ethically right for the kind of crime he committed. The filmmaker also responded to opinions such as "Confusing screenplay" and to the one who said that he couldn't believe Ajay Gnanamuthu of "Imaikka Nodigal" making Cobra.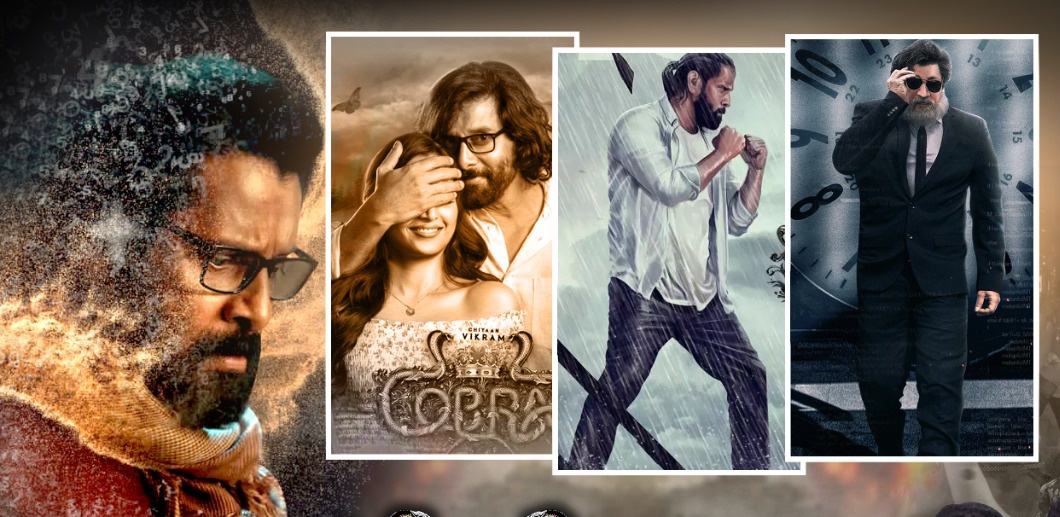 "Good movie with a brilliant screenplay but disappointed with the climax" said a follower to which Ajay replied back "It's possible to write a climax where Hero smartly escapes and we show him in a foreign location freely roaming around with mass music and all. But ethically it's not right to free that character for the kind of crimes he has done!! Right ??"
Here's the screenshot of his reply :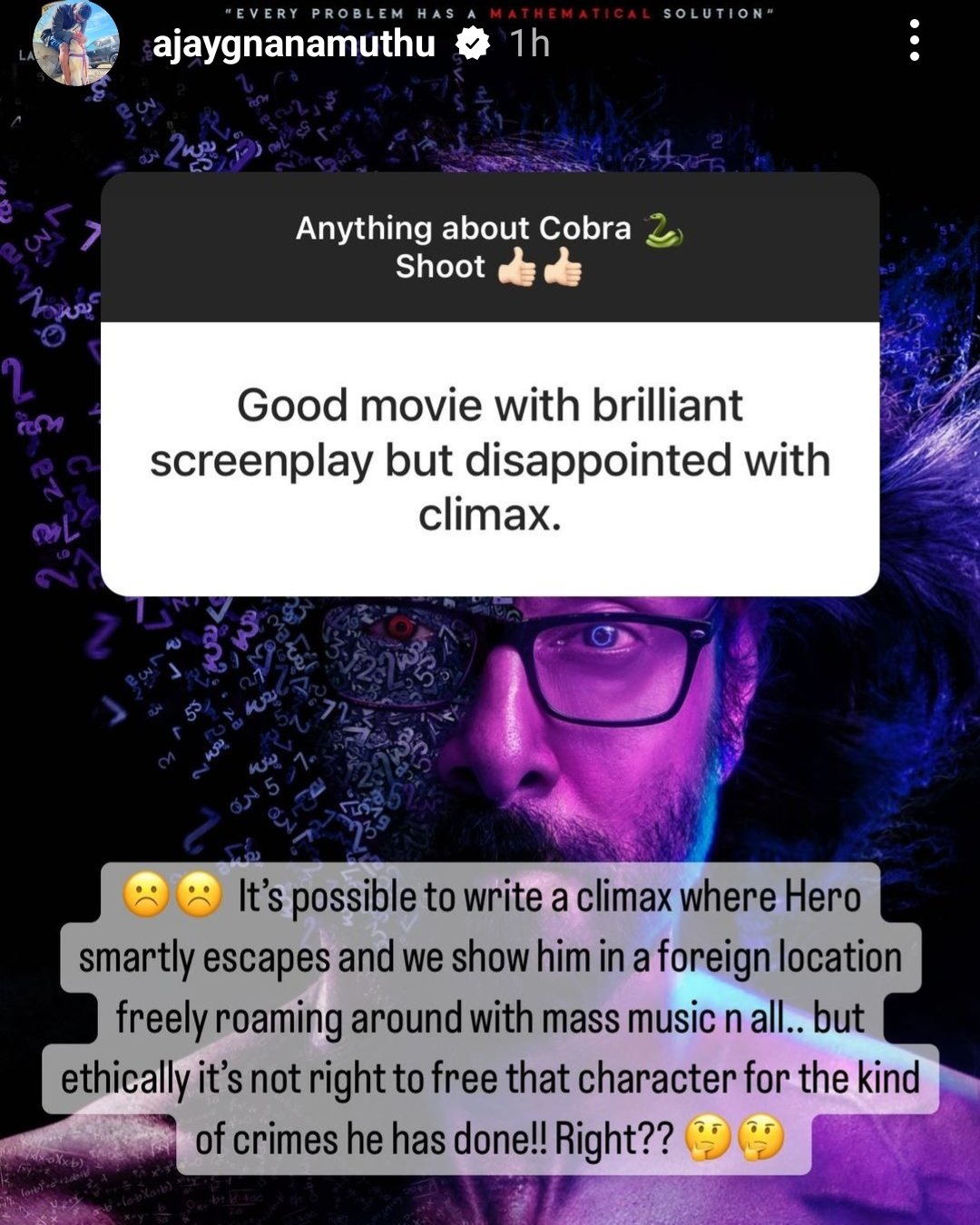 "First sorry that you felt confused!! But e as an audience I have always liked wathing mind blending films and genuinely tried it this time!! If possible plzz try watching it again hopefully you like it" he said when a follower said that he got confused with the screenplay.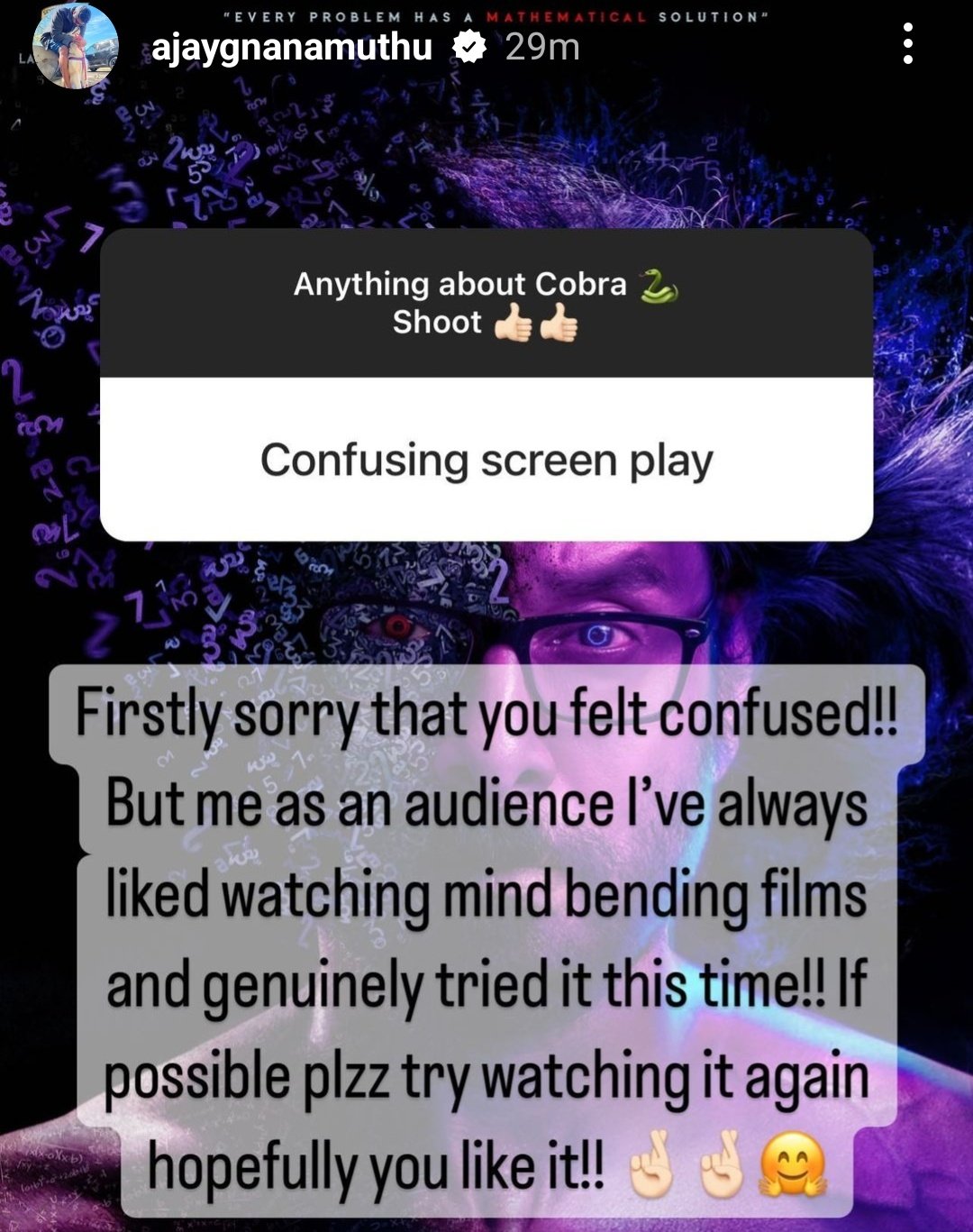 "It's hard to believe that the director of Imaikkaa Nodigal directed cobra" a follower said to which Ajay replied back writing "Sorry that you are disappointed!! Hopefully will satisfy you the next time.. But try to give Cobra another shot before concluding"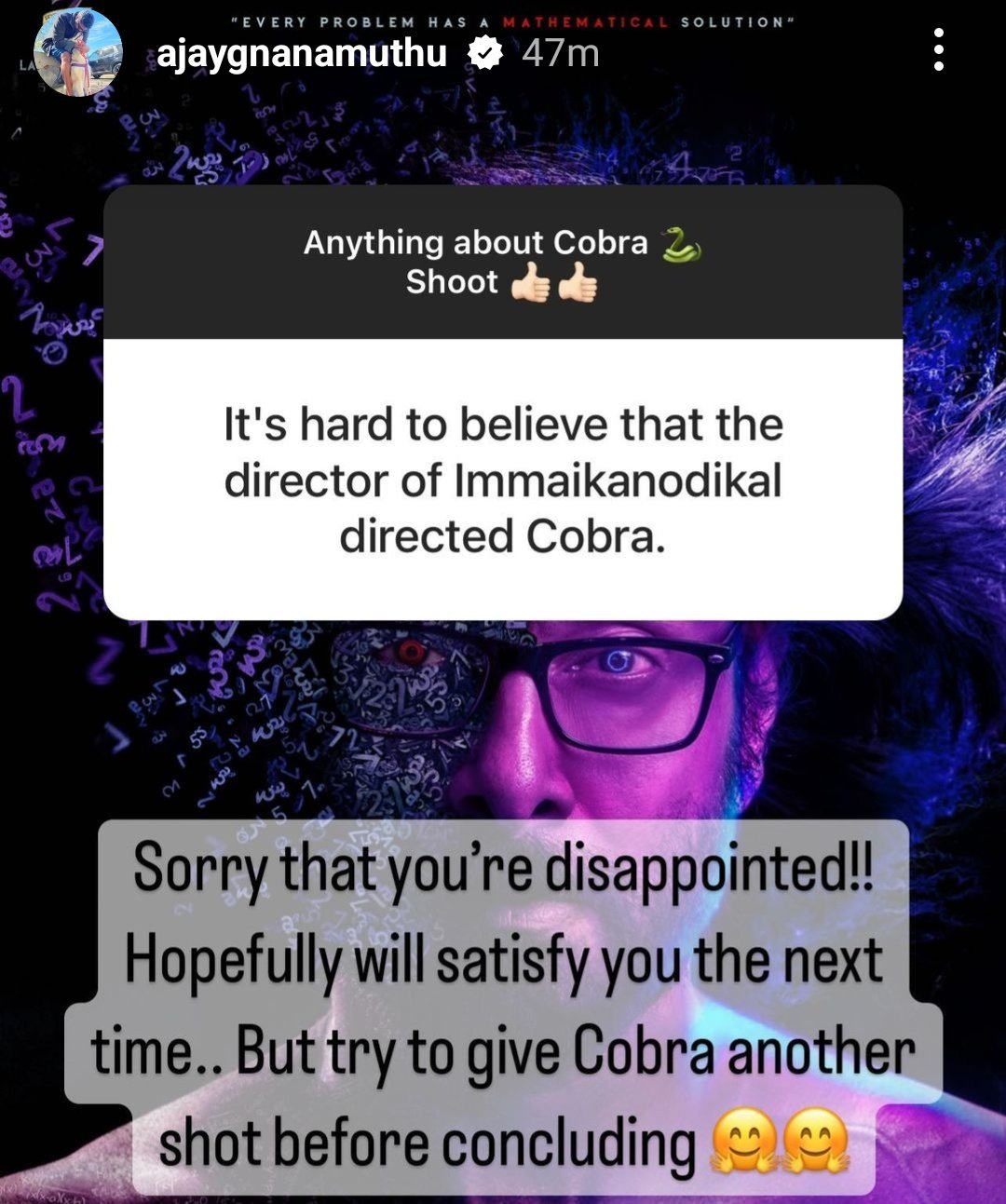 The most awaited "Cobra" of Vikram released on the special occasion of Vinayakar Chathurthi with much expectations from the fans. After nearly three long years, the actor's film is releasing in theatres which increased the expectation level of his fans.
Directed by Ajay Gnanamuthu, apart from Vikram, the film includes an ensemble cast that includes Roshan Mathew, Irfan Pathan, Srinithi Shetty, Mrinalini, KS Ravikumar, Robo Shankar, Anand Raj and others.
Plot of the film revolves around a twin brothers who are changing their identities to escape a jail sentence for a murder. With Vikram playing the roles of both the brothers, a mathematics genius and a master hacker, Roshan Mathew played the role of a young corporate company lead who involves in illegal business. A huge misunderstanding takes place between the brothers during their younger days and the climax lies on how they got reunited and what happens to the character played by Roshan Mathew.
Have you watched the film ? Comment your views on the answers provided by the filmmaker !!