Tamil nadu Chief minister MK Stalin has been visiting the rain affected and water logged areas in Chennai and distributing food to needy people in the various parts of the city. For four continuous days, MK Stalin reached the affected places and helped the people. Political analyst Sumanth Raman came up with a statement in his official twitter handle, saying that providing food packets is not a role of a state's chief minister and wanted MK Stalin to start directing senior officials to resolve problems.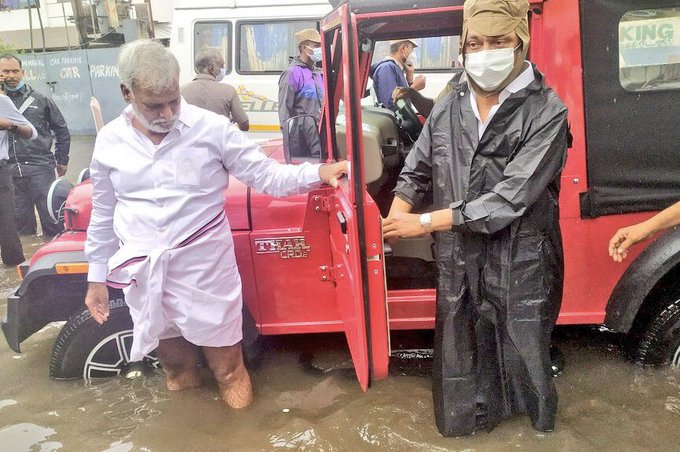 The uninterrupted rain gushed out of reservoirs and while several roads and low-lying areas remained inundated in Chennai, after heavy rains lashed the city and parts of Tamil nadu since Saturday. KKSSR Ramachandran, Tamil nadu revenue and disaster management minister said that five people have lost their lives due to rain. He also told the media that more damages are expected if the rain intensifies.
Authorities reported that 1,107 people have been sheltered in 48 relief camps in Chennai after Tamil nadu recorded 43% of rainfall above normal. 24.12 cm is considered as normal which is 241.2 mm. The state has recorded 34.61 cm of rain which is 346.1 mm. 310 people are housed in 10 shelters in the northern districts of Kancheepuram, Tiruvannamalai, Chengalpet and Tiruvallur with food and all other basic amenities.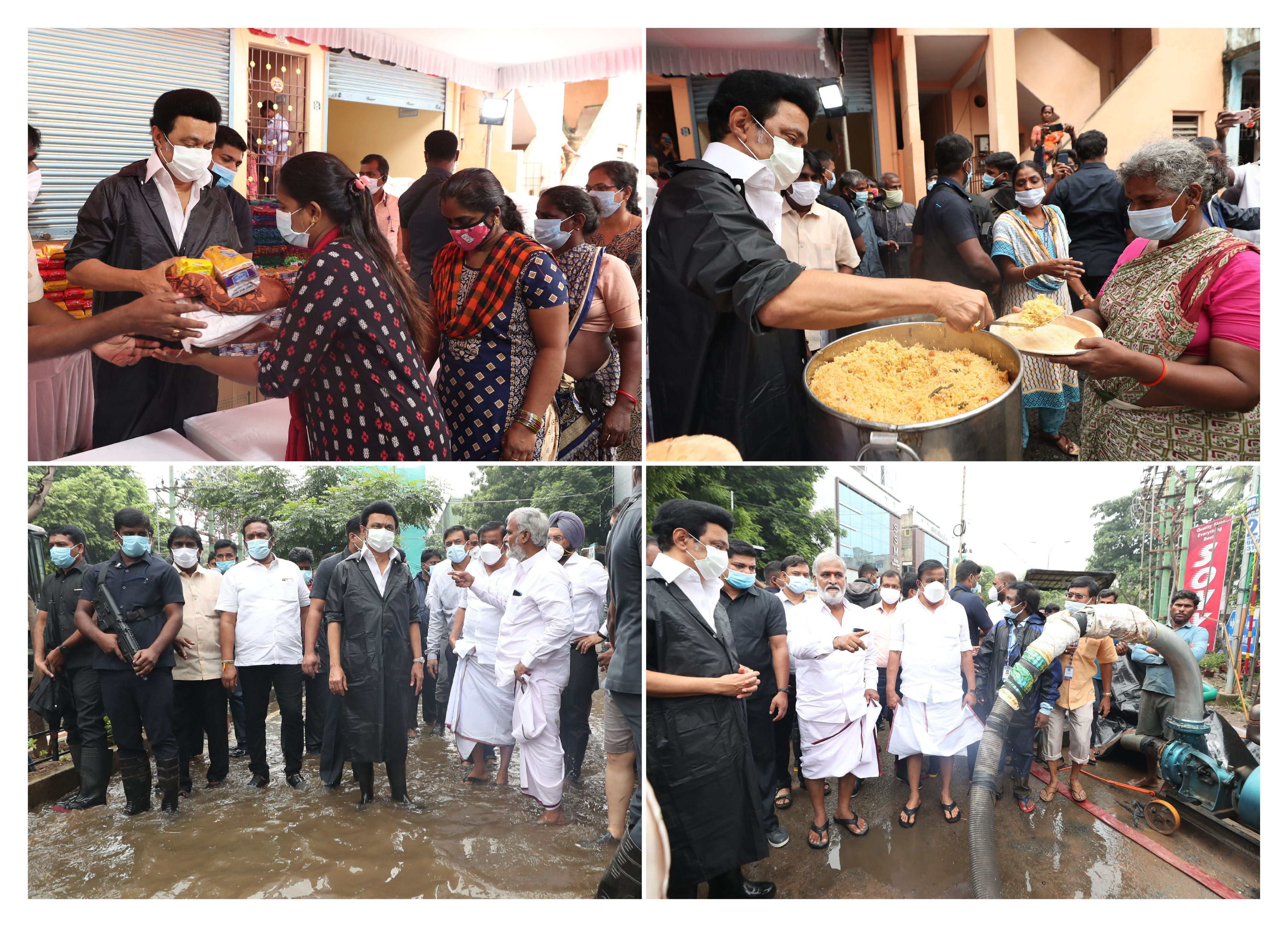 Pictures and videos of Chief minister MK Stalin providing food to people and serving them went viral across the social media platforms. On seeing them, Sumanth Raman who is known for anchoring sports based shows and his political views, came up with a series of tweets criticizing MK Stalin's activities. "I truly appreciate @mkstalin for going out into the streets over the last 3 days to see situation on the ground. He has braved the rains to be on the ground. But the role of a CM is not to spend most of the working day going from road to road. It distracts Police, Corporation and other staff from doing their job. It is important for a CM to show empathy and be seen to be with the people during a crisis.This our CM has adequately done over last few days. Now it would be nice if he wd get back to focusing on directing Sr Govt officials/ Ministers all over TN" Sumanth said through his series of tweets.
"CM's role is not to personally distribute food packets and relief materials during a flood. It is done by all CM's as a photo op. Maybe 1 or 2 visits. Not daily. Again I do appreciate his gesture but he is a Chief Minister of a large State and not just a local MLA" he added.
Check out his tweet thread below :
other staff from doing their job. It is important for a CM to show empathy and be seen to be with the people during a crisis.This our CM has adequately done over last few days. Now it wd be nice if he wd get back to focusing on directing Sr Govt officials/ Ministers all over TN

— Sumanth Raman (@sumanthraman) November 10, 2021
CM's role is not to personally distribute food packets and relief materials during a flood. It is done by all CM's as a photo op. Maybe 1 or 2 visits. Not daily. Again I do appreciate his gesture but he is a Chief Minister of a large State and not just a local MLA.

— Sumanth Raman (@sumanthraman) November 10, 2021
Check out some of the reactions for Sumanth's tweet below :
Yes i agreed

As per @sumanthraman view of CM Duties are follow,
1. only do Chopper Visit
2. open Shatters without Prior Notices,
3.campaign for Election in flooded areas
4. Do stickering for relief materials of NGOs
5. Take rest in Kodanad Estate till flood ends https://t.co/KTzum8Xa3I

— Nayeem நயிம் (@Engr_MdNayeem) November 10, 2021
ஆகாத மருமகள் கை பட்டா குத்தம் கால் பட்டா குத்தம்னு ஒரு திண்ணைக்கிழவி பேசிட்டே இருக்கும்.. அதோட male version .. https://t.co/8faQ7oBP8e

— 🖤 Hinata🖤 (@iam_lolitta) November 10, 2021
இந்த மூனு நாள்….. relations, friends circleல அதிமுக நாதகவுக்கு ஓட்டு போட்டவங்க கூட முக ஸ்டாலின பாராட்டி பேசுறாங்க.

சுமந்தும் இத feel பண்ணிருக்கார் போல😁 https://t.co/pOx4239UtF

— Jonas (@jonas_khannwald) November 10, 2021
கொடநாட்ல உக்காந்து தேன்கிண்ணம் பாத்திருந்தா பேசாம இருந்திருப்ப https://t.co/0irTSrc7DP

— Arun kumar (@DRAKarunkumarrr) November 10, 2021
அதாவது CM என்ன ஒர்க் பண்ணனும்னு புழு🔥 மாதிரி பேச கூடாது தம்பி https://t.co/aIktvwE0Kx

— நீலன் (@Lifeof_Ram) November 10, 2021
ஆகாத புருஷன்… கை தொட்டா குத்தம், கால் பட்டா குத்தம் னு ஒரு பழமொழி கேள்விப்பட்டுருக்கேன்….🤦🤦 https://t.co/G8xXV7uqHA

— Ram ❤️🖤💙 (@kraman2) November 10, 2021
இப்படிக்கு 4முறை CMஆக இருந்தவர் https://t.co/OCitdy0T33

— நீயே ஒளி (@jeganjeeva) November 10, 2021