Cinema Celebrities, Politicians & Thousands Of Others Admiring Village Cooking Channel For Their Immense Achievement !!
Diamond button
Village cooking channel
CM / Updated: 2021-07-05
11:18 IST
By Dhiwaharan
The most famous "Village Cooking Channel" received diamond button from Youtube and became the first South Indian Youtube channel to achieve 1 crore subscribers in the video streaming platform. The immense achievement of the group who belongs to a rural part of Tamil nadu, is being celebrated by the public. Celebrities who belong to Tamil film industry are also expressing their admiration towards their tweets and the hashtag "Village Cooking Channel" is trending in the micro blogging social media site.
[wp_ad_camp_1]
Village cooking channel who recently achieved the feat of 1 crore subscribers, are being loved by the people across the globe for the content they are making in their youtube channel. The paddy farmers and cooks who are running the youtube channel have managed to endear their village, Chinna Veeramangalam in Pudukottai district, to an international audience. V Subramaniam, V Murugesan, V Ayyanar, G Tamil selvan and T Muthumanickam are cousins and they are led by their grandfather and former caterer M Periyathambi.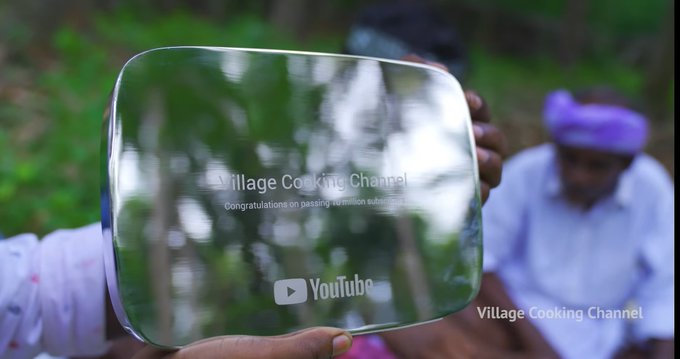 The way they are organising their videos by making traditional south Indian recipes with so much enthusiasm and energy attracted millions of fans to an extent that even the celebrities of Tamil film industry admiring their success. On Sunday, Village cooking channel uploaded a video in their youtube channel, unboxing the Diamond button which will be awarded to the youtube channels that gained 1 crore subscribers.
While unboxing the Diamond button, makers of the Village cooking channel said that they started the channel as there will be no job for them in their agricultural village for 6 months in a year. "The youtube management in Tamil nadu sent application for us when we were nearing 1 crore subscribers and now as we have reached 1 crore subscribers, the diamond button reached us at the right time" they said in their video which already garnered 2 million views.
Watch the video below :
Video credits : Village Cooking Channel.
In a way of celebrating the 1 crore subscribers, Village cooking channel donated Rs. 10 lakh to the Tamil nadu chief minister COVID 19 relief fund by meeting Chief minister MK Stalin in person. They also thanked their subscribers for the support and dedicated the diamond button to them. This achievement of Village cooking channel is being widely appreciated.
[wp_ad_camp_1]
"So proud to see a village team winning such accolades & success. Beyond that look at their magnanimity. Congrats #VillageCookingChannel" said Film producer Dhananjayan and actor/director SJ Surya, in his tweet, wrote "Ulagam yellorukkum sondham… Manam Irundhal Margam Undhoo … Big salute to the "village cooking channel" Team"
Check out some of the reactions below :
So proud to see a village team winning such accolades & success. Beyond that look at their magnanimity. Congrats #VillageCookingChannel 👏👍🥇 https://t.co/A49oy8s1jk

— Dr. Dhananjayan G (@Dhananjayang) July 5, 2021
👏👏👏 Ulagam yellorukkum sondham… Manam Irundhal Margam Undhoo … Big salute to the "village cooking channel" Team https://t.co/uebJftpw5M

— S J Suryah (@iam_SJSuryah) July 5, 2021
இந்த வெற்றியும் வளர்ச்சியும் சாதனையும் நம் குடும்ப உறவுகளுக்கு கிடைத்ததுபோல் ஒரு உணர்வு. கிடைத்ததில் சிறிது மக்களுடன் பகிர வேண்டும் எனும் அவர்களது எண்ணமும் வெள்ளந்தி மனசும் நம்மை வியக்க வைக்கிறது. Salutes!!!#AlwaysWelcomesYou#VillageCookingChannel pic.twitter.com/z7y5UJbkue

— Naveen Mohamedali (@NaveenFilmmaker) July 5, 2021
First Tamil #YouTube Channel to reach 1 Crore Subscribers 🎉#VillageCookingChannel @Team_VCC
வாழ்த்துக்கள் ❤️

Trees with deepest roots shall reach greatest heights indeed! https://t.co/02qYVUBARV

— Ananthi Iyappan (@RJ_Ananthi) July 5, 2021
[wp_ad_camp_1]
First Tamil #YouTube Channel to reach one crore subscribers…
ஒரு கோடிக்கும் அதிகமான சப்ஸ்கிரைபர்களுடன் பயணத்தை தொடரும் வெற்றியாளர்களுக்கு பேரன்பும், வாழ்த்துகளும்… #VillageCookingChannel pic.twitter.com/ShvjNFHZlu

— Karthigaichelvan S (@karthickselvaa) July 4, 2021
Congratulations #VillageCookingChannel reach more than 1 crore subscribers in YouTube. I wish all all the very best for your future endeavours. @vstamilan pic.twitter.com/Y5ARX21u2T

— J G Prince MLA (@advjgprince) July 5, 2021
ஒரு YouTube சேனல், சமையல் கலையின் மூலம் ஆதரவற்ற மக்களுக்கு உணவு படைத்து அதன் மூலம் இன்று 1 கோடி Subscribers ஐ பெற்று இருக்கிறார்கள். அது மட்டுமல்லாமல் முதல்வர் நிவாரண நிதிக்கு ரூ.10 லட்சம் கொடுத்துள்ளார்கள். அவர்களுக்கு உளமார்ந்த வாழ்த்துக்கள். #VillageCookingChannel

— Venkatesh (@Venkate29599327) July 5, 2021