In the grand audio launch of "Cobra", actor Vikram who is fondly called as fans by his fans, cleared air on the rumours and speculations that surfaced about his health. The actor made fun of those who claimed that the actor suffered heart attack and made reports spreading false information. Vikram said that nothing bad would happen to him as he has his fans as his family and thanked those who worried about him with their whole heart.
View this post on Instagram
When fans cheered for his entry at the event, Vikram thanked his fans by keeping his hand on his chest and took it abruptly saying "I shouldn't keep my hands here, they will say I'm suffering with heart attack" Vikram said in the launch in a way of making fun. "I could see the headlines that are going to be made tomorrow. They would keep headlines like "VIKRAM  CONFIRMED ABOUT HIS HEART ATTACK IN COBRA AUDIO LAUNCH". I saw everything as such" Vikram laughed at the stage.
"I saw so many clumsy reports about my health. They were good actually" said Vikram sarcastically. "Few even made thumbnails photoshopping a patient's picture with my face. It was very creative. It was good" the actor laughed again. "I have seen so many struggles in the past and this is nothing compared to them" Vikram further said.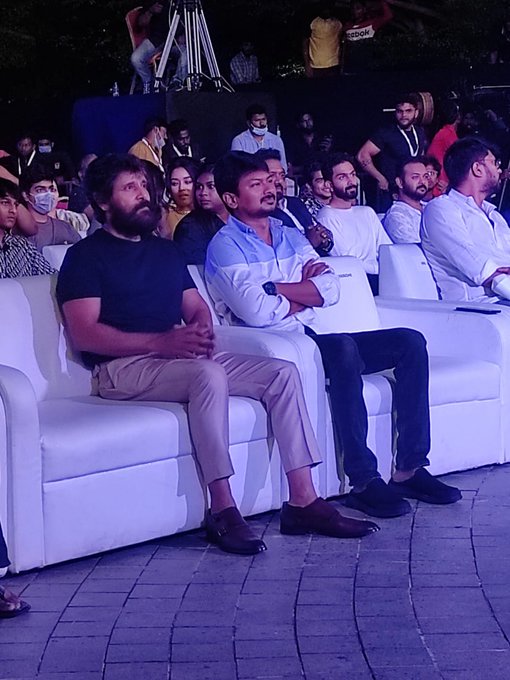 "Till you guys who are my family, my friends and my fans are with me to support, nothing would happen to me. You all know about an accident I met with due to which I was supposed to lose my one leg. I recovered from that situation and this is nothing compared to it" Vikram said and confirmed that it's a simple discomfort. "Media twisted it and made inappropriate stories. Thanks" Vikram said.
"However, it worried people who care for me. Only to let you people know that I am fine, I am here today. Thank you so much, I love you all" Vikram added.
Watch the exclusive video below :
A couple of days ago, Vikram who is known for appearing in films such as "Anniyan", "I" got admitted in Cauvery hospital located in Alwarpet, Chennai. A number of news portals including Polimer News Channel said that the 56 year old actor suffered a heart attack and got immediately admitted in the hospital. As soon as the report surfaced, hashtag "Chiyaan Vikram" trended in social media platforms with fans praying for his speedy recovery. Brushing off the same, Vikram's son Dhruv uploaded a story in his official Instagram handle saying that his father didn't suffer heart attack at all.
Chiyaan #Vikram 's Short msg to fans pic.twitter.com/s8IyxO5lay

— Kollywood Trolls (@KollywoodTrolIs) July 9, 2022
"Dear fans and wellwishers, Appa had mild chest discomfort and is being treated for the same. He DID NOT have a heart attack as reports falsely claim. We are pained to hear rumours to this effect. That being said, we request you to give him and our family the privacy we need at this time" said Dhruv through his post. "Chiyaan is fine now. He is likely to be discharged from the hospital in a day. We hope this statement provides clarity and trust that the false rumours will be put to rest" he further added.
Kennedy John Victor, known for his screen name "Vikram" is also known as Chiyaan Vikram among his fans and followers. He has been part of numerous commercially successful films and has earned major critical acclaim for many of his performances. During his years in the Indian film industry, he has won five Filmfare Awards as well as one National Film Award for Best Actor.