Chinmayi Supported Meera In Cheran Issue !! Check Out The Reactions !!
Written by Dhiwaharan Published on Jul 29, 2019 | 23:29 PM IST | 91
Follow Us
Comments: 0
On Saturday's Bigg Boss episode, with his very own sarcasm and of course with responsibility, the actor/politician ripped Meera Mithun apart for accusing a person like Cheran. He started with Meera Mithun by asking her what really happened. When she said her story, Kamal to the audience said it is a mere "Icon Bashing". Later he tried to explain to Meera about the causes of her accusation. Kamal also wondered on the fact of Meera continuing the accusation till yesterday without realizing the consequences she is going to face.
[wp_ad_camp_1]
At one point, Kamal Haasan tried to explain the difficulties of Tamilnadu middle class women facing physical harassment in government buses during peak hours, to make Meera realize that what she went through was not a big deal. "There are also men who boards government bus only to touch women inappropriately" added Kamal Haasan. When he said this example, Saravanan, one of the Bigg Boss contestant raised his hand. "It seems Saravanan gave severe beating to a man who did it" said Kamal to the audience.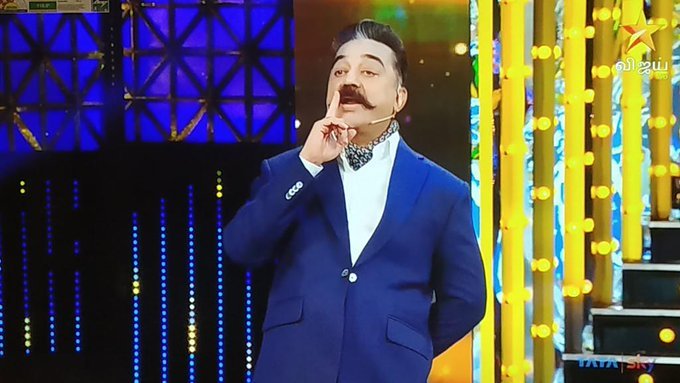 [wp_ad_camp_1]
But Saravanan denied it and said that he is the one who did it deliberately during his college days which made the audience in the hall to burst out in laughter. Kamal Haasan also took it in a lighter note and sarcastically trolled him by referring one of his popular phrase from "Kanmani Anbodu" song.
However this incident does not go well among few women in social media, especially Chinmayi, famous singer and dubbing artist. She expressed her anger through a tweet which said "A Tamil channel aired a man proudly proclaiming he used the Public Bus Transport system to molest/grope women – to cheers from the audience. And this is a joke. To the audience. To the women clapping. To the molester. Damn."
A Tamil channel aired a man proudly proclaiming he used the Public Bus Transport system to molest/grope women – to cheers from the audience.

And this is a joke. To the audience. To the women clapping. To the molester.

Damn. https://t.co/kaL7PMDw4u

— Chinmayi Sripaada (@Chinmayi) July 27, 2019
[wp_ad_camp_1]
When one of a twitter user asked why she is not talking about Meera's false accusation against Cheran, Chinmayi defended Meera by saying "She accused him Of manhandling. Not groping. You misunderstood. Thanks"
She accused him
Of manhandling. Not groping. You misunderstood. Thanks

— Chinmayi Sripaada (@Chinmayi) July 28, 2019
This tweet irked her own followers who confronted her statement. They asked her to know about the whole issue before commenting on it. Check out their reactions :
@Chinmayi don't simply react base on Saturday episode. Go and watch the whole episode please. Her false accusations against #Cheran will make other women's accusation against real predators will be in question.

— Bathih (@Battz2) July 28, 2019
And this is not the first time she is doing it. She spoiled another person's life earlier in Jodi no 1.

— Netri Kann (@Netri_Kann) July 28, 2019
I am sorry Chinmayi, but initially she did accuse him of groping her in the wrong place n exaggerated the same when she enacted with Sandy. But when she saw no one was supporting her, she changed it to manhandling. There was no misunderstanding.

— Lavanya S Ishwaran (@lavanya15) July 28, 2019
So you said you are not going to watch hereafter and you were watching it until now? She accused him of groping and molesting initially but later changed it. Please watch from the beginning if you haven't.

— Netri Kann (@Netri_Kann) July 28, 2019
Chinmayi later realized that Meera accused Cheran for groping initially and said that she did not watch the show :
Hmm.
This I am unaware doc.
However I don't watch the show. This portion of it was told me and I felt that it was presented as a man accepting with glee he molested – with cheering, whistling and laughing as a response.
This imagery is what stands in the minds of those who watch

— Chinmayi Sripaada (@Chinmayi) July 29, 2019