Chinmayi Getting Brutally Trolled Because Of Rakul Preet's Act !! Check Out Why !!
Written by Dhiwaharan Published on Jul 11, 2019 | 06:06 AM IST | 177
Follow Us
Comments: 0
Manmadhudu 2, directed by Rahul Ravindran, has managed to pique the curiosity of the audience when the trailer was released a couple of weeks ago. The film stars Nagarjuna, Rakul Preet, Lakshmi, Devadarshini and Vennela Kishore in prominent roles.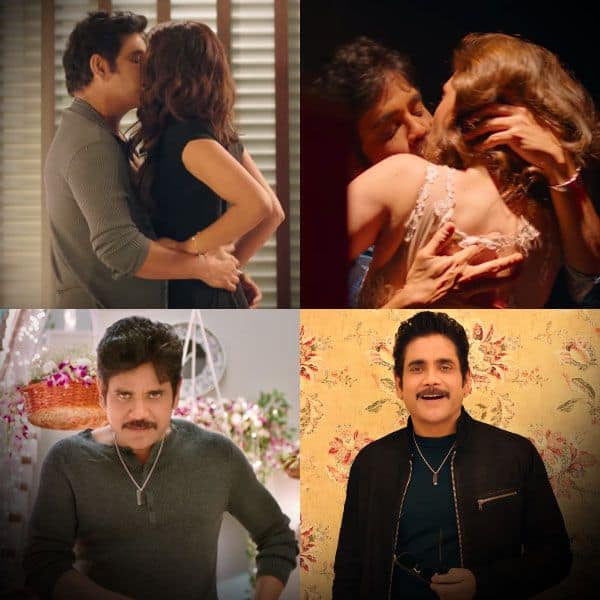 The makers have released a new teaser now, which introduces Rakul Preet as Avantika. The one-minute-five-second teaser gives us a glimpse of different shades of Avantika. She's a well-mannered girl at home and once she steps out, she's a live wire.
[wp_ad_camp_1]
WATCH THE TEASER HERE :
From the looks of it, Rakul Preet plays the role of Avantika, a girl who is free-spirited, fun and hot. Her relationship with Nagarjuna is cute as well as hilarious. It looks like Rahul Ravindran has etched a strong characterisation for Rakul Preet in Manmadhudu 2.
Though many fans enjoyed the teaser, followers of Chinmayi who is a wife of the  movie's director Rahul ravindran seems not very happy. Chinmayi and actress Samantha few days ago expressed their disappointment on a statement of Arjun Reddy's director Sandeep Vanga. Samantha Slammed "Arjun Reddy" Director For His Comment On "LOVE" !! Got Extremely Trolled Back !!
Now after the release of this teaser many of Chinmayi's followers slammed the singer for the characterization of Rakul Preet. And when she shared the teaser of Manmadhudu 2, trolls were more concerned about the smoking scene featuring Rakul Preet. Many questioned the contradiction in Chinmayi's stand about feminism. Trolls further slammed the couple for glorifying smoking.
[wp_ad_camp_1]
Check out some of their reaction :
oh my god !!! if the girls see rakul smoking like that it will cause every girl in country smoke too. DEEPLY DISTURBING

— vinayben (@vinayben1) July 9, 2019
#deeplydisturbing… So this is what our @Chinmayi want women to be,, Women Raise and Awake This is what to be called Empowerment….
and The Way You Support Your @23_rahulr….
No offense to @Rakulpreet u just Nailed it😚..
Super teaser.. @23_rahulr really sorry bro pic.twitter.com/d09phJOU1K

— Jaswanth kumar (@jashulikes) July 9, 2019
Hey chinmayi, I always loved your voice. Have to be honest, this trailer looks shitty, shows women only as sex objects, and old guy romancing young girls is repulsive. I don't fall in love I only make love, I.e meaningless sex .Please don't promote such movies. #manmadhudu2

— pavani (@pavani555in) July 9, 2019
rakul removing shirt button
rakul roaming on road with informal dress
rakul speaking about a certificate
still ur mogudu is sri ramachandrudu

— பிகில்_மைக்கேல் (@akshayssv004) July 9, 2019
WTF! Empowered woman @Chinmayi promoting empowered Avantika. Come on ladies get empowered watching this Avantika.

— Kishor CHATAKONDA (@TheChatakonda) July 9, 2019
Dis shot is deeply disturbing Akka pic.twitter.com/GqMMeo4NlV

— pѕycнo ѕαιyααɴ (@ImmuTweetz) July 9, 2019
Rendu naalukala akko…endhi akko…idhi… pic.twitter.com/gbmHXjXecP

— Chakravarthi V (@ChakravarthiV2) July 10, 2019
[wp_ad_camp_1]
It's looks like real bgrade movie with vulgar comedy

— ismart SEKHAR 😎 (@rajsekhar031) July 10, 2019
Why you are not saying #deeplydisturbing Now😂.
You are a attention seeker,thats it.
You dont have concern about women. you jst want craze in public.

— Premraina03 (@premraina48) July 10, 2019
Deeply disturbing…28 years young with 60 years old…

— Hima (@hima25808) July 10, 2019
What do you think on these trolls targetted on Chinmayi ?/ Comment your views below !!