"Chilra Madhri Panranga"- TTF Vasan About His Recent Interview
Written by Dhiwaharan Published on Dec 28, 2022 | 11:40 AM IST | 449
Follow Us
Comments: 0
While interacting with his fans through a live session, young moto vlogger TTF Vasan expressed his displeasure over the interview he took part for newsglitz YouTube channel. Answering to his fans, Vasan said that the channel wanted to increase their viewership and kept asking controversial questions that he didn't like at all.
Interview with TTF Vasan (Walkout)

Full interview : https://t.co/MtZ9cDK3Pb pic.twitter.com/Q7RcTsfk6R

— Ayyappan Ramasamy (@AyyappanPkr) December 27, 2022
Ayyappan Ramasamy who interviewed Vaasan, addressed almost all the issues caused by the moto vlogger ever since he celebrated his birthday by gathering his followers. Right from questioning about why he is failing to follow the traffic rules to the connection between himself and an accomplice of School Education minister Anbil Mahesh, Ramasamy asked questions based on the bad influence TTF Vasan is causing among the youngsters.
TTF Vaasan, a youtuber who enjoys nearly 3 million followers for his youtube channel, grabbed the attention of the mainstream online users after celebrating his birthday with 8000 plus followers of him in Chennai. After uploading the birthday celebration video that last 30 plus minutes, TTF Vasan became a subject to the attention of mainstream media as media portals such as Sun news covered a piece about his birthday celebration.
Good one @AyyappanPkr #TTF #ttfvasan pic.twitter.com/acjqB3LRn9

— JBR REVIEWS (@JbrReviews) December 27, 2022
He caught into controversy after riding his two wheeler for over 200 kmph and showing the speedometer to the audience of his YouTube channel. Most recently, he faced legal action after making a video with famous youtuber, GP Muthu.
Recently, a report emerged saying that 5 cases filed against him for causing public nuisance. According to Sun news, Kadalur Police registered cases under 5 sections against TTF Vasan who made his presence at public for an office opening ceremony of a filmmaker named Senthil. Video of hundreds of youths chanting "TTF" went viral in social media platforms. It has been reported that the cops had to initiate lathi charge in order to clear the crowd.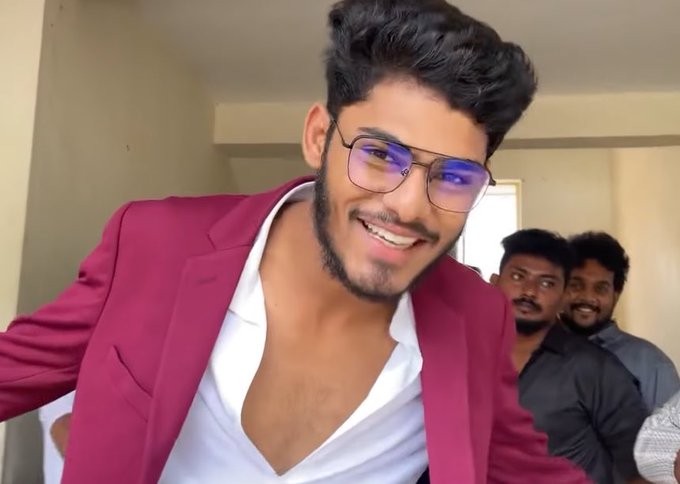 Now, in an interaction with newsglitz, Ayyapan Ramasamy asked various questions to TTF Vasan including why he is influencing young kids to ride bike in a dangerous way, why he allows his fans to meet him irrespective of Police orders etc. Throughout the interview, TTF was seen justifying his activities. When the anchor asked him about the way he entered court to get bail for a case that was registered against him, TTF Vaasan who visibly got irritated, removed the mic and left the spot.
"On seeing the way you entered the court and made videos after committing a violation, youngsters might think that it is a kind of pride to get cases and enter the court by wearing suit" said Ramasamy to which TTF replied back saying "You are asking controversial questions right from the beginning"
He further asked "You asked for an interview and I accepted. Did you ask one question without controversy ? You should see things from my shoes. I came here after facing so many controversies. I don't feel like answering" TTF said and left the spot.
Watch the video below :
The video garnered wide reach among the internet audience and Ramasamy has been receiving accolades from many online users for asking right questions to the youngsters.
Now, TTF who walked out in midway, interacted with his fans and answered to their questions. To the one who asked about the Newsglitz interview, TTF Vasan said "I have received a world record. They didn't ask one question about the record but kept asking controversial questions for the views of their channel"
"They kept asking controversial questions. If I answer to their question in a right way, they are changing the question immediately. They behaved so cheap, I have given interviews to many channels but never faced such worst experience" he added.
Watch the video below :
@newsglitzcom டேய் சில்ற, நீ தாண்டா, சின்னபசங்கள கெடுக்கிறது… ஒழுங்கா பதில் சொல்ல வக்கில்லாம பாதில எந்திரிச்சி போய்ட்டு, இந்த மொண்ணா நாய்க்கு பேச்ச பாரு… தூ 😙💦💦💦 pic.twitter.com/VMF6A5lPY7

— BULBUL Bird (@Bulbulparavai) December 27, 2022