Chief Minister Requested Public To Donate Money To Combat COVID 19 !!
Chief Minister
Covid19
tamilnadu
3 years ago
By Dhiwaharan
The Tamilnadu government, on Friday requested the public, companies, non-government organisations and donors to contribute to the chief minister's public relief fund to combat Covid 19. All such donations are entitled to 100% income tax exemption under section 80G of the Income Tax act. In the press release, Chief minister Edappadi Pazhaniswamy said that it is not encouraged to present the contributions in person. However, he confirmed that the names of the individual or companies who are volunteering to donate more than 10 lakhs will be mentioned in newspapers. "Receipts will be sent for all contributions" the official press release read.
The release said hospitals with isolations wards and quarantine centres would have to be set up, and beds, ventilators, medicines, testing equipment and disinfectants would have to be provided. There is also a need to prepare the private hospitals to offer free treatment to the patients. Agriculture, construction and workers of several unorganised sectors are losing their daily wage, and there is a need to offer food to the poor and destitute. The contributions received from non-resident Indians or foreigners are exempted under section 50 of Foreign contribution Act, 2010, the release said.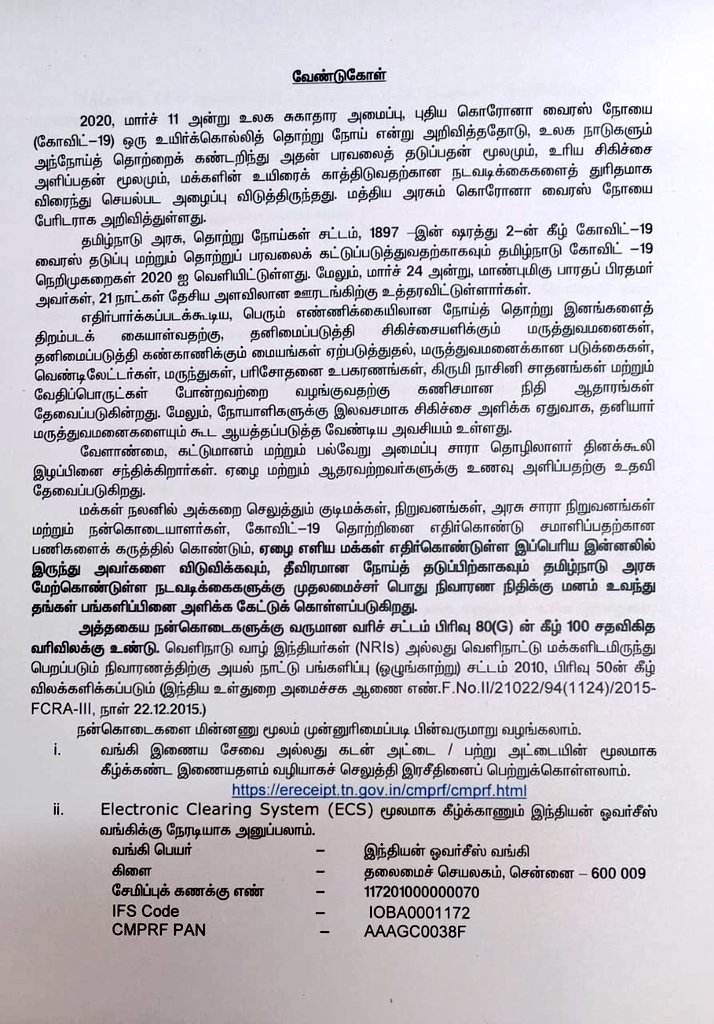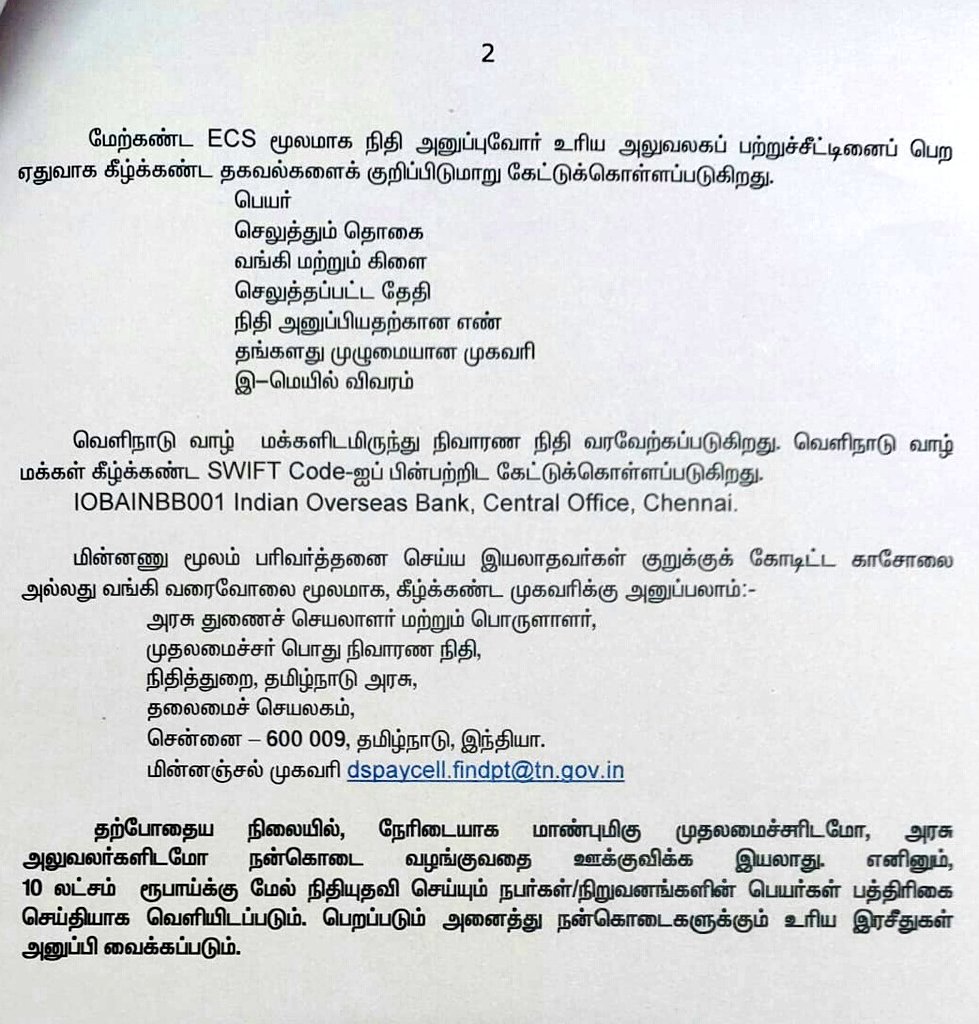 "To help the people who are affected by the virus and to implement precautionary moves, people are requested to contribute their part." read the tweet of Chief Minister. "Corona தொற்றால் ஏழை எளிய மக்கள் எதிர்கொண்டுள்ள மிகப்பெரிய இன்னல்களிலிருந்து அவர்களை விடுவிக்கவும், தடுப்பு நடவடிக்கைகளுக்கும், மனம் உவந்து மக்கள் தங்கள் பங்களிப்பினை அளிக்க கேட்டுக் கொள்ளப்படுகிறார்கள். நன்கொடைகளுக்கு வருமான வரிச்சட்டம் பிரிவு 80(G) கீழ் 100% வரிவிலக்கு உண்டு." read the tweet.
Check out the tweet below :
#Corona தொற்றால் ஏழை எளிய மக்கள் எதிர்கொண்டுள்ள மிகப்பெரிய இன்னல்களிலிருந்து அவர்களை விடுவிக்கவும், தடுப்பு நடவடிக்கைகளுக்கும், மனம் உவந்து மக்கள் தங்கள் பங்களிப்பினை அளிக்க கேட்டுக் கொள்ளப்படுகிறார்கள்.

நன்கொடைகளுக்கு வருமான வரிச்சட்டம் பிரிவு 80(G) கீழ் 100% வரிவிலக்கு உண்டு. pic.twitter.com/qFQ2rS3i4M

— Edappadi K Palaniswami (@CMOTamilNadu) March 27, 2020
Contributions can be made by internet banking/credit/debit card and get receipts. It can also be done directly to the designated savings bank account of public relief fund to Indian overseas bank. As soon as the tweet of the chief minister surfaced, many people started donating and posted screenshots in the comments section. One of a follower named as "Senthil" posted a screenshot of himself donating Rs. 100 and said "Sir My small….."
Check out his comment here :
Sir My small….. 🙏🙏🙏 pic.twitter.com/YBfewp7yzd

— Senthil (@Senthil80076789) March 27, 2020
To our surprise, this reply from the user grabbed the attention of the official twitter handle of the Chief Minister himself. The official twitter handle of Edappadi K Palaniswamy said that Little drop makes the mighty ocean. "Thank you so much for accepting my request and for contributing. I appreciate your generosity and the thought of helping others with my whole heart" the tweet read.
சிறுதுளியே பெருவெள்ளமாகும்!

எனது வேண்டுகோளை ஏற்று உடனடியாக அக்கணமே தங்களால் முடிந்த உதவியை தந்தமைக்கு மிக்கநன்றி!

தங்களின் பெருந்தன்மையையும் உதவவேண்டும் என்ற நல்ல எண்ணத்தையும் மனதார பாராட்டுகிறேன்! https://t.co/Bh78MyG2KN

— Edappadi K Palaniswami (@CMOTamilNadu) March 27, 2020
Apart from Senthil, many others posted screenshots of what they contributed in the CM relief fund. Comment you views on the gesture of Senthil and the way our Chief minister encouraged him !!