Cheran's Final Message To The Fans Of Kavin & Losliya !!
Written by Dhiwaharan Published on Oct 19, 2019 | 13:17 PM IST | 81
Follow Us
Comments: 0
Cheran, the four time national award winner for his filmmaking skills, surprisingly participated in Bigg Boss house and shocked everyone by lasting in the game show for 91 long days. The last film he helmed was 'Thirumanam' which released earlier this year. While being inside the house, Cheran had revealed why he entered Bigg Boss Tamil 3. He shared that actor Vijay Sethupathi was the one who made him to enter the show to gain new experience.
[wp_ad_camp_1]
While being inside the house, Cheran went through many traumas including an accusation of physical harassment by one of a female contestant Meera Mithun. However, with the help of Kamal Haasan, Cheran bounced back from the depression and played the game till 90+ days and gave tough competition to the youngsters.
Now as the season reached its final, Cheran started socializing with his friends and followers. During his Bigg Boss stint, Cheran who treated Losliya as his daughter, asked her not to maintain a close relationship with Kavin till the game show ends. However his intention got misinterpreted by the fans of the duo who started abusing the director in online medium.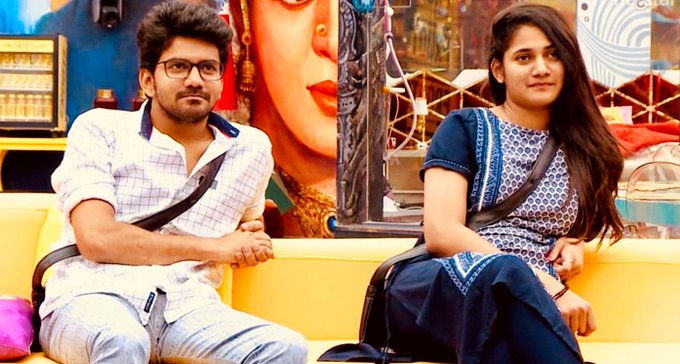 Cheran who couldn't tolerate the nuisance, expressed his views on the couple for one final time. In a series of tweets, the director made it clear that he is not going to talk about them anymore. "I never intervened in the relationship of your favourites, inside the Bigg Boss house or outside. It it hurted you, I feel sorry" said Cheran in his first tweet.
[wp_ad_camp_1]
கவின் லாஸ்லியா ரசிகப்பெருமக்களுக்கு..
உங்களுக்கு பிடித்தவர்களை BBவீட்டிற்குள்ளும் சரி வெளிவந்த பின்னும் சரி புன்படுத்தவோ அவர்கள் சுதந்திரத்தில் தலையிடவோ நான் முயலவில்லை.. நல்லெண்ண அடிப்படையில் இப்போது வேண்டாம் என கூறினேன்.. அது உங்களுக்கு தவறு எனில் வருத்தம் தெரிவிக்கிறேன்.

— Cheran (@directorcheran) October 19, 2019
In his second tweet, Cheran said that there will be no solution in abusing him. "I tried to maintain a relationship with Kavin but he disliked it. You yourself would have seen it. Though I tried to explain about the consequences he is going to face" Cheran said.
தகாத வார்த்தைகளால் பேசுவதால் ப்ரச்னை தீராது.. இதை வளர்த்து நான் பெரியாளாக விரும்பவில்லை..
நான் எவ்வளவோ பேசி பழக முயன்றும் என்னோடு கவின் பேச விரும்பவில்லை புறக்கணித்தார் என்பதே உண்மை. நீங்களும் பார்த்திருப்பீர்கள்.இருந்தும் ப்ரச்னை பெரிதாகாமல் இருக்க அவருக்கு எடுத்துச்சொன்னேன்.

— Cheran (@directorcheran) October 19, 2019
[wp_ad_camp_1]
"I am not going to stop their decisions. I don't have necessity for it as well. I will not utter their names in my life hereafter. I ask you not to involve in my problems" said the director in his third tweet.
கவின் லாஸ்லியா விசயத்தில் அவர்கள் முடிவுக்கோ வாழ்வுக்கோ நான் குறுக்கே நிற்க போவதில்லை.அவசியமுமில்லை.
இனியொரு முறை என் நாவில் இருவர் பெயரும் வராது. இத்தோடு நீங்கள் அனைவரும் நாகரீகம் கருதி நிறுத்திக்கொண்டால் நல்லது.
என் ப்ரச்னைக்கு வரவேண்டாம்.

— Cheran (@directorcheran) October 19, 2019
In his final tweet, Cheran apologized to everyone if any of his statements inside or outside the Bigg Boss house hurted them. He also asked them to unfollow him if they still hates him.
நான் வீட்டிற்குள்ளும் வெளியிலும் பேசிய கருத்துக்கள் காண்பித்த உணர்வுகள் யாரையேனும் காயப்படுத்தியிருந்தால் வருந்துகிறேன்.. இப்போதும் புரிந்துகொள்வீர்கள் என நினைத்தே சொல்கிறேன்.. இதற்கு மேலும் என்னை பிடிக்காதவர்கள் என்னை பின்தொடர(follow)வேண்டாம்.. மிக்க நன்றி.

— Cheran (@directorcheran) October 19, 2019
On the work front, Cheran is going to make a film by having Vijay Sethupathi in the lead role. The film's shoot is expected to start from January which was announced by the director himself in the Bigg Boss house. What do you think on these statements of Cheran ?? Comment your views !!