CHERAN Trolled Kavin & Losliya Without Mercy In This Unseen Video !! MUST WATCH !!
Bigg Boss
Cheran
Kamal Haasan
Kavin
Losliya
CM / Updated: 2019-10-05
15:27 IST
By Dhiwaharan
Cheran, one of the experienced director of Tamil film industry, participated in the Bigg Boss show as contestant and survived in it for 90+ days. He became the only contestant to be offered secret room in this entire season and he couldn't make use of it to become one of the finalist.
[wp_ad_camp_1]
As the season is about to end, Cheran was invited as a guest along with other few contestants. In the unseen video of the episode he arrived, Cheran was seen trolling Kavin and Losliya infront of everyone, video of which is going viral in Internet.
Cheran while talking about being a best contestant in the Bigg Boss house, said that one has to be at the "Kakoos" for 24/7. When anchor Priyanka asked even when we are not feeling like being there, Cheran said that one should be in that "Zone" for a long time which cracked up the guests and other contestants. Losliya was seen keeping mum when Cheran said which also caught the attention of of Netizens.
Watch the video below :
Unseen Clip#BiggBossTamil3 #BiggBossTamil pic.twitter.com/yGjuztfMWJ

— VR (@VR_Chn) October 3, 2019
[wp_ad_camp_1]
Cheran further said that even if you don't know how to dance, you must dance if the song played during the morning times. When Cheran used the words "Kakoos" and "Zone" repeatedly, fans understood that he is trolling Kavin as he always stays near the toilet and uses the word "Zone" often.
Check out some of the reactions for Cheran's opinion about Kavin below :
Zone 🔥🔥💯💯💯 Sema sir

— Ajmal Sm (@Ajmal68394801) October 4, 2019
Kakoos n zone super cheran sir.. wish kavin was there.

— munirah (@imas64) October 4, 2019
#Mamatv @vijaytelevision Y this one is in unseen @directorcheran u nailed it sir, 💯 perfect analyzation #BiggBossTamil3

— azaam (@_azaam__) October 4, 2019
Kakkoos la irukanumku Losliya expression semma

— Dharshi (@Dharshi50365187) October 4, 2019
#Losiliya மூஞ்சி இஞ்சி தின்னுட்டிருக்குறது மாதிரி இருந்தது #Cheran பேசும்போது.. செருப்படி கக்கூஸ் கேங்குக்கு.. #BiggBossTamil3 #BiggBossTamil

— Sankar (@Sankardqinstit1) October 4, 2019
Hahahahaha Cheran paa awesome 😎

— Indra Pandurajan (@IPandurajan) October 4, 2019
Cheran must have watched all the episodes of Bigg Boss after getting evicted to come up with such statement. Kavin is one of the most controversial contestant in the Bigg Boss house. The actor who was approached in last season, decided to take part in this season as he was acting in a movie as protagonist at that time. However, the movie which was titled as "Natpuna Enna nu Theriyuma" release delayed for several reasons and went unnoticed.
[wp_ad_camp_1]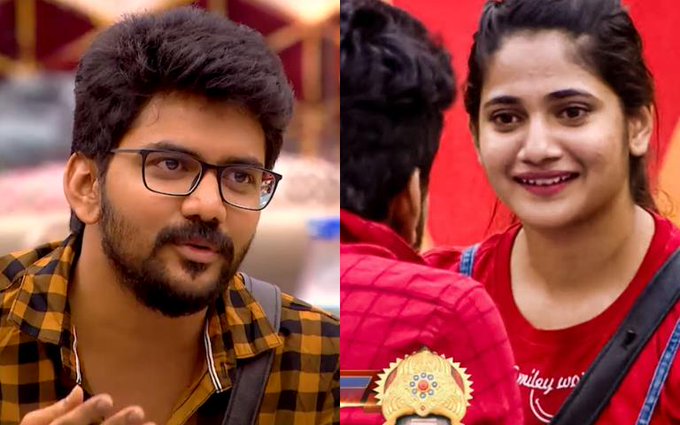 After entering the Bigg Boss house, the actor grabbed the attention of media for his strategy of loving 4 girls at the same time to win the title and to keep the audience engaged. Though it looked funny initially, things turned ugly when he gave his word to Sakshi, one of the four female contestants. He also had something going between him and Losliya while talking with Sakshi. This damaged his image in big time and the actor ended up owning 5 Lakhs offered by Bigg Boss and eliminated himself.
What do you think on this unseen video of Cheran ?? Comment your views below !!