Chennai Police To Take Action In The VR Mall Issue!!
By Dhiwaharan
Despite the tweets of an alleged female twitter user which accused her male friend of sexually harassing her inside the premises of VR Mall were removed from Twitter, Police officials of Anna Nagar, Chennai has initiated an investigation, says the report of Sun News. It has been reported that the city cops are going to search for the CCTV footages planted inside mall to know more about the issue.
A couple of days ago, VR Mall which is located in Anna Nagar, Chennai was trending in the micro blogging social media site after a girl narrated the ordeal she went through there due to her former Guy friend whom she met in internet. Through the series of tweets, the girl explained how she got manipulated by the Guy and how it made her suffer mentally for a long time. However, through his reply, the boy claimed that everything that happened between them was consensual.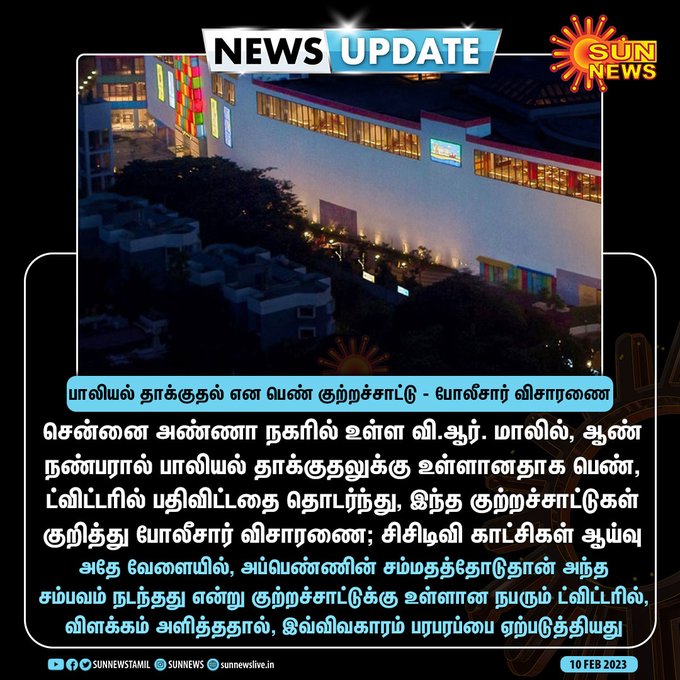 Priya (name changed) alleged that the Guy tried to take sexual advance of her inside the shopping mall and mentioned his handle name through her tweet. Titling her tweet thread as "Sexual Harassment", she narrated the whole incident on how he tried to misbehave with her inside the theatre hall and at a space inside the shopping mall.
"It took me nearly 6 months to process this and build the courage to say it out loud. During last 6th of August i happened to start my internship at Chennai during that intern time this guy asked me out for a movie and i said okay lets catch up for a movie then" Priya started explaining the incident that took place during August 2021.
Priya said that her sister dropped her off at VR Mall and she was feeling good to meet him without realizing what was going to happen to her. Inside the theatre hall, while the movie was running, the guy said to Priya that he wants to kiss her, despite her clearly mentioning that she never had such interests on him.
"Through out the movie he was trying to creep out. I was in shock and didn't know what to do. After the movie, I was totally blanked out. I had no clue on what was happening around me. He asked me out to join with him at the VR fun city and i said no at the start but him asking multiple times I said fine and we started to walk towards the VR fun city and the exit way of that fun city has the darkest exit way at that time, on entering the exit way he started to sexually harass me by trying to get physical with me. I was in unbearable shock on trying to understand what is going on and I tried to resist him from harassing me and tried to getaway from him but he didn't seem to stop from what he was doing" Priya wrote in her tweet thread which caused various kind of reactions from the users of the online platforms.
Further, Priya said that she trusted him so much and believed that she could feel safe around him but he shattered everything by behaving that way. "He broke every bit of trust I had in him" She wrote in her tweet.
She also updated that the Guy begged her to forgive him and cited that he just got kicked out from a reputable firm and begged with his family situation. However, the traumatic incident haunted Priya so much to an extent she had to build a huge trust issue on men just because of him, as per her tweets. "I have not been able to travel comfortably or stay around comfortable around with any of my friends because of this one person" She added.
"I hope i will bounce back to normal as i used to but as of now all i got with me is just trauma and panic attacks associated along with fear of trusting people" her post concluded.
The issue garnered various kind of reactions from the users of the online platforms. While many made fun of the whole issue, few were keen about getting justice to the real victim of the issue.
Now, to everyone's shock, Chennai Police entered the scene and about to take action in the issue. Though it is not known who made the complaint, the officials are about to investigate the case by looking at the CCTV cameras of the mall.
#JUSTIN | சென்னை அண்ணா நகரில் உள்ள வி.ஆர்.மாலில் ஆண் நண்பரால் பாலியல் தாக்குதலுக்கு உள்ளானதாக பெண் ஒருவர் ட்விட்டரில் கருத்து பதிவிட்டதை தொடர்ந்து, மால் வளாகத்தில் அப்பெண் குறிப்பிட்ட இடத்தில், இரவு நேரத்தில் ரோந்து போலீசார் சோதனை; அக்குற்றச்சாட்டு குறித்தும் விசாரணை

— Sun News (@sunnewstamil) February 10, 2023
Initially, it was reported that Patrol Police searched the place inside the mall mentioned by the girl during their night rounds. They also investigated about the accusation, said a report of Sun News.
It was also reported that Police are going to look for CCTV footages regarding the incident and the issue got escalated as the male claimed that everything happened with the consent of the female.
#NewsUpdate | பாலியல் தாக்குதல் குற்றச்சாட்டை ட்விட்டரில் பகிர்ந்த பெண் – அண்ணா நகர் போலீசார் விசாரணை#SunNews | #ChennaiPolice | #VRMall pic.twitter.com/4tSalwLyf1

— Sun News (@sunnewstamil) February 10, 2023