Chennai Man Received Food From Swiggy With Blood Stained Band Aid !! SHOCKING !!
By Dhiwaharan
Swiggy has been in trouble more than once, and they seem to be doing nothing to improve the situation. This time, Swiggy seems to have crossed all limits and frankly, I'll think twice before ordering from them.
[wp_ad_camp_1]
This man in Chennai named Balamurugan Deenadayalan ordered chicken schezwan chopsuey from a restaurant named Chops N Stix and everything went fine till he began eating his food.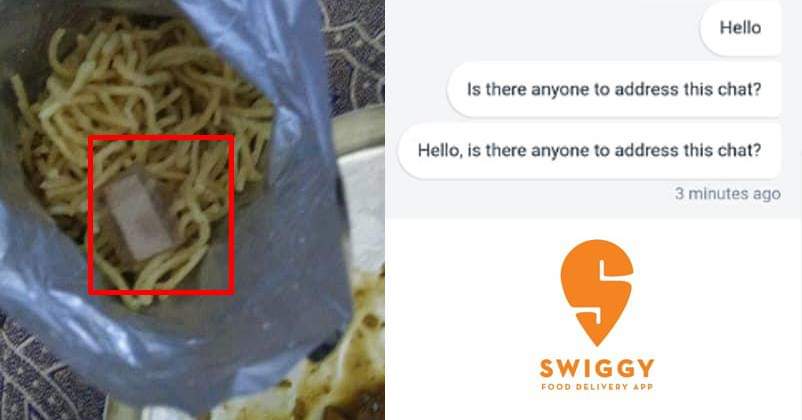 Halfway into his meal, he noticed that there was a bloody, used bandaid in his food and was shocked and disgusted beyond imagination. He then tried to call the restaurant to inform them about his contaminated food.
But they did not respond. When he tried to contact Swiggy and inform them about what happened, his chat messages went ignored. He could find an option to call them.
Eventually, the man was left with no option but to post on their Facebook page. He said that this was disgusting and that he wanted to sue both the restaurant and Swiggy.
[wp_ad_camp_1]
"Contacted restaurant and they aren't sensitive and offering replacement for the food! Who again wants to eat such contaminated food!" he wrote on Facebook, adding that Swiggy wasn't replying to his complaint either.
"Want to badly sue both restuarent and Swiggy too for partnering with restuarent which doesn't practice general hygienic method like using hand glove or not allowing any kitchen staff with injured fingers/hands in the kitchen(sic)!" he added.
Following this Swiggy responded to his post with an apology :
Deenadayalan also added a comment to his post asking Swiggy why they were still accepting orders to the restaurant despite his complaint a day earlier. However, he later posted about his conversation with the restaurant's owner:
Meanwhile, the post has collected quite a few shocked reactions from people on Facebook. The man also said that he would have to get tested in order to ensure that he is not infected or has not contracted some disease. He later said that he was doing fine, as far as health is concerned.
[wp_ad_camp_1]
Responding on the matter, Swiggy said in a statement, "While the restaurant has acknowledged a lapse at its end, based on the complaint, we have suspended this outlet pending further investigation by an external agency. We deeply regret the issue faced by one of our users and apologise for the angst it has caused. This is certainly not the level of service we intend to promote."
Swiggy really needs to raise its standards when it comes to forming partnerships. Stay tuned for more updates.