From director Pa. Ranjith to Kamal Haasan, many celebrities from Tamil cinema industry posted tweets after watching the Suriya-starrer. As a result of the hundreds of tweets that are surfacing regarding the film, hashtag "Jai Bheem" is trending in the micro blogging social media site. It is notable Tamil nadu Chief minister MK Stalin uploaded a tweet, recommending the film, after watching the special premiere of it.
[wp_ad_camp_1]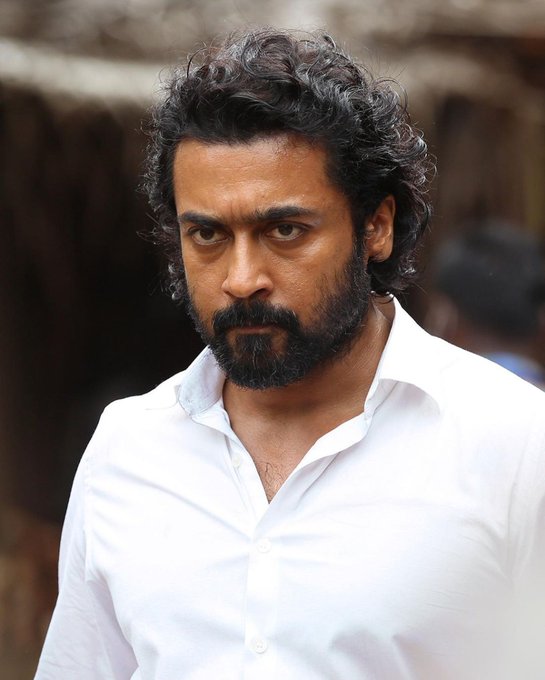 "Jai Bhim" released on Amazon Prime on 1st of November with much expectations among fans. Based on a true event that happened in the year 1995, the film concentrates on showing light to the hardship people of tribal community went through at that time. Exposing the police brutality, the film shows how lawyer Chandru won the case without receiving a penny from his client who is a wife of the victim. Though the incident took place 25 years ago, it looks still relevant due to the police atrocities that are still taking place in the state.
Directed by T.J Gnanavel, the film is produced and performed by actor Suriya under his own banner 2D entertainments. Actor Kamal Haasan, after watching the film, said that the film made him shed tears. He appreciated Suriya, Jyothika and the crew members of the film for stretching their voice for the oppressed through their product. Ranjith, through his tweet, said that many more films about many more Rajakannus will be releasing in Tamil cinema in the coming days. Director Karthik Subbaraj also uploaded a tweet in his twitter space supporting the film.
[wp_ad_camp_1]
Check out their tweets below :
#JaiBhim பார்த்தேன்.கண்கள் குளமானது.பழங்குடியினரின் இன்னல்களை அழுத்தமாக வெளிப்படுத்தி இருக்கிறார் இயக்குனர் @tjgnan பொதுச் சமூகத்தின் மனசாட்சிக்குக் குரலற்றவர்களின் குமுறல்களைக் கொண்டு சேர்த்த @Suriya_offl , ஜோதிகா மற்றும் படக்குழுவினருக்கு என் மனமார்ந்த பாராட்டுக்கள். pic.twitter.com/YjSkfaeeiO

— Kamal Haasan (@ikamalhaasan) November 2, 2021
சாதி எதிர்ப்பையும்,சாதி ஆதரவையும் சமநிலையில் பார்க்கும் சமூகத்தாரே-இதோ மறைக்கப்பட்ட, மறுக்கப்பட்ட ராசா கண்ணுவின் கதை போல பலகதைகள் இனி வரும்.அது நம் தலைமுறையை மாற்றும்.ஜெய்பீம் திரைப்படத்தை கொடுத்த திரு.@Suriya_offl @tjgnan @2D_ENTPVTLTD @srkathiir& team பெரும் நன்றிகள்! #JaiBhim pic.twitter.com/mmzvvd0AjX

— pa.ranjith (@beemji) November 1, 2021
#Jaibhim is so Bold, Real & Hard https://t.co/xlE5teGl3O Conveys the Pain of the oppressed & also instills Hope on Judiciary 👌👌👏👏 Pls don't miss it..@Suriya_offl sir, @tjgnan @rajsekarpandian @RSeanRoldan @srkathiir @philoedit #Manikandan @jose_lijomol & whole team 👏👍🙏🏼

— karthik subbaraj (@karthiksubbaraj) November 2, 2021
In the film🔥. @RSeanRoldan @srkathiir @philoedit @jacki_art You guys are amazing! My heart goes to all the actors esp #Manikandan @prakashraaj @jose_lijomol @rajisha_vijayan and to @2D_ENTPVTLTD @rajsekarpandian for consistently backing great talents.Thank you for the film! 🔥

— Ashok Selvan (@AshokSelvan) November 1, 2021
Jus watched #JaiBhim ! What an extraordinary film! What amazing performances from the actors ! Manikandan,Lijo & each n every individual 👏🏻👏🏻

One of your best films sir, u can be proud of acting & producing this forever sir😇

Gnanvel sir & team outstanding level of hardwork! https://t.co/vGn9PLE0ZN

— Vignesh Shivan (@VigneshShivN) November 1, 2021
#JaiBhim 💪🏽💙Beyond Words ❤️Arts is the most powerful medium. Huge change will happen if it's used properly. #JaiBhim is the wonderful example for that. Thank you 🙏🏾🙏🏾🙏🏾 @tjgnan sir @Suriya_offl sir @2D_ENTPVTLTD n team 4 tis gem. Love U all #AllrHumans #Equality 💙 Brilliant pic.twitter.com/bVpAT8VFUv

— Kalaiyarasan (@KalaiActor) November 2, 2021
[wp_ad_camp_1]
Thank you @Suriya_offl sir & team for this revolution. ! 🙏🏼#JaiBhim 💯

— Kavin (@Kavin_m_0431) November 2, 2021
#JaiBhim, easily the best Tamil film of this season. ✊🏽 pic.twitter.com/c9BrDxqthA

— T.S.Suresh @ DIFF (@editorsuresh) November 1, 2021
Happy to see complete appreciation for #JaiBhim from all sides!! 💐💐💐Congratulations @tjgnan and team for pulling off this film with utmost dedication!! Loved every part of it!!@Suriya_offl anna is on 🔥🔥🔥🔥😍😍😍 @2D_ENTPVTLTD

— SR Prabhu (@prabhu_sr) November 2, 2021
#JaiBhim must watch movie Hats off @Suriya_offl na and director @tjgnan sir 👏 Brilliant performance from each and every one 💯 congratulations team 🤟@PrimeVideoIN #Jyotika @prakashraaj @RSeanRoldan @srkathiir @KKadhirr_artdir @philoedit @rajisha_vijayan #Manikandan https://t.co/86OLZvYYg4

— Master Mahendran 🔱 (@Actor_Mahendran) November 1, 2021
Have you watched the film yet ?? Comment your views if the answer is "yes" !!