Actor, Friend and Vivekh's closes aide Cell Murugan came up with an emotional post on a day after the demise of the legendary comedian. He came up with a poem questioning Vivekh why he left the world leaving him alone. He also uploaded a couple of pictures of themselves together and expressed his grief.
[wp_ad_camp_1]
On the wee hours of Saturday, actor Vivekh who predominantly appeared in Tamil films, died in the hospital after suffering a cardiac arrest. On the morning of Friday, an unconscious Vivekh was brought to the SIMS hospital in Chennai. He reportedly suffered a cardiac arrest due to a 100% blockage in heart vessel. It is reported that the actor was revived and underwent an emergency coronary angiogram followed by angioplasty. He was then put on Extracorporeal Membrane Oxygenation support to circulate blood through an artificial lung back into the bloodstream.
A strong rumour did rounds in social media saying that the COVID 19 vaccine Vivekh took on the previous day caused him the health issue. However, in a way of clearing the air on whether Vivekh suffered cardiac arrest due to the COVID 19 vaccine shot he took on Thursday, Dr. Raju Sivasamy, vice president of SIMS hospital said that Vivekh's condition was not related to the vaccine he took. "It took nearly an hour for the doctors to remove the block. He was then put on an ECMO. His is an acute coronary syndrome with cardiogenic shock and not related to the vaccine," Dr. Raju Sivasamy said and confirmed that Vivekh wasn't infected with COVID 19 virus.
The actor who is known for providing comedy with social message in his films, is an ardent environmentalist who aimed to plant 1 crore trees. According to his twitter bio, the actor has planted 33. 23 lakh plantings so far. Entire film fraternity got devastated on hearing about the news and are offering their condolences through tweets. The country's Prime minister Narendra Modi uploaded a tweet paying his last respects to the ace actor.
[wp_ad_camp_1]
Now, during the earliest hours of Monday, actor Cell Murugan who is known as a best friend and the closes aide of actor Vivekh has came up with an emotional tweet in his official twitter account. Vivekh made Murugan act along with him in a number of films and the comedy scenes the duo performed in films such as "VIP", "Padikkathavan" were well received by the audience.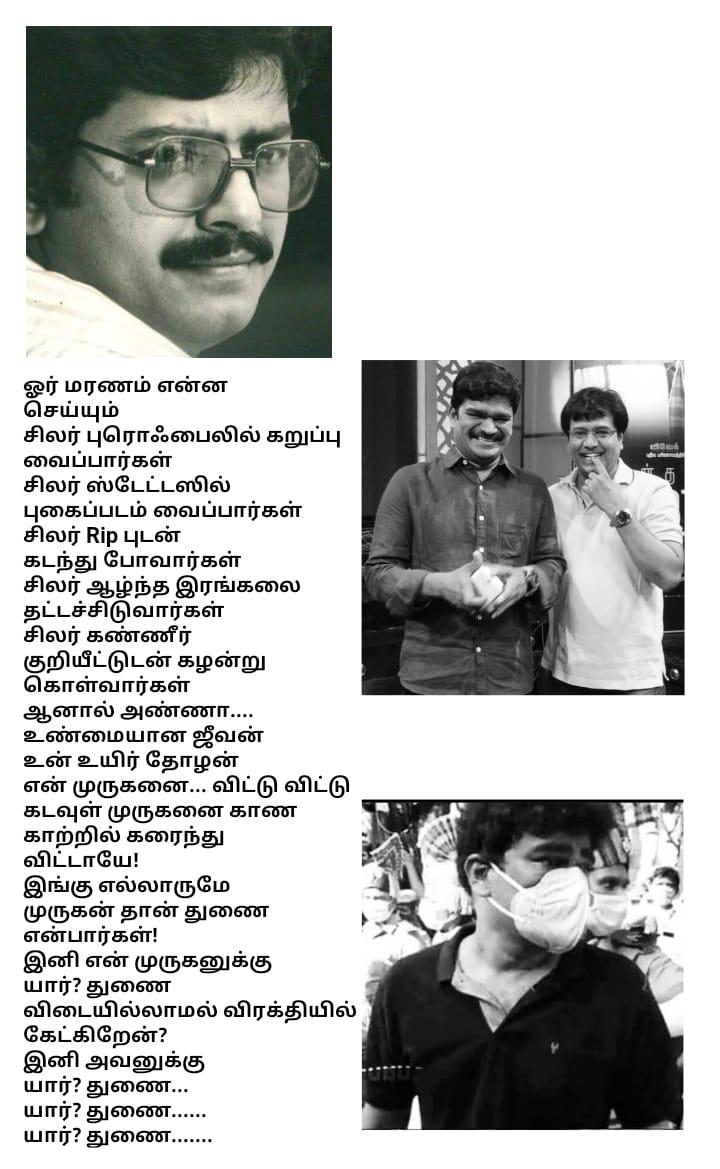 After keeping one of the oldest pictures of himself and Vivekh as his profile picture, Cell Murugan said that he doesn't have anyone other than Vivekh. "அவரை தவிர எனக்கு வெருயாருமில்ல" read the tweet of Murugan.
[wp_ad_camp_1]
Here's his post :
அவரை தவிர எனக்கு வெருயாருமில்ல pic.twitter.com/rvnXRLXxsw

— cellmurugan@gmail.co (@cellmurugan) April 18, 2021
Many users of twitter consoled Murugan by asking him to be strong. "Vivkeh's blessings will always be with you" said a user and another one wrote "We search for Vivkeh sir whenever seeing you and will search for you while seeing him"
Check out some of their reactions below :
உண்மையிலேயே தங்களுக்கு ஈடுசெய்ய முடியாத பேரிழப்பு, அவருடைய அன்பு எப்பொழுதும் உங்களுடன் இருந்து உறுதுணை செய்யும்! திடமாக இருங்கள்! அவர் இயற்கையில் இருக்கிறார்!

— இளந்தென்றல்✍️ (@ssk_twets) April 19, 2021
முருகன் அவர்களே உங்கள் வேதனை உங்களுக்கு மட்டுமே புரியும்.
கட்டாயம் விவேக் அவர்களின் ஆசி உங்களுக்கு எப்போதும் இருக்க பிரார்த்தனைகள் 🙏🙏🙏

— RJ Dheena (@dedeena) April 19, 2021
விவேக் சாரைப்பார்க்கும் போதெல்லாம் உங்களைத்தேடும் கண்கள்.
உங்களைப் பார்க்கும் போது Mr. Vivek ஐத் தேடும் ! இனி உங்களுடன் யார்?💔
காலம் பதில் சொல்லட்டும் 🌹

— M.R Samy (@MRSamy39015944) April 19, 2021
கவலை கொள்ளாதீர்கள் என்று கவலையுடன் கூற முயலுகிறேன் முடியவில்லை
கண்ணிறுக்கு அணை போட வேண்டாம் அழுது விடுங்கள் இறைவனை பிரார்த்திக்கிறேன் 🤘 ஓம் கிரியா பாபாஜி நம ஔம் 🤘

— என்றும் 🤘ரஜினி🤘 (@rkmmdu) April 19, 2021
அண்ணா உங்கள இப்பிடி பாக்க எங்களுக்கு என்னமோ செய்கிறது💔💔 அவர் எப்பவும் உங்களுடன் தான் இருப்பார்🙌😭அவர் பணியை தொடர்ந்து செய்யுங்கள் 🌴🌲🌳 மனதை தளரவிடாதேங்கோ 💔💔

— Chithu (@chithu_chithu5) April 19, 2021
அவர் குடும்பத்தை தாண்டி ஈடு செய்ய முடியாத இழப்பு செல் முருகனுக்கே…. இயற்கை அவருக்கு மனவலிமையை கொடுக்கட்டும்….

— #திராவிடப் பெருஞ்சுவர் (@APJ_Dravidan) April 19, 2021