Captain Posted A Picture Of Watching "Aquaman" With His Wife !! Followers Surprised !!
By Dhiwaharan
There is a hushed talk in the DMDK camp that the party's head Vijayakanth's health has deteriorated further in the United States where he is currently getting medical treatment and he is very serious. However, a DMDK spokesperson has dismissed it as a baseless rumour.
But still, tension prevailed in the DMDK camp as there is no official denial of the 'rumour' so far. In Virudhachalam, a high-level meeting of DMDK functionaries took place this morning, but details as to what was discussed were not shared with the public.
[wp_ad_camp_1]
The official mouthpiece of the DMDK- Captain TV and its Twitter handle, Captain Media have repeatedly been posting and telecasting about DMDK workers performing special poojas for the recovery of their beloved 'Captain', few days back.
Even a week ago, DMDK cadres from Anakaputhur and Pallavaram went on a procession with 108 milk pots and performed abhishekam at the Aalavattamman temple for the speedy recovery of Vijayakanth. Such rituals have been seen happening around the State for some time including at Salem today.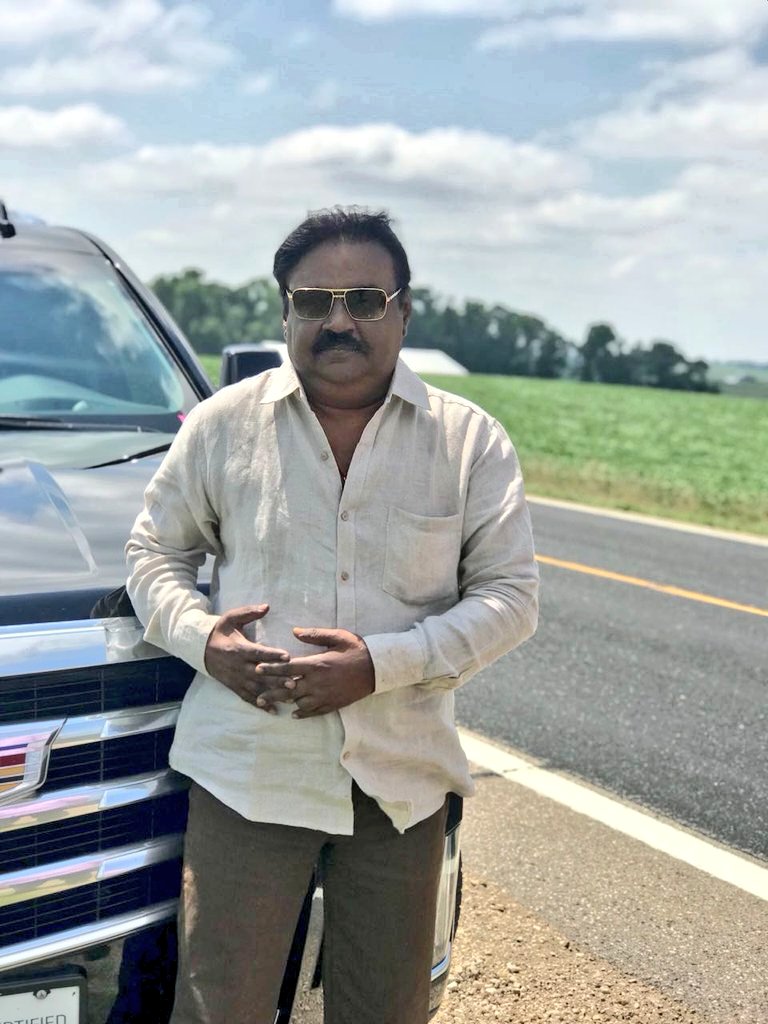 Vijayakanth left for the United States from Chennai for treatment a week earlier than the date announced by the party due to his health. With doctors constantly monitoring his condition, news about Vijayakanth being serious is being circulated on social media for past weeks.
[wp_ad_camp_1]
Now in a way of proving them all wrong, Captain Vijaykanth set the social media on fire. In his official twitter account, Captain posted a picture with his wife Hemalatha watching "Aquaman" movie in Imax theatre.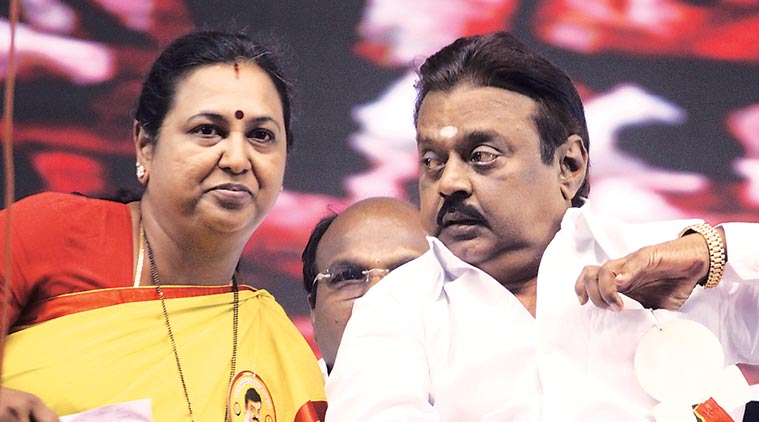 His post written in both Tamil and English and it said "Watched Aquaman movie in Imax. அக்வாமேன் ஆங்கில திரைப்படத்தை ஐமேக்ஸ் திரையரங்கில் இன்று கண்டு மகிழ்ந்தோம்."
Check out the post here :
Watched Aquaman movie in Imax.
அக்வாமேன் ஆங்கில திரைப்படத்தை ஐமேக்ஸ் திரையரங்கில் இன்று கண்டு மகிழ்ந்தோம். pic.twitter.com/1hbVxmuhFz

— Vijayakant (@iVijayakant) January 4, 2019
Many of his followers surprised and wished him a very healthy future ahead. Check out some of the precious reactions here :
மிக சிறந்த மனிதன் 🙏🙏🙏

— SAKTHI VEL SR (@SAKTHIVELSR1) January 5, 2019
நல்ல மனிதன் கேப்டன் நலமுடன் வாழவேண்டும்

— தளபதி ரசிகன் (@Barni41749390) January 4, 2019
தலைவா எப்பவுமே இதே மாதிரி நீங்க சந்தோசமா இருந்தாலே போதும் ❤😘

— §čøřpíőñ🦂 (@VjRiyaz_Twitz) January 4, 2019
இப்படி சந்தோஷம் இருக்கணும் எங்கள் கேப்டன்

— Idhayathulla Dmdk (@IdhayathullaDm1) January 4, 2019
நலமுடன் திரும்பி வருக @iVijayakant கேப்டன் அவர்களே.உங்களது வெள்ளை உள்ளத்தைக் காண தமிழகம் காத்துக் கொண்டிருக்கிறது.@iVijayakant

— Siva Perumal. (@SivaPer72872449) January 5, 2019
நல்ல மனிதன் யா❤❤❤

— ThalaAfc🔥 (@linguafc) January 4, 2019
Take rest and come back strong Captain 😎

— Mahesh Kumar  (@maheshkumarse) January 4, 2019
Avara paathukonga madam😔

— Naveen Alagendran (@naveenharry) January 4, 2019
தமிழக அரசியல் களம் தங்களின் தில்லான பேச்சினைக் கேட்பதற்கு காத்திருக்கிறது.. விரைவில் வாருங்கள் தலைவா….

— நா. ப. மணிகண்டன் (@NAPA_Manikandan) January 5, 2019
தலைவா மிகுந்த மகிழ்ச்சியடைகின்றோம்

— பவுன்ராஜ்திண்டுக்கல் (@pownraj92985394) January 4, 2019
Your pair looks awesome when compared to the one in poster. Get well soon. my kid 8 year old is your fan after seeing vanathai pola. She never leave you down and support like any thing. Take care.

— Thajul Ahamed (@tajrascal) January 4, 2019
உங்க படத்துக்கு முன்னாடி இதெல்லாம் ஒன்னுமில்ல கேப்டன் 😁😋😂🙌

— தேனி தமிழன் `CVF (@theni_kesavan) January 4, 2019
விரைவில் தமிழகத்தை ஆள வா தலைவா.

— Tamilselvan DMDK (@Tamilse33333214) January 5, 2019
விரைவில் பூரண நலம் பெற்று அரசியலில் கோலோச்சுங்கள் கேப்டன்..

— Ashwin Raghavendran (@nar1310) January 5, 2019
வயசானாலும் அந்த கெத்தும், கம்பீரமும் அப்படியே இருக்கு வாழ்க கேப்டன் 😍😍😍👌👍🙏🙏🙏🙏🙏🙏

— Selva Thamizh (@selvanov26) January 5, 2019
அடேய்களா ! அவரு அரசியல் பன்னிக்கிட்டு இரும்போது அவர கலாய்சிக்கிட்டே இருந்தீங்க, இப்ப அவர எல்லாரும் மிஸ் பன்ரிங்க

— Shahul (@shahulofficial) January 5, 2019
ஊரு கண்ணு உரவு கண்ணு பாட்டு டெடிக்கேட் to captain 🙌

— பொரி உருண்டை (@raajsh01) January 5, 2019
நீங்க இதே மாறி சந்தோசமா இருக்கனும்..

— Harii தல வெறியன்🔥 (@HariiThala) January 5, 2019
[wp_ad_camp_1]
Vijayakanth who is fondly called "Captain" is an Indian politician and film actor. He was the Leader of the oposition of the Tamilnadu Legislative Assembly from 2011 to 2016. Before coming into politics Vijayakanth was a film director and actor. He was a political film actor in Tamil cinema. Vijayakanth is also the current DMDK chairman of Tamil Nadu legislative assembly. He is the Founder and Leader of the Desiya Murpokku Dravida Kazhagam (DMDK) Political party and served as a Member of Legislative Assembly twice representing the constituency of Virudhacalam & Rishivandiyam respectively.