Cab Driver Cried In Front Of "Moodar Koodam" Naveen !! Check What He Did !!
By Dhiwaharan
This corona outbreak has turned the world upside down indeed. As government has suggested every place which requires public gatherings to get closed, workers who are working for daily wages are getting suffered in big time along with the world's economy. A heart breaking incident shared by Tamil filmmaker Naveen tells us the exact state of daily wagers.
Naveen who directed "Moodar Koodam" is very much interactive with his followers in Twitter. Being followed by more than sixty thousand Twitter users, Naveen shared a incident he came through lately. Naveen, in his post, said that a cab driver in whose cab he travelled cried in front him saying that Naveen was his first customer in 48 hours. The cab driver's wife is waiting at home, expecting groceries from her husband. "This virus is gonna hit us from so many ways but the people who depend on daily income are gonna get hit the most. I gave the guy an extra 500. Obviously its not a big deal for most of us which means we should do it more. He showed me that he has been driving around 70 kilometres since his last customer. Please pay your cab drivers, street vendors etc a little more. You might just be their last customer for the day" the post Naveen shared said.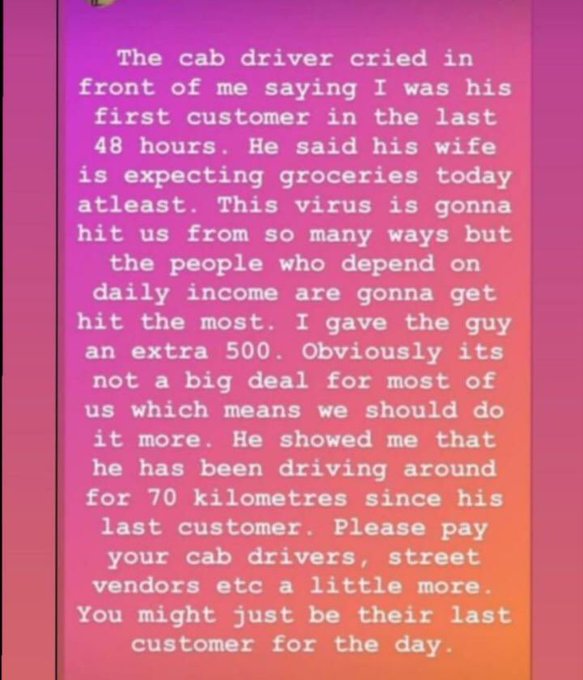 Sharing the incident, Naveen wrote "இருக்கிறவன் இல்லாதவனுக்கு கொடுக்க வேண்டிய நேரம் இது. #LetHumanityWinCorona" (It is time for the wealthy to help poor) as his caption.
Check out his post below :
இருக்கிறவன் இல்லாதவனுக்கு கொடுக்க வேண்டிய நேரம் இது. #LetHumanityWinCorona pic.twitter.com/xEBougl1sH

— Naveen Mohamedali (@NaveenFilmmaker) March 20, 2020
This post of the filmmaker received widely positive replies from his followers who also asked other to help the poor and needy. Check out some of the replies he received below :
இதுவரை கூலிவேலை செய்து தன்மானத்தோடு வாழ்ந்த பலர் இன்று கையறு நிலையில் நிற்கலாம். அதிகம் வேண்டாம். அக்கம்பக்கத்திலுள்ளவர்கள் சாப்பிட்டார்களா எனக்கேட்டு உதவுங்கள்.

— மு.கந்தையா. (@KanthaiyaM) March 20, 2020
Thank u sir .small request to all plz don't put card payment at this time plz put cash mode

— annamalaiyarassociat (@annamalaiyarass) March 20, 2020
அற்புதமான பதிவு. நடைமுறைப்படுத்துவோம்.

— அஞ்செழுத்தான். (@Anjezhuthaan) March 20, 2020
More than Ten thousand people died due to Coronavirus across the world so far. To prevent Coronavirus from spreading across Tamilnadu, chief minister Edappadi Pazhaniswamy ordered to shut down all the Cinema theatres, malls, schools and colleges. Stadiums, Clubs, bars, Resorts are also going to get a shut down till 31st. The state government advised people not to plan for trip utilising the holidays as it is a measurement taken to avoid travellings. It also requested citizens to avoid gatherings and to avoid crowding in places like temples, churches and mosques.
Comment your views on the important message conveyed by Naveen at this situation !!