C M Of Kerala Pinarayi Vijayan Came Forward To Help Gaja Victims With Huge Amount !! Check Out The Support He Received From Tamilnadu !!
CM / Updated: 2018-11-29
00:42 IST
By Dhiwaharan
Makkal Needhi Maiam president and actor Kamal Haasan today appealed to Kerala Chief Minister Pinarayi Vijayan to "rise above politics" and extend support to the people affected by Cyclone Gaja in Tamil Nadu.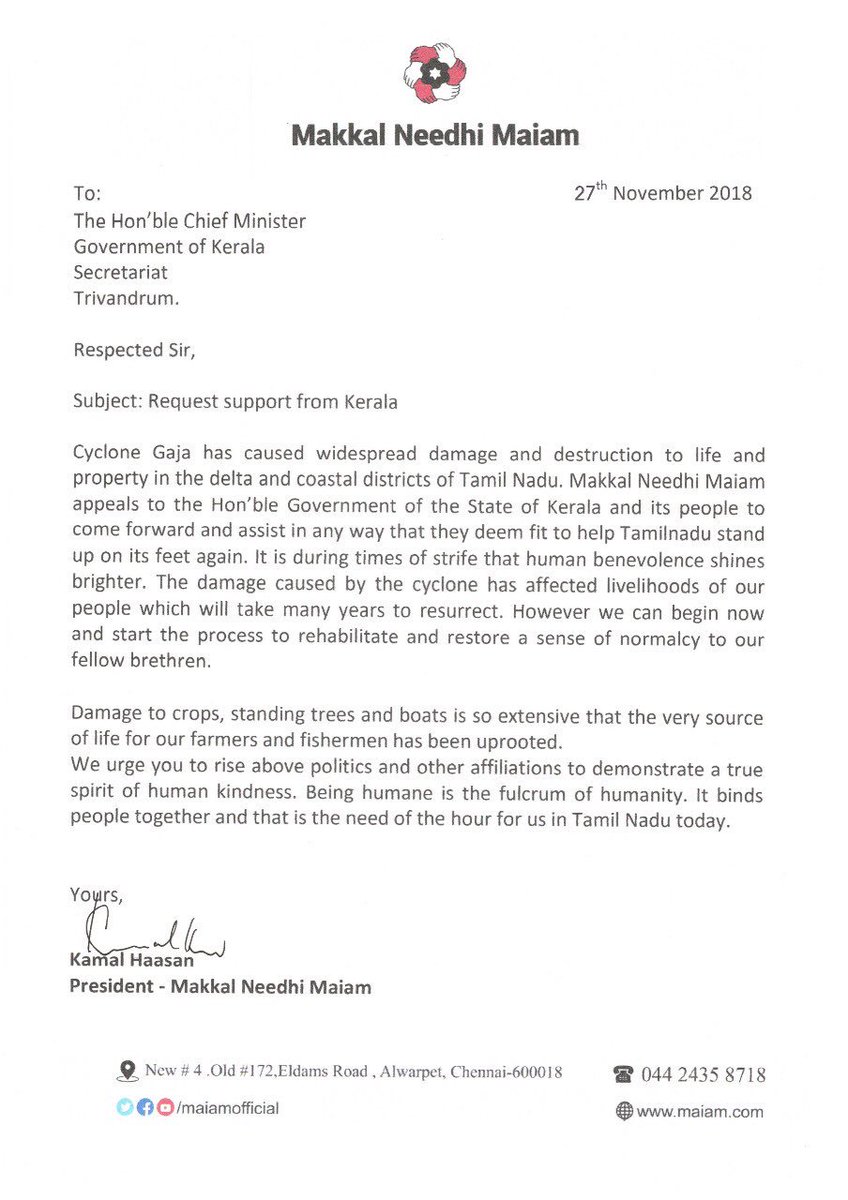 Mr Haasan wrote to the chief minister, saying Cyclone Gaja has caused "widespread damage and destruction to life and property" in the Cauvery delta and coastal districts of Tamil Nadu.
[wp_ad_camp_1]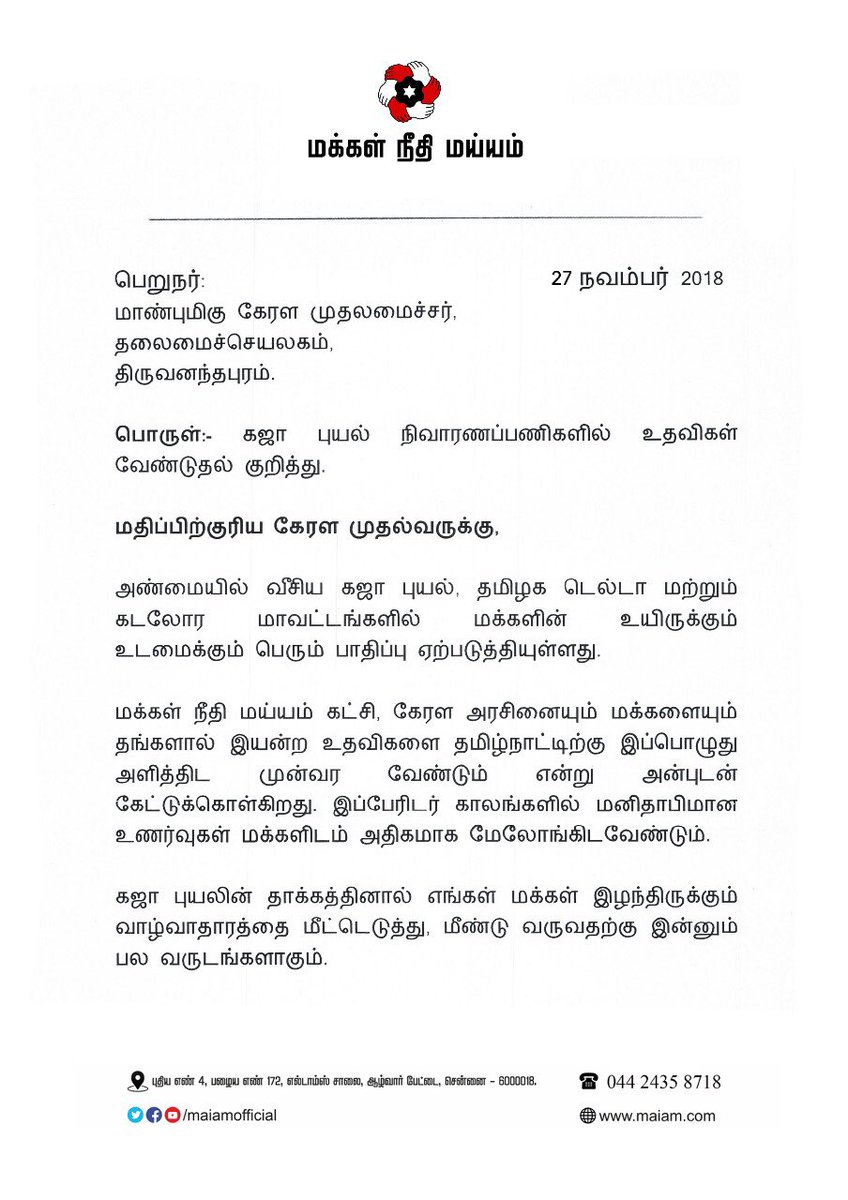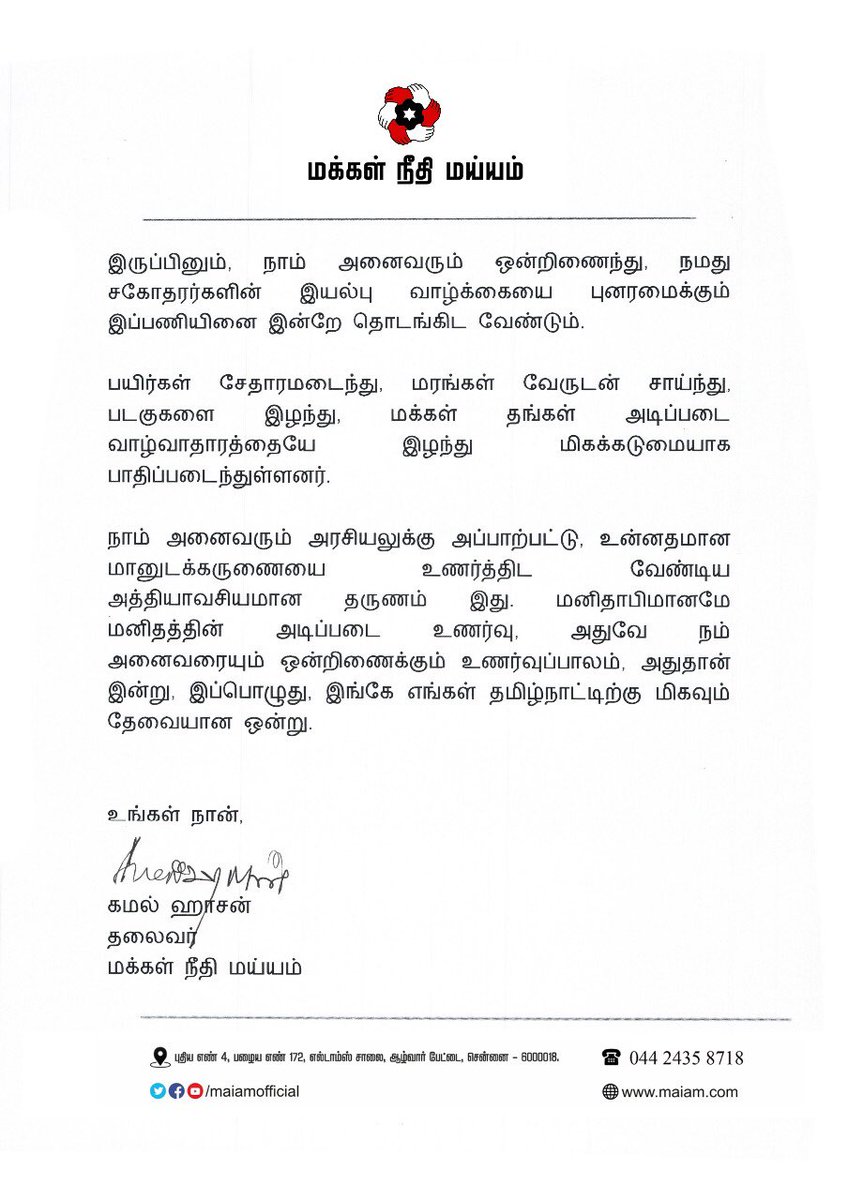 He said his party, Makkal Needhi Maiam (MNM), has urged the Kerala government and its people to come forward and assist in a way they deem fit to help Tamil Nadu "stand up on its feet again."
"Damage to crops, standing trees and boats is so extensive that the very source of life of our farmers and fishermen has been uprooted," the actor said in a letter to chief minister Vijayan.
[wp_ad_camp_1]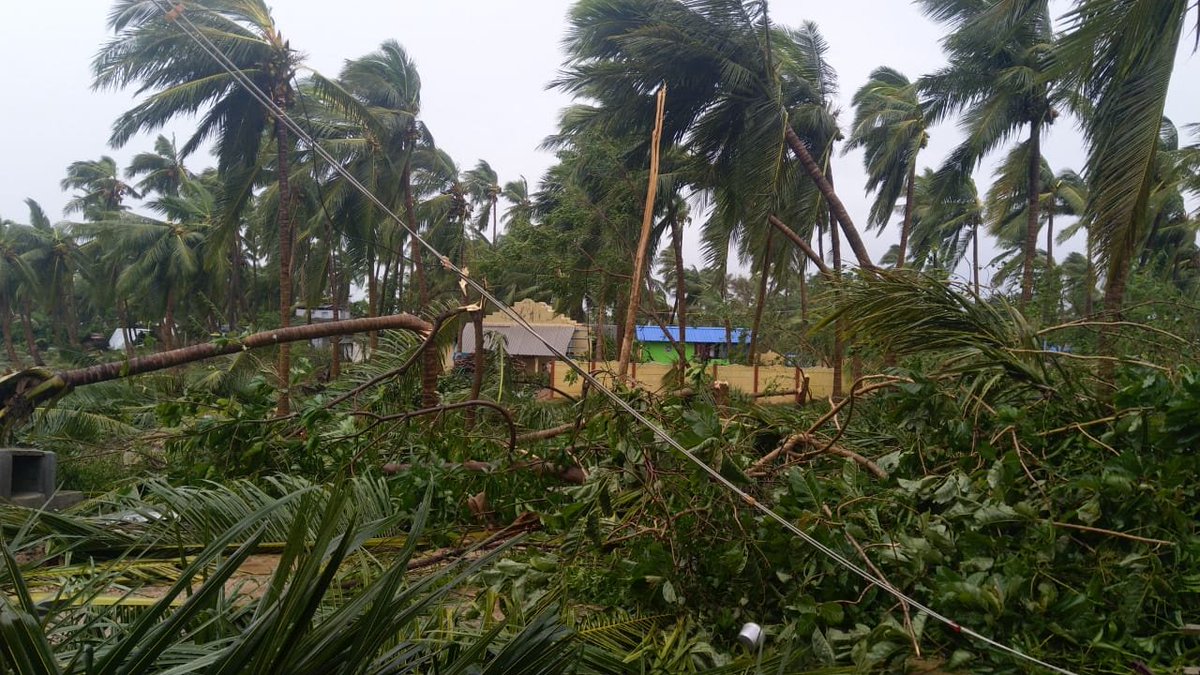 "We urge you to rise above politics and other affiliations to demonstrate a true spirit of human kindness. Being humane is the fulcrum of humanity," the MNM chief said.
He said that "human benevolence shines brighter" during such times, adding that the damage caused by the cyclone will take years to overcome.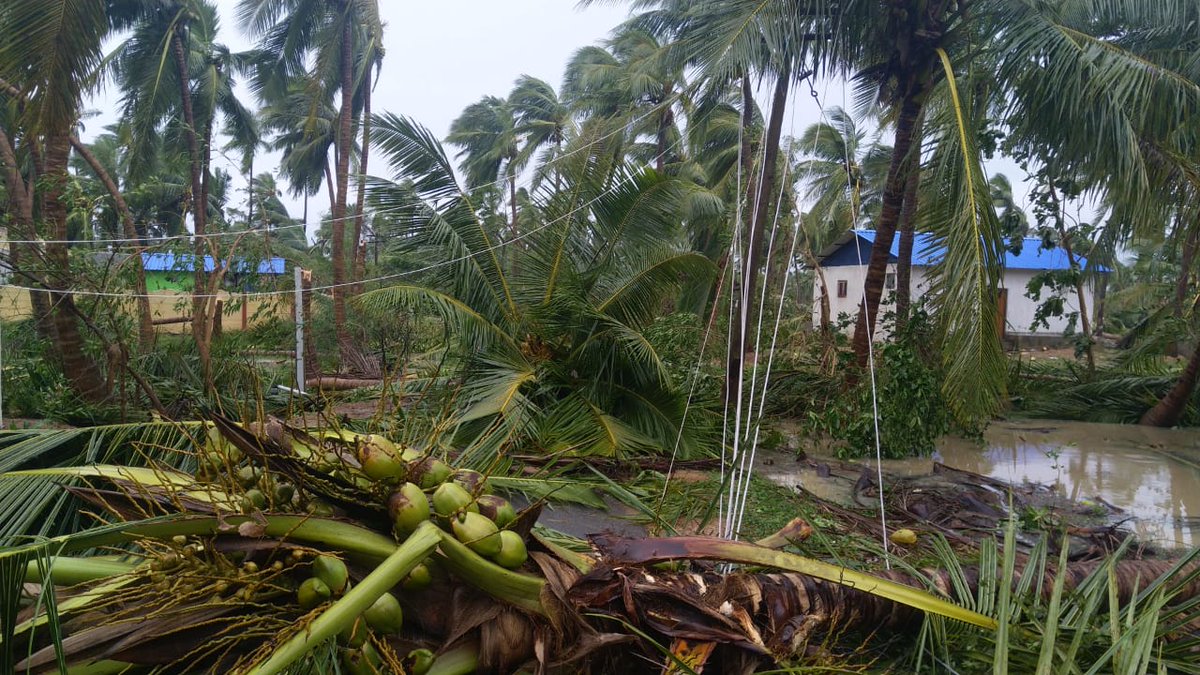 "However, we can begin now and start the process to rehabilitate and restore a sense of normalcy to our fellow brethren," Mr Haasan, known to share a good rapport with Vijayan, said in the letter.
Request support from @CMOKerala pic.twitter.com/8pR2qjydRE

— Kamal Haasan (@ikamalhaasan) November 27, 2018
Cyclone Gaja crossed the Tamil Nadu coast between Nagapattinam and Vedaranyam on November 16, and left a trail of destruction, besides claiming 63 lives.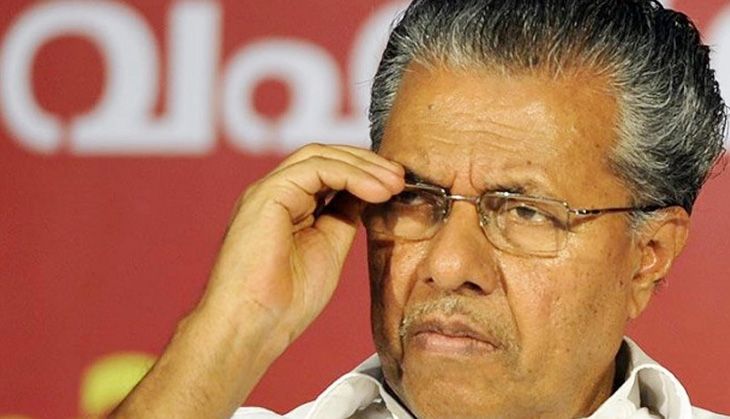 Now the Chief minister of the state Kerala has stretched his helping hand to the people of Tamilnadu by providing 10 crores. His tweet which was written in Tamil said "கஜா புயலில் பாதிக்கப்பெட்ட தமிழக சஹோதரர்களுக்கு கேரள மக்களின் ஆதராவை தெருவிக்கறோம். புதன் கிழமை சேர்ந்த அமைச்சரவை அவசர உதவியாக 10 கோடி ரூபாய் தமிழக அரசுக்கு வழங்க முடிவு கொண்டோம். உணவ், துணி, ஆடைகள் உடப்பெட்ட 14 லாரி அவசர பொருட்கள் ஏற்கனவே அனுப்பி வய்த்தோம்." (People of Kerala supports the brothers of Tamilnadu who are affected  by the Gaja cyclone. Due to the Wednesday Ministry cabinet , as an instant help we decided to provide 10 crores as relief fund. 14 Lorries which contained food, clothes were sent already)
கஜா புயலில் பாதிக்கப்பெட்ட தமிழக சஹோதரர்களுக்கு கேரள மக்களின் ஆதராவை தெருவிக்கறோம். புதன் கிழமை சேர்ந்த அமைச்சரவை அவசர உதவியாக 10 கோடி ரூபாய் தமிழக அரசுக்கு வழங்க முடிவு கொண்டோம். உணவ், துணி, ஆடைகள் உடப்பெட்ட 14 லாரி அவசர பொருட்கள் ஏற்கனவே அனுப்பி வய்த்தோம்.

— Pinarayi Vijayan (@vijayanpinarayi) November 28, 2018
Following the tweet he also mentioned about the other relief activities conducted by the government for Kerala. It read "ஆறு மருத்துவ குழுவும் கேரளா மின்சார வாரியத்தை சேர்ந்த 72 ஊழியர்களும் தமிழகத்தின் பல்வேறு பகுதிகளில் மீட்பு பணியில் ஈடுபட்டு வருகிறார்கள். தேவை என்றால் மேலும் உதவியை அனுப்பவுவோம் என்றும் தமிழக அரசுக்கு உத்தரவாதம் அளித்தோம்." (Six medical teams,72 officials of State electricity board and volunteers with rescue experience were sent for relief activities. We have also informed Tamil Nadu about our willingness to provide more assistance if needed.)
ஆறு மருத்துவ குழுவும் கேரளா மின்சார வாரியத்தை சேர்ந்த 72 ஊழியர்களும் தமிழகத்தின் பல்வேறு பகுதிகளில் மீட்பு பணியில் ஈடுபட்டு வருகிறார்கள். தேவை என்றால் மேலும் உதவியை அனுப்பவுவோம் என்றும் தமிழக அரசுக்கு உத்தரவாதம் அளித்தோம்.

— Pinarayi Vijayan (@vijayanpinarayi) November 28, 2018
People of Tamilnadu felt really grateful on seeing the effort of the Chief minister of Kerala. Including Kamal Haasan, many thanked him on regards of the victims of Cyclone Gaja and the people of Tamilnadu.
கஜா புயல் நிவாரண நிதியாக தமிழகத்திற்கு கேரள அரசு சார்பாக ரூபாய் 10 கோடியை அளித்தற்கு @CMOKerala அவர்களுக்கு நன்றி. வேண்டுகோள் வைத்த 24 மணி நேரத்திற்குள் துரிதமாக நடவடிக்கை எடுத்த உங்கள் செயல்பாடு மனிதத்தின் வெளிப்பாடு!

— Kamal Haasan (@ikamalhaasan) November 28, 2018
Check out some of the reactions from Tamil people to Kerala chief minister :
Thanks to you and our dear @ikamalhaasan sir! That's a great gesture to help our suffering farmers in Delta region. Humanity is the best virtue of all.

— 𝗠𝗮𝘀𝘀 ✺ 𝗠𝗮𝗵𝗮𝗿𝗮𝗷𝗮 (@Mass_Maharaja) November 28, 2018
Thank you comrade

— MD Ashok (@theorist_m) November 28, 2018
மிகவும் நன்றி தோழர்….
முடிந்தால் எங்கள் மாநிலத்தையும் உங்களோடு சேர்த்து கொள்ள எதாவது வழி இருந்தால் செய்யுங்கள் தோழரே…

— Jalal (@jalaludeen2) November 28, 2018
Chance illae thank you so much sir.

— mahi mahi (@deepak_mahi) November 28, 2018
கோடி நன்றிகள் எங்கள் ஐயா!!! ❤

— Damo. (@Damodar61187959) November 28, 2018
நன்றி ஐயா பாதிக்கபட்டமக்களுக்கு நிவாரணபொருட்களாக மக்களிடம்கொடுத்தால் மகிழ்ச்சி.
பணத்தை பத்துகோடி குடுத்தா இவங்களே ஆட்டையபோட்டுருவாங்க ஐயா

— Rajesh Raju (@RajeshR39017173) November 28, 2018
ஐயா… உங்களது தமிழும் தற்போது அழகாகத்தான் தெரிகிறது ..!! 🙏

— World King Babu (@worldkingbabu) November 28, 2018
மிக்க நன்றி ஐயா, தாய் சேய் உறவை போல உங்களுக்கு நாங்களும், எங்களுக்கு நீங்களும் என்றும் உறுதுணையாக இருப்போம்.

— நா. ப. மணிகண்டன் (@NAPA_Manikandan) November 28, 2018
[wp_ad_camp_1]
ஐயா உங்களின் நல்ல உள்ளத்திற்கு நன்றிகள் பல🙏

— அசுரன் (@Asuran_twitz) November 28, 2018
We really really love you sir. Trust me u inspire me in many ways. Let ur service continue. தமிழ் மக்கள் மீது அக்கறை கொண்டு கொடுத்த nankodaiku நன்றி.

— featherman (@featherlytouch) November 28, 2018
The devastation suffered by tens of thousands of people in several districts of the State has been severe, going well beyond the annual storm season losses. In the initial days after November 16, when the cyclone struck, the State heaved a sigh of relief since the death toll was relatively low. But it is now clear that the suffering, the loss, and the displacement in large parts of Tiruvarur, Nagapattinam, Thanjavur and Pudukottai districts is of an enormous magnitude.
The Tamil Nadu government has given the Centre a memorandum seeking nearly ₹15,000 crore for restoration, rehabilitation and mitigation, besides ₹1,431 crore for immediate relief work. The State's requirements should be met in full. It is also worth pointing out that farm insurance under the Centre's Fasal Bima Yojana covers only food crops, oilseeds and annual horticultural crops, making extraordinary compensation for farmers important. The average citizen is also keen on contributing money and material to the relief effort, as the experience with the Kerala floods shows. What she wants to see is administrative efficiency in rebuilding the shattered districts. Officials should not wait for people to launch protests before coming up with a response. Cyclone Gaja has wrought terrible devastation, and the relief programme must match it in scale.