BREAKING :Tamilisai Said That Ajith Fans Joined BJP !! Here's What Thala Himself Has To say !!
Ajith Kumar
BJP
Tamilisai
Thala
4 years ago
By Dhiwaharan
Tamilisai Soundararajan is a doctor and President of the Tamilnadu Bharatha Janata Party. She was a National Secretary of the Bharatiya Janata Party prior to this appointment. She is the daughter of Kumari Anandan senior congress party leader in Tamil Nadu.
[wp_ad_camp_1]
Recently she participated in an event held at Tirupur where she said that many hardcore fans of actor Ajith Kumar ahs joined BJP. She also said with the contribution of Ajith fans Lotsu will bloom in Tamilnadu. She confidently expressed  that Ajith fans will take the welfare plans and  policies of Indian Prime Minister Narendra Modi to the people.
அஜித் ரசிகர்கள் பிரதமர் மோடியின் திட்டங்களை மக்களிடம் கொண்டு சேர்க்க வேண்டும் என தமிழிசை சவுந்தர்ராஜன் வேண்டுகோள்!https://t.co/5wMBD3FLqB | #Tamilisai | #AjithFans | @DrTamilisaiBJP pic.twitter.com/PLYtl0ORQB

— News7 Tamil (@news7tamil) January 20, 2019

"Ajith is the most honest person in film industry, and just like he does good to people, his fans will also serve the society, and henceforth, his fans must carry forward the welfare schemes and development plans of Modi to people." Tamilsai praised Ajith fans in the event.
[wp_ad_camp_1]
தமிழிசை முன்னிலையில் பாஜகவில் இணைந்த அஜித் ரசிகர்கள்!

"திரைப்பட கலைஞர்களிடையே நேர்மையானவர் அஜித் தான்; அவரைப்போலவே அஜித்தின் ரசிகர்களும் நல்லவர்கள்" – தமிழிசை புகழாரம்

விவரம்: https://t.co/78cn42xYDp | #Tiruppur #Tamilisai #AjithFans @DrTamilisaiBJP pic.twitter.com/kRoxD5dJuu

— News7 Tamil (@news7tamil) January 20, 2019

Now the manager of actor Ajith Kumar Suresh Chandra has posted a press release in his twitter account captioning it as "Press release from the desk of Mr.Ajith Kumar." The tweet attached with an image of Ajith Kumar's statement about his fans joining a political party.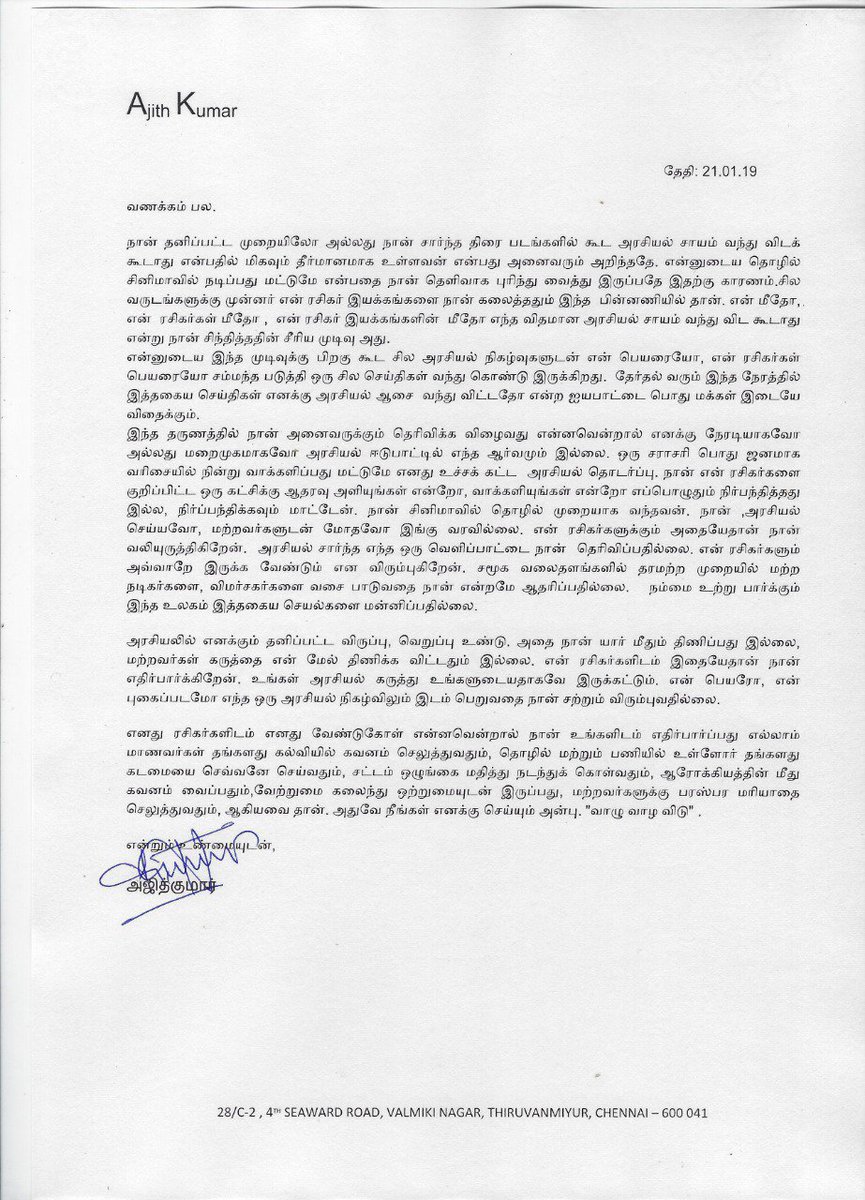 "It is known to everybody that I am very much determined about not to represent any political party in my personal life or in my films. My only occupation is acting in  films. I dismantled my fan clubs only for this cause. The intention behind it is very keen about not to represent any particular political parties. 
Eventhough after my decision there are some rumours spreading about me and my fans. At this time of Election it will instigate a doubt among public as I desire to be a politician. 
[wp_ad_camp_1]
Through this statement I intend to announce that I have no political belongings in any way. Voting is the maximum connection between me and politics. I never forced my fans to support for any political party and I won't in future. I see cinema as an occupation and I did not come to fight against anyone. I insist the same to my fans. I never expose my personal interest in politics and I want my fans to be in the same way. I never supported to social media trolls and abuses in any way and the world would never forgive us for such act. 
All I expect from my fans is nothing but do their duty and take care of their health. My sincere request to my fans is for students to concentrate on their studies, for working people to fulfil their responsibilities, to respect law and order, to focus on health, to live in harmony and to show respect to humankind unconditionally. This would be the biggest respect and appreciation my fans can show me. Live and let live."
Check out the post here :
Press release from the desk of Mr.Ajith Kumar. pic.twitter.com/BuiRpPeXjz

— Suresh Chandra (@SureshChandraa) January 21, 2019
On the work front, Ajith has teamed up with director H Vinoth of Theeran Adhigaaram Ondru fame for his next flick. This untitled film is the Tamil remake of Hindi blockbuster film Pink, produced by late Sridevi's husband Boney Kapoor.
What do you think on this press statement ?? Comment your views below !!