Indian opener Shikhar Dhawan could be out of the World Cup due to a suspected hairline fracture of the thumb. Dhawan had injured his thumb while batting against Australia in India's previous match. He went on to score a hundred but did not field. News agency PTI is reporting that Dhawan could take up to a month to recover.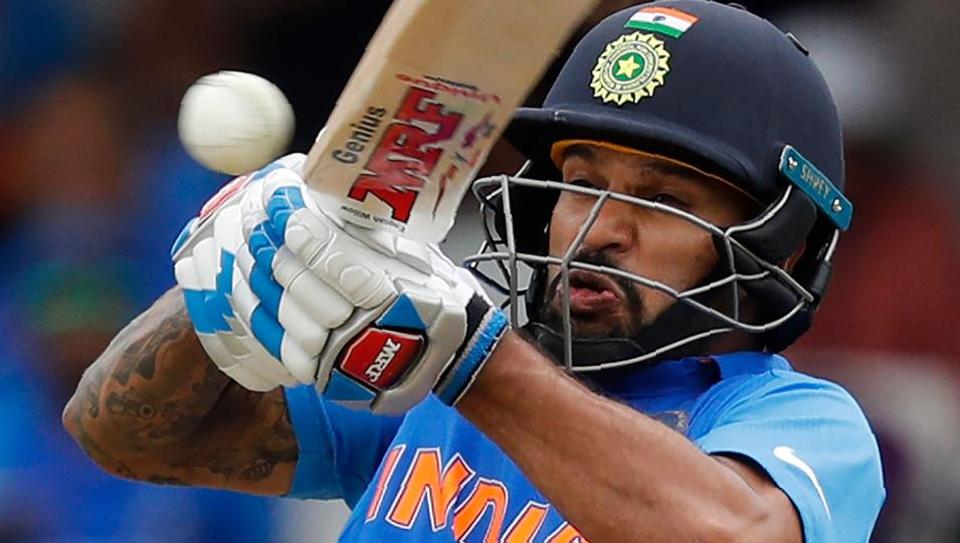 [wp_ad_camp_1]
While official confirmation from the BCCI is awaited, broadcasters Star Sports have confirmed that Dhawan will definitely be sitting out of India's next clash against New Zealand on Thursday in Nottingham.
Shikhar Dhawan will therefore, not be able to play India's upcoming matches against New Zealand, Pakistan, Afghanistan, West Indies and England – all these matches are scheduled to be played in June.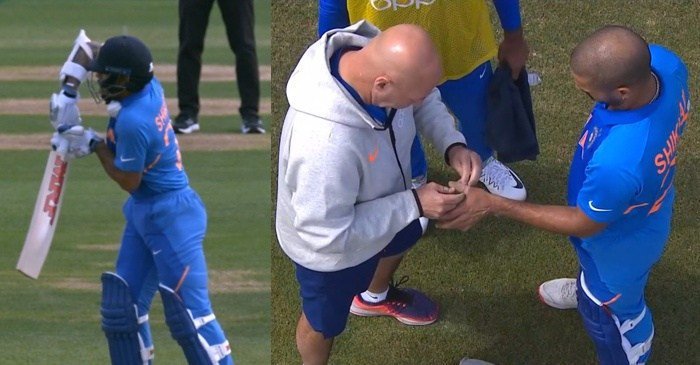 Shikhar Dhawan is a key player for India in ICC tournaments where he has 6 hundreds. In the 2015 World Cup, Dhawan had scored 2 hundreds. In 2019, after a poor start against South Africa, Dhawan smashed 117 to set up a 36-run win for India.
[wp_ad_camp_1]
Knowing this shocking update, many fans starting speculating the replacement for his role in the Indian team. Actor Siddharth wanted KL Rahul as opener and he also lauded Dhawan playing a terrific knock even after the injury.
Really hope @SDhawan25 comes back from this… In the worst case, @klrahul11 is a highly capable opener in his place. There's good safety and bench strength in our squad. #CWC19 https://t.co/DZRsHoEgW9

— Siddharth (@Actor_Siddharth) June 11, 2019
Many other fans expecting Rant, Iyer, Dinesh Karthick to replace the 33 year old. One of a fan also posted a meme asking BCCI to replace Suresh raina in the place of Shikar Dhawan. Check out some of their posts here :
This guy already in London. Sixth sense 😜😜#ShikharDhawan pic.twitter.com/vhxkaUHvqo

— ASHISH MISHRA(वत्स) (@ashtonkm84) June 11, 2019
Since Dhawan has been ruled out wc with a sad finger injury, can #YuvrajSingh be recalled? Push KL rahul to open and yuvi at 4. Will be a fitting farewell to a legend! @YUVSTRONG12 #YuviRetires #ShikharDhawan

— Aayush Bhatt (@alaayush) June 11, 2019
#ShikharDhawan
Ajiyanka rahane with all his experience and now in England & making 💯 on just concluded match .
I think he should be ideal for as opener or no 4.
Pant & iyer no doubt good player but experience matters on big stages.

— Yokers (@Yokers8) June 11, 2019
[wp_ad_camp_1]
Rishabh Pant, Ambati Rayudu, Manish Pandey & Prithvi Shaw outside the BCCI Headquarters after #ShikharDhawan is ruled out from the world cup due to thumb injury.#CWC19 #WorldCup2019 @DennisCricket_ pic.twitter.com/hlhCS9qjjr

— Bilal Shahid (@BilalShahidRana) June 11, 2019
#ShikharDhawan
Risabh Pant standing outside of BCCI building.
BCCI: tum yaha kya kar rahe ho..??

Risabh Pant: pic.twitter.com/jb00OzvU4L

— S H A H R U K H 🇮🇳 (@SaahRocks) June 11, 2019
Right now KL Rahul be like… #ShikharDhawan pic.twitter.com/JBMCMjgUeS

— Jeswin M. Mathew (@ThJeswin) June 11, 2019
Rishabh Pant waiting for BCCI call#ShikharDhawan #CWC19 pic.twitter.com/4ptezaems9

— Dhavan Kadia (@dhaone110) June 11, 2019
we want @PrithviShaw for #ShikharDhawan replacement. pic.twitter.com/GPJCDgKy1h

— Sanjeet🇮🇳 (@imsnj36) June 11, 2019
Let Dinesh Karthik open the innings with rohit.#ShikharDhawan pic.twitter.com/C16fFDpoCQ

— BALIDAN4INDIA (@kph0061) June 11, 2019
Shikhar Dhawan is out for 3 weeks due to thumb injury. #ShikharDhawan
Meanwhile Rishabh Pant. pic.twitter.com/mdMBTAgKVP

— Lord Duffer-In (@British_Viceroy) June 11, 2019
#RishabhPant to BCCI right now after hearing #ShikharDhawan injury. pic.twitter.com/0vBDF0G953

— Lone Wolf (@thewrydry) June 11, 2019
Rishabh pant right now : pic.twitter.com/gwYUBximZw

— jiteshrochlani (@jiteshrochlani) June 11, 2019
Ajynkya Rahane, Rishabh Pant, Prithvi Shaw, Suresh Raina, Shreyas Iyer in front of @BCCI office after #ShikharDhawan is injured and ruled out of tournament pic.twitter.com/jV40yOAZRu

— vaibhavbarange (@vaibhavbarange) June 11, 2019
Players for replace #ShikharDhawan. pic.twitter.com/YwbBudIQw4

— Jayesh ✪⎊ (@imJSuthar) June 11, 2019
Now tell us, whom do you think will be the best replacement for Shikar Dhawan ?? Comment your views below !!